Last Updated April 30th, 2022 at 01:02 pm by Lisa
A complete cookout menu with over 60 recipes for grilling, sides, drinks, desserts, potluck sides, and more for your outdoor BBQ party. Plus inspiring ideas, tips, and hacks to make your cookout spectacular.
All the classics are here like Hamburgers with Burger Sauce and amazing seasoning, Hot Dogs with Relish, and fancier recipes for Lamb Chops, Shish Kabobs, and more.
You will find crowd-favorite Cookout Side Dishes like Cowboy Baked Beans, Corn on the Cob, 7 Layer Salad, Macaroni Salad, and Coleslaw. And cool Summer Salads galore including Watermelon Salad, Pasta Salad, and Potato Salad.
Outdoor parties are an American tradition, and one of the best parts of life is grilling and relaxing with those you love...
⬆ Grilled Hamburgers Video⬆
The common definition of a cookout is a party or gathering where a meal is cooked outdoors. Some people call this a BBQ. In Southern California where I live, people will call any outdoor cooking a BBQ.
Many people across the county would disagree. In North Carolina, BBQ is pork or the whole hog slow-cooked and smoked for many hours. A true BBQ is actually smoking or cooking meats for long periods of time outdoors, and is actually a cooking method!
Cookout Ideas
Here are some ideas to get your party planned!
Look high and low for serving pieces you have-trust me you have great things to use. Find trays, baskets, bowls, or buy inexpensive ones. 
Plan an area for all the food. A nice long table in the shade, the dinner table, or a kitchen counter space all work great.
Serve out of the heat, cover food, and try to keep any salads or meat items covered.
Plan for your number of guests, and space to walk around the table, and chairs, and places to sit in the shade. Set up folding tables and chairs, and borrow them from friends and neighbors.
Buy plastic food baskets, and cut parchment paper or buy liners. These are great for serving any grilled foods like hamburgers and hot dogs.
Have containers to send leftovers home with guests, people love it! I use inexpensive Chinese paper takeout containers or grocery store brands.
Use what you have to create different heights if possible and to keep people moving around trying different dishes. I sometimes use boxes under pretty linens and tablecloths to create high and low places.
Pick fun summery linens, red and white check gingham cloths, floral, or cute summer prints. Use baskets, bowls and platters in bright summer colors, or use colorful paper goods.
Use American flags, linens, flowers, and patriotic decorations.
Serve salads in large chilled bowls on ice packs with a pretty towel covering the ice packs. 
Buy platters that stay chilled for up to two hours, I have a couple and love them. They also can be heated in the winter for parties and holiday celebrations!
Use fresh flowers, a large beverage container, succulents, herbs, and Summer decor pieces you love. For simple pretty table decorations, place flowers tied with ribbon in small jars.
Make a DIY Wine Ice Bucket with flowers frozen inside the ice. It is gorgeous and chills bottles of wine or champagne.
Cookout Food Safety
If serving outside, plan out to keep food protected from flying insects with food tents, chill salads. Keep dishes out of the direct sun if possible. 
For outdoor parties, make sure to get food back in the fridge after about an hour to keep it safe.
Leftover dishes can be reheated later in the day when people get hungry.
Pack up leftovers for guests to take with them, and keep chilled until people head home.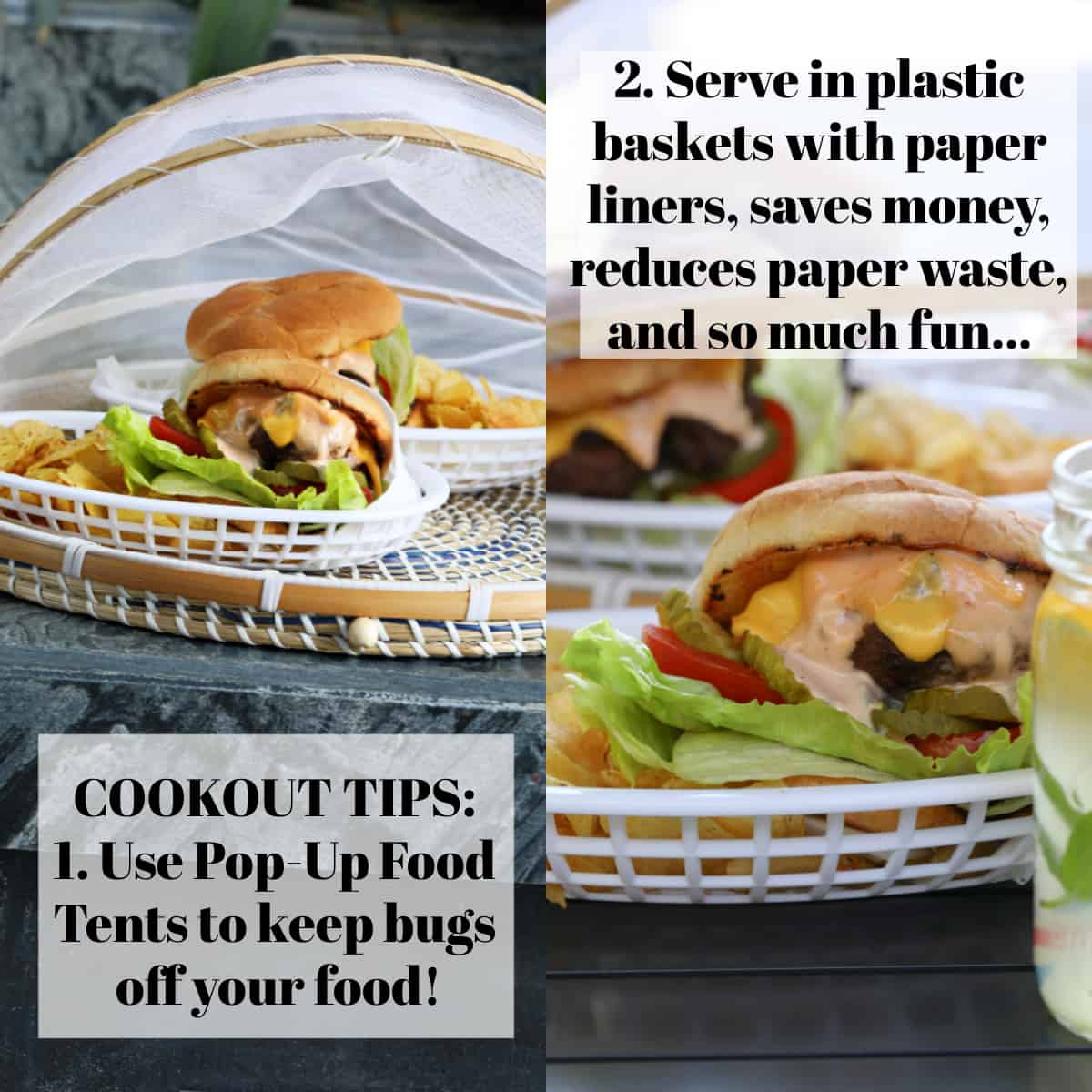 Cookout Party Checklist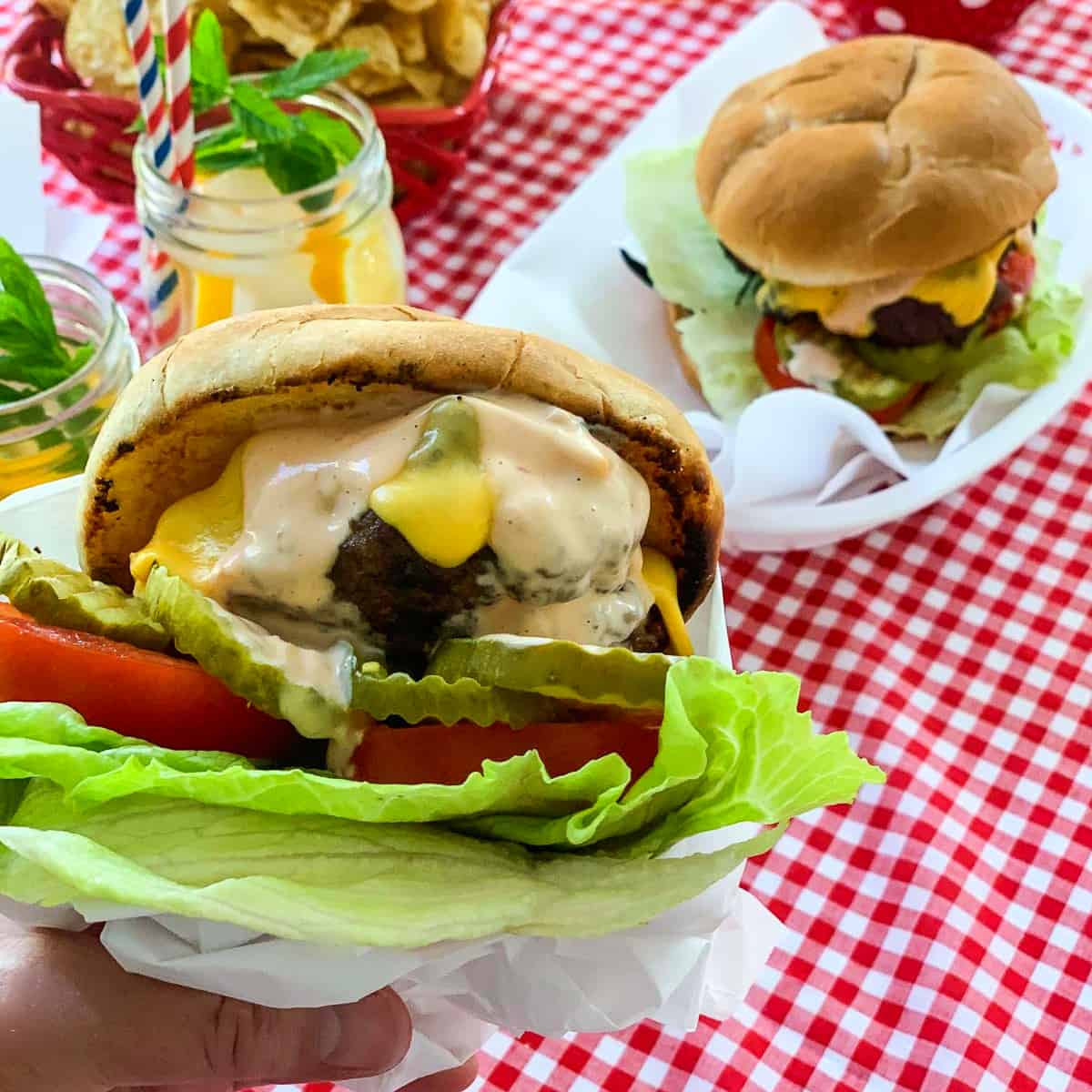 Cookout Classics
One way I love to entertain is to serve Grilled Hamburgers, arrange a platter of well-seasoned burger patties, and all the yummy toppings. Everyone can have their burger just the way they like them, with melted cheese, burger sauce, pickles, lettuce, tomatoes, all on butter-grilled buns. The BEST burgers ever right at home. 🍔🔥
Grilled Hamburgers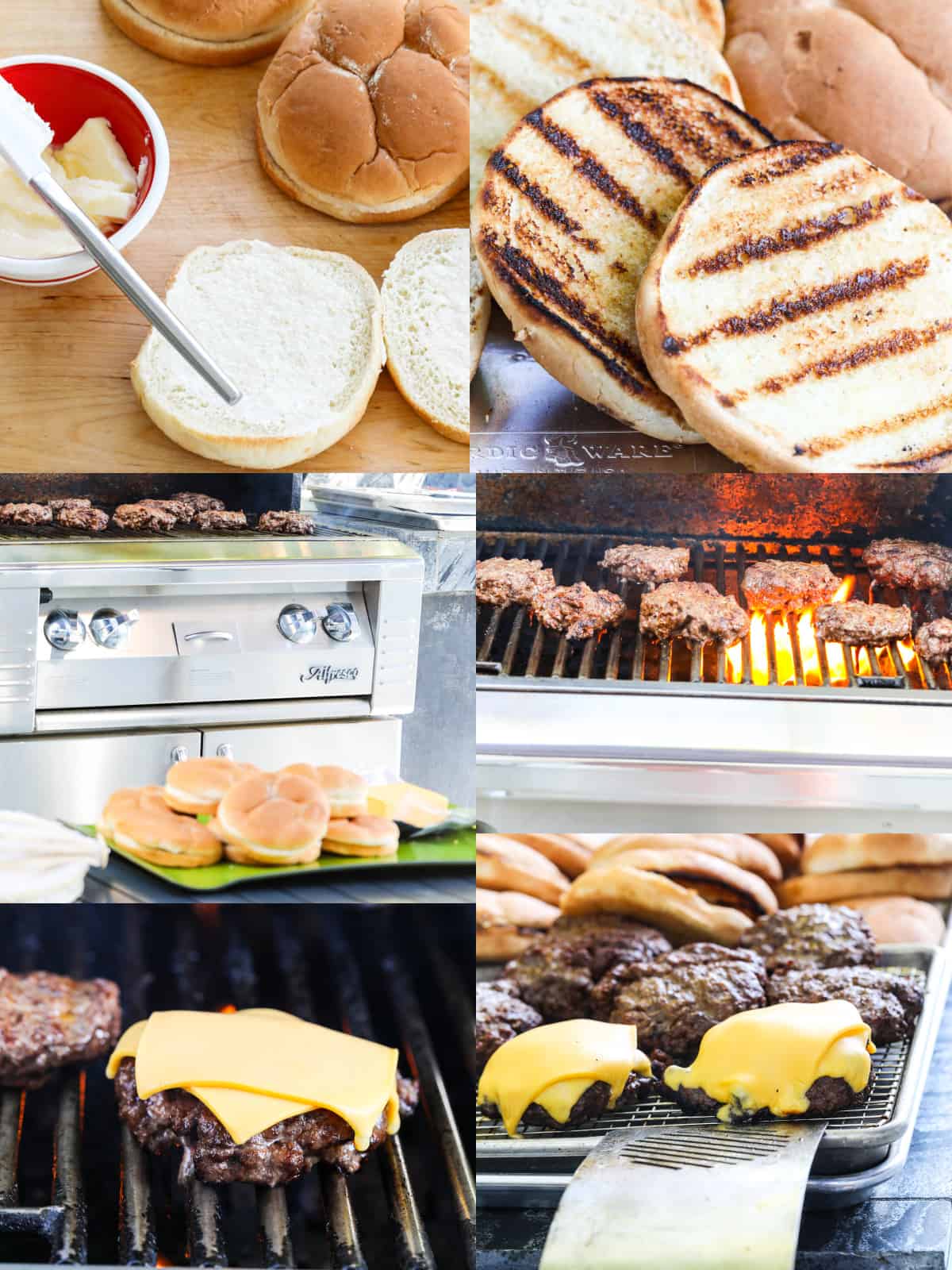 Grilled Hot Dogs
Why make cut spirals into hot dogs? Well, they get nice nooks and crannies to hold more toppings. And they look fancy for your cookout!
Push each hot dog on a metal skewer, and run a sharp knife at an angle scoring the hot dog into a spiral section all the way down each hot dog. 
PRO TIP: Jumbo hot dogs work better but regular hot dogs are fine too.
Grill dogs on an outdoor grill or in a cast iron grill pan until cooked. Load onto hot dog bun with toppings, and serve in a food basket lined with paper.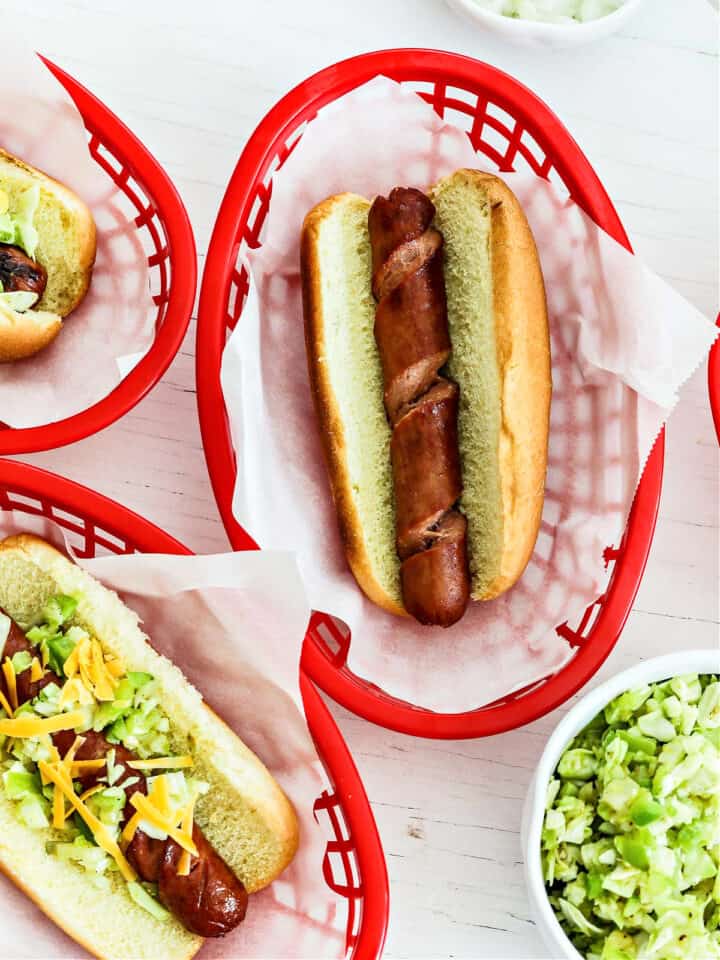 Here Is What You Need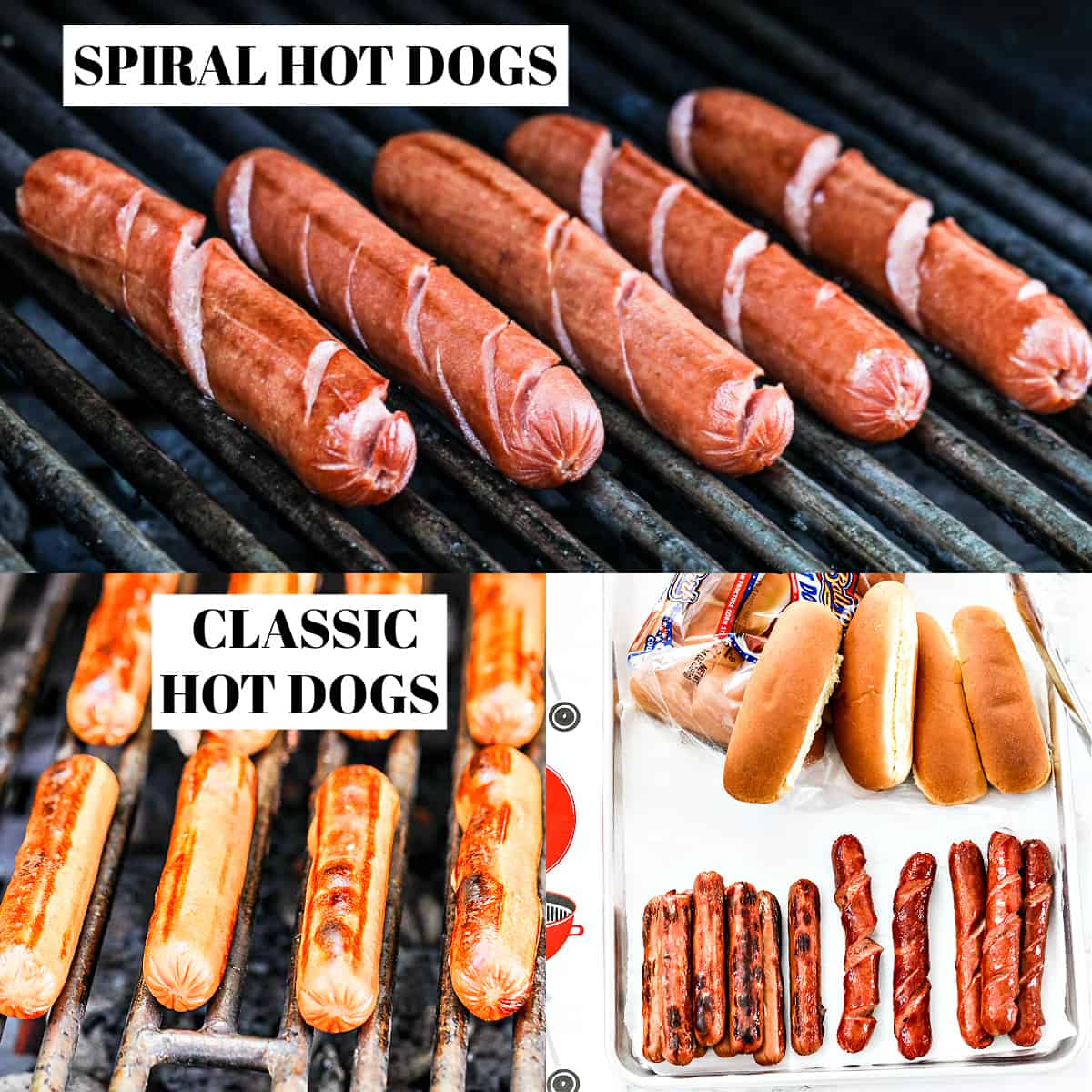 Relish
Hot Dog Relish
1 bell pepper chopped fine
1-2 dill pickles chopped fine
1 cup green cabbage finely shredded
¼ cup chopped onion chopped fine
1 tablespoon apple cider vinegar
2 tablespoons yellow mustard
½ teaspoon sea salt
½ teaspoon ground pepper
Instructions
Hot Dog Relish
Finely chop all the bell pepper, pickles, cabbage, and onion on a cutting board. Add to a medium size bowl. Stir in vinegar, mustard, salt, and pepper.
PRO TIP: For a finer relish, pulse all ingredients in a food processor until finely mixed.
Seal in a container and keep refrigerated for at least a day. Use within a week on hot dogs and hamburgers.
Make classic or Spiral Grilled Hot Dogs. Learn the secret to thick Hot Dog Chili to slather all over these dogs plus a recipe for a crunchy Relish. 🌭
Try my oven Baked Hamburgers, which are small, great for kids, and are delish. 🍔🇺🇸
Gorgeous Grilled Recipes
Huli Huli Chicken is wildly popular in Hawaii using a rotisserie turn method. Recreate the same huli marinade and chicken with deep tropical flavors.🍗🔥 Plus get my tips to carve Pineapple Bowls. 🔪🍍
Gorgeous Salmon Cedar Wraps with asparagus, zucchini ribbons, and topped with melted Lemon-Dill Butter are the perfect party food idea. These are super easy to make ahead for entertaining or a healthy family dinner party! 🐟🍋
Shish Kabobs (aka Shish Kebabs or Beef Kabobs) have a beef marinade made with pineapple and dark rum. Rum is optional. Prep skewers and have them ready to go when guests arrive, your cookout will be one to remember...
Fancy Grilled Lamb
An elegant easy entertaining grill recipe ready in 45 minutes, impress your family and guests with this Cabernet-Rosemary Grilled Rack of Lamb sliced into Lamb Chops served with refreshing Watermelon Skewers. 🐑 🍉
Grilled Lamb Chops are rubbed and seasoned with mint salt and paired with sweet juicy Peaches for an easy side. Top with Parmesan Mint Pesto, for a gorgeous party food idea! 🍖🍑🌿
Gyros with Tzatziki Sauce are great for summer cookout dinner. Wrap a pita around grilled lamb meatballs with chopped tomato, cucumber, and a little parsley. The grilled lamb kabobs are sublime with the cool veggies and sauce all tucked in a pita... 🥙
Drinks & Cocktails
These St. Germain Cocktails are easy spritzers with Elderflower liqueur, Prosecco, hibiscus tea, and a splash of club soda over crushed ice. 🌸🍾
Ice cold Blueberry Lemonade captures Summer in every sip. This tasty lemonade can be made in minutes with homemade blueberry syrup, fresh lemon juice, and sweet honey. 🫐🍋
Limoncello is also known as Lemoncello. It is a delicious icy cold Italian lemon liqueur, perfect to serve on hot summer evenings. 🍋
Straight from my trip to Cuba, this Mojito is 100% an authentic Cuban Mojito! Learn the secret ingredient in these famous Cuban cocktails and what secrets make them totally authentic.🌿🏝
A Frozen Floral Ice Bucket is the perfect way to keep wines cool for Spring and Summer entertaining!  A stylish and pretty way to serve icy cold bottles of sparkling water, wine, or champagne outdoors. 🧊🌺🍾
Cuba Libre is a famous Cuban cocktail similar to Rum and Coke. On my trip to Cuba, I learned how to make these famous Cuban drinks! 🥃🥤
Made with sweet summer fruit and white wine, this White Wine Sangria has strawberries, raspberries, pineapple, blueberries. Serve this light and refreshing drink all summer long. ☀️🍓🫐🍍
Easy Margaritas made with 3 simple ingredients in a pitcher, you won't believe how good this margarita recipe tastes. 🍹🧊
A festive, healthy, and refreshing Hibiscus Cocktail to enjoy with appetizers without the guilt from sugar, carbs, and calories...🌺🫖
Make these CoronaRita Margaritas at home! They have a mini "Coronita" turned upside down into a slushy margarita. 🍻🍹
Strawberry Cocktails are wonderful for romantic date nights, Valentine's Day, or summer celebrations and are low carb, low sugar, and low-calorie. 🍓🍹
Micheladas are light, refreshing clamato juice (tomato juice) and Mexican beer cocktails. A popular drink in Mexico is often enjoyed on hot days or in the morning after a wild night out. ☀️🌶🍻🍅
Condiments & Seasonings
Serve all kinds of condiments at your cookout like relish, burger sauce, and homemade refrigerator pickles. and take a look at my Grill and BBQ seasoning, goes great on steaks and burgers.
Make Burger Sauce at home, this recipe is very similar to the In-N-Out Spread from Southern California. 🍔🍟🥤
Made in minutes, and you pop the Buttermilk Ranch Dressing right in the fridge to enjoy all week. 🥗🥣
Avocado Salsa (aka Taco Sauce) can be drizzled on Mexican food tacos, burritos, taquitos, or served with tortilla chips. 🥑
Creamy Balsamic Horseradish Sauce is amazing on thick slices of Roast Beef for dinner, on prime rib, or to slather on Roast Beef Sandwiches. 🥣
Remoulade Sauce is a popular condiment or dipping sauce. It is usually paired with seafood, cold meats, and fried foods like French fries and Fried Green Tomatoes. 👩‍🍳🥣
Get one of these 25+ amazing New Mexico Hatch Chile Recipes with tons of tips on how to roast, prep, and freeze them at home. 🌶🔥🌶
Refrigerator Jalapeno Dill Pickles with jalapeno zing, garlic, and fresh dill. They require no canning and make perfectly crisp and crunchy dill pickles. 🥒🔪🧄
Burger Seasoning makes the juiciest flavor-filled Grilled Hamburgers. Mix up a batch of hamburger seasoning for your next cookout, grill, or BBQ party. 🍔
Grill and BBQ Rub is an easy spice mix and seasoning to make at home. Use as a rib rub, steak rub, dry rub for chicken, or dry rub for pork. 🧂
Cookout Sides
Cowboy Baked Beans have crispy applewood smoked bacon and browned hamburger cooked in a slow cooker or in the oven. An awesome party food recipe to make ahead for a large hungry crowd. 🤠🥫🥓
Cole Slaw with an easy vinegar dressing and no-mayo, is great on pulled pork sandwiches, with grilled hamburgers, or BBQ chicken. This coleslaw recipe works as a summer side dish for picnics and cookouts. 🥬 🥕
Watermelon Salad is easy to make and served from a watermelon bowl. A great summer salad for potlucks, BBQ cookouts, picnics, at the beach, or by the pool. 🍉🌿

Potato Salad is a classic BBQ side dish. Loaded with crispy bacon and blue cheese. An awesome side for summer cookouts and potlucks. This is a great picnic food idea because it has no eggs or mayo. 🥔🥓
Try this Frozen Wedge Salad with Pistachio-Avocado Dressing on a hot summer day. 🥬🥑💚
Broccoli Salad with crisp green apples, crunchy broccoli, and grapes create this summer salad with a creamy 3-ingredient orange dressing. 🥦🍇
Put this easy 7 Layer Salad Recipe together up to a day ahead, and have it ready to go to your party chilling in your fridge overnight complete with the dressing on top. 🥗🍅🥚
The BEST Macaroni Salad recipe with chopped eggs, pickles, and PICKLE JUICE! A favorite old-fashioned recipe loved by all. 🥣💛🌿
Grilled Corn cooks in 10 minutes. It can be prepped the day before a cookout with endless flavor options for guests. 🌽🔥
An easy Pasta Salad with fresh herbs, bell pepper, and cheese. This is a mayo-less salad, perfect to serve at outdoor picnics or cookouts. 🧺🌿🥣
This Mexican Street Corn Recipe (aka Elotes) has fresh summer corn grilled and brushed with a creamy cilantro sauce. Sprinkle with Cotija cheese and chile powder, and garnish with cilantro. 🌽🌿
Mango Jicama Slaw has sweet juicy mangos, crunchy jicama, and crisp green cabbage. And a sweet tangy mango-lime vinaigrette is one clean salad! 🥭🥗
Patriotic Desserts
Bake a Blueberry Pie right on your grill, just like an oven! Serve this grilled dessert all summer with ice cream at cookouts and July 4th. 🫐🥧🔥
Flag Cake has patriotic red, white, and blue marble cake. Frost the cake with "bakery-style" cake frosting. So fluffy and not too sweet. 🍰🇺🇸
Flag Pie (aka sheet pan or slab pie) is a patriotic dessert that serves 20 people. Serve as a July 4th dessert or for summer cookouts and picnics. This patriotic red, white, and blue baked pie is filled with easy blueberry and strawberry pie filling recipes. This sheet pan pie looks hard, but it's EASY, really easy. 🇺🇸🥧
Summer Desserts
A Strawberry Cake recipe has strawberries baked in the cake and strawberry preserves in the buttercream and is a deliciously natural dessert. 🍰🍓
Easy No-Bake Peach Cheesecake has a crisp graham cracker crust. Top with sweet whipped cream cheese filling and juicy ripe peaches.🍑🥧
  Apple Crumble Pie with homemade apple pie filling. This has "foolproof" pie crust and a crumble topping. Some people also call this pie recipe Dutch Apple Pie, Apple Crumb Pie, and even French Apple Pie. 🍏🥧🍋
Frozen Desserts
This summer dessert is dairy-free, vegan, has no refined sugar, and real fruit! Summer Fruit Sorbet or "Nice Cream" is made with raspberries, strawberries, pineapple, and bananas, and served in real lemon cups with absolutely zero guilt. 🍋🍓🍍🍌
Dipped in chocolate and rolled in chopped nuts and dried fruit, these Chocolate Bananas (aka choco bananas) are frozen dessert treats for hot summer days. 🍫🍌🥜
Fruit Popsicles made with coconut water, strawberries, raspberries, and blueberries are refreshing low-sugar treats for hot summer days. 🍓🫐🧊
Make an ice cream cake this summer. This Oreo Ice Cream Cake has an incredible red velvet cookie crust. Layers of ice cream, pound cake, caramel, chocolate sauce, whip cream, and fun sprinkles. 🇺🇸🍦🎂
Taste just like CHERRY PIE 5 ingredients create your own Cherry Pie Ice Cream Sandwiches. An easy ice cream treat that screams summer. 🍒🍦
More Party Food
100+ July 4th recipes for your cookout menu including grilling recipes, side dishes, and picnic food ideas with drinks, desserts, and more!
Learn how to set up a Crostini Bar with all the toppings, plus get beautiful design inspiration for arranging an easy and relaxed party for Fall gatherings, Friendsgiving or Thanksgiving.
And speaking of Thanksgiving, here are plenty of Thanksgiving Appetizers to celebrate the holidays.