Last Updated August 29th, 2022 at 10:24 am by Lisa
Dozens of Easter Menu Ideas are included in this collection of recipes. You will find all the traditional Easter Dinner classics like glazed ham, rack of lamb, sides like glazed carrots, roasted or mashed potatoes, and scrumptious desserts like an adorable bunny cake.
There are also inspiring non-traditional Easter dishes, fresh new appetizers like deviled eggs that look like little Spring baskets, drinks, cocktails, potluck sides, and more for your celebration.
Plus ideas, tips, and hacks to make your family gathering spectacular from Good Friday through Easter Sunday. ✝️👒🌷
These are some of the best Easter dinner ideas whether you are having an easy brunch or a holiday dinner. Happy Easter everyone...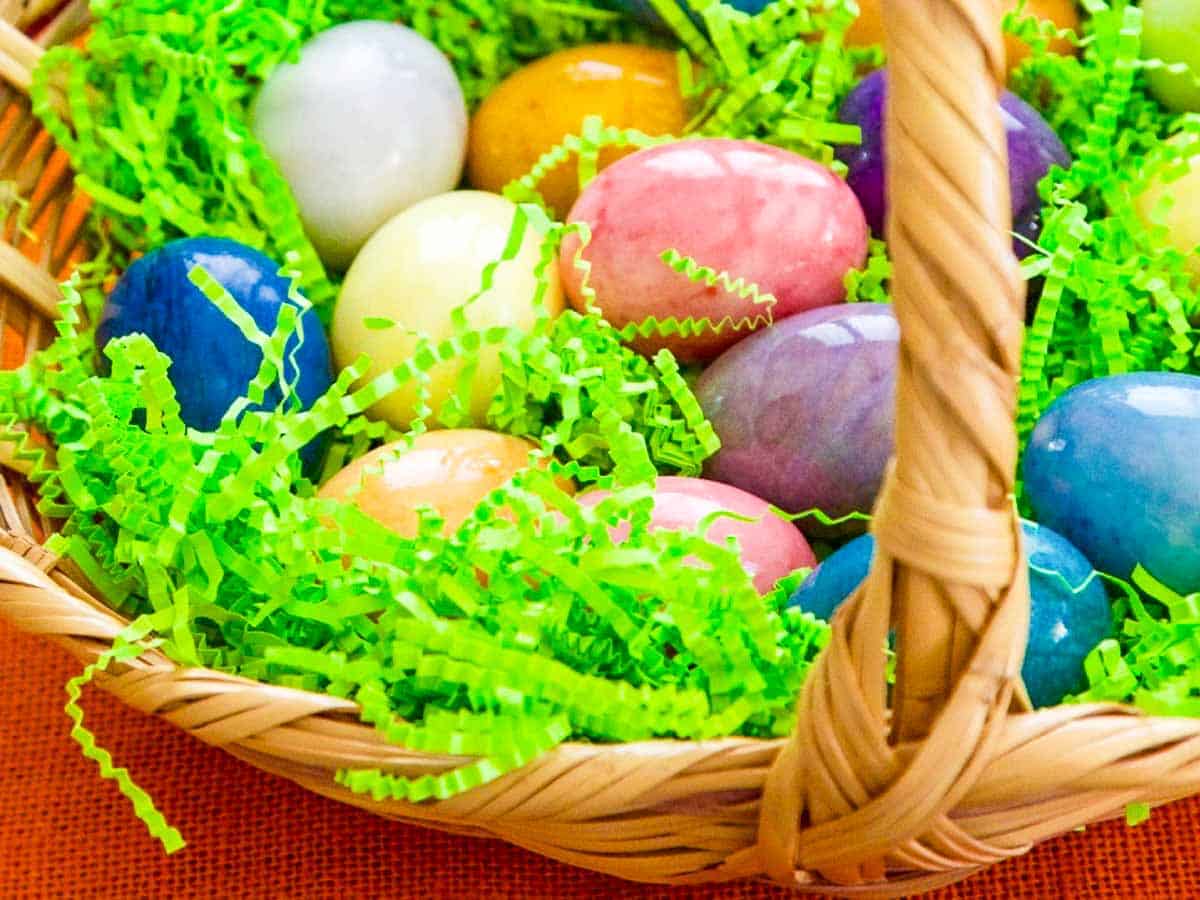 Traditional Easter Dinner Main Courses
This sample Easter dinner menu is full of delicious food, great ideas, and recipes to celebrate with family and friends. Some are sure to become traditions in your home year after year.
Start planning a sample menu plan with traditional Easter dinner ideas that are classic Easter dinner must-haves. Then add in a couple of non-traditional Easter recipes and then narrow it down as people volunteer to bring dishes to your gathering.
Classic Ham & Beef Roast Dinner
Enjoy this fun fresh take on a classic ham it could start a new tradition for your Easter ham dinner. Most people bake hams in the oven, and slow cooker ham recipes are so popular now.
But I gotta tell you, Kahlua Pineapple Glazed Ham is the BEST spiral-cut baked ham recipe to serve a crowd. The pineapples bake in the same pan and it has a brown sugar glaze. It kinda breaks the traditional ham dinner rules in a good way. 🐷🍍
Serve this Beef Roast Recipe with a wine marinade as an elegant dinner for the holiday. 🍖🍷
The prep on this is easy, and oh you can serve it with my Creamy Balsamic Horseradish Sauce and make Roast Beef Sandwiches the next day. 🥩🥪
Make a Twice Smoked Spiral Cut Ham just like a smokehouse pit boss. This holiday meal classic has an amazing smoky flavor with an apple cider orange honey glaze! 🐷🍊🍎🔥
Fancy Grilled Lamb
Roast lamb is classic, and most people cook a roast leg of lamb. But what about an elegant grill recipe ready in just 45 minutes? Impress your family and guests with this Cabernet-Rosemary Grilled Rack of Lamb sliced into Lamb Chops served with refreshing Watermelon Skewers. 🐑 🍉
Grilled Lamb Chops are rubbed and seasoned with mint salt and paired with sweet juicy Peaches for an easy side. Top with a parmesan mint pesto, for a gorgeous spring party food idea! 🍖🍑🌿
Gyros with Tzatziki Sauce are great, wrap a pita around grilled lamb meatballs with chopped tomato, cucumber, and a little parsley. The grilled lamb kabobs are sublime with the cool veggies and sauce all tucked in a pita... 🥙
Non Traditional Easter Dinner Ideas
Gorgeous Fish Ideas
The 46 days leading up to Easter Sunday are called Lent. These are great choices for those who observe Lent and typically fast from eating meat on Fridays.
Lobster Ravioli with a Lemon-Limoncello Butter Sauce uses a baked ravioli technique you can make in just over an hour or prep ahead for your holiday dinner party. 🦞🍋
Grilled Salmon with fresh asparagus, zucchini ribbons, and lemon-dill butter all wrapped in cedar, makes a clean healthy dinner for entertaining in minutes! 🎣🌿🔥
A fast oven-baked Shrimp Boil is easy and ready in 35 minutes. Get all the deep delicious taste of this low country classic dish without the fuss of boiling water. 🦐🍤🌿🥔🌽
Pork & Chicken Ideas
There really are no rules for Easter, even pork chops or a chicken recipe can be a great choice. Grilled chicken breasts, a golden roast chicken, or Stuffed Gorgonzola Chicken would be nice to serve. 🍗🌿
For something fancier, this Cherry Balsamic Pork Loin takes minutes to prep and is a gorgeous presentation. Pork tenderloin is another option, these are a smaller cut of meat than the loin cut in this recipe. 🐷🍒 I have served this holiday meal for New Years with rave reviews.
With the weather warming up, serve some Huli Huli Chicken in pineapple bowls with tropical rice. 🍗🍍🌴
Comfort Food Ideas
A turkey recipe like this easy Roast Turkey Breast made with homemade Herb Butter will be amazing. By the way, turkey roasts are easy to find in grocery stores year-round in the freezer section. 🦃🌿
The best juicy Cheeseburger Meatloaf Recipe is bursting with flavor. Each slice is light, fluffy, and tender. 🍔🥓
Classic Beef Stroganoff made with ground beef is so popular and beloved worldwide. But what if I shared my secrets to pack in flavor and use various beef cuts like tri-tip? 🥩🍄
Classic Spring Vegetables & Side Dishes
The perfect way to enjoy a holiday is to serve a simple side dish or two and let people bring their signature dish.
Of all my recipes, this one might have surprised me the most! Learn my trick to get Mashed Potatoes super creamy (hint: cream cheese). It is wildly popular, and people love to make these ahead and reheat them cleverly. Or bake a delicious side dish of Smashed Potatoes with golden crispy edges. 🥔🧈🥣
Sheet Pan Roasted Vegetables can be prepped ahead, and then roasted the day of your party. 🍠🥕🌿
Make sure these easy Dinner Rolls (Pull-Apart Bread) are on your table. They are beautiful and easy to make with store-bought frozen dough. Brush with melted butter, and add toppings you love like grated cheeses & herbs. Everyone goes crazy for these, both kids and adults, these make picky eaters happy. 🍞🧀🌿
This Sauteed Asparagus recipe is a perfect side dish every time. Loaded with fresh flavor and topped with Gremolata. 🌱🌿 Plus it's an easy low-carb keto recipe.
Green Goddess Dressing bursts with fresh herb flavor. This is my Mom's 1970's original recipe from California. 🍃💚
Non-Traditional Easter Side Dishes
Parmesan Risotto has an amazingly deep flavor. But the best part is hands-free cooking requiring no constant stirring like most risotto recipes. It's an easy side for a delicious meal full of artichokes and toasted pine nuts. 🧀🍚💛
Cowboy Baked Beans are loaded with browned hamburger meat and crispy applewood smoked bacon. A wildly popular party food recipe and great to bring to potlucks. 🤠🥣
This is no boring soggy cabbage recipe. Crispy Roasted Cabbage Steaks get crunchy edges and golden brown centers. Sprinkle with parmesan cheese and toasted pine nuts for a savory finish. 🥬🍋🌿
Easter Breakfast & Brunch Menu
Easter Pie (Pizzagaina) is an Italian type of quiche made from a pie crust base and filled with ham, salami, prosciutto, ricotta, Parmesan, and mozzarella cheese. For easy Hash Browns, bake them in a muffin tin! 🧑🏼‍🍳🥔
Everyone will love to dive into this bubbly Tater Tot Breakfast Casserole right after the Easter egg hunt. Another amazing recipe is a Brie and Bacon Mini Quiche. Baked up in a muffin tin, and so darn pretty. 🥓🥚🍳
Easter Dinner Side Salads
Potato Salad is a classic BBQ side dish. Loaded with crispy bacon and blue cheese and topped with fresh parsley. This is a great picnic food idea because it has no eggs or mayo. 🥔🥓
Try this Frozen Wedge Salad with Pistachio-Avocado Dressing. 🥬🥑💚
Broccoli Salad with crisp green apples, crunchy broccoli, and grapes create all tossed with a creamy 3-ingredient orange sweet dressing. 🥦🍇
Seven-Layer Salad also known as an overnight salad or "7 Layer Salad", is a colorful party food recipe that serves large groups, and everyone goes for seconds. 🥗💚
An easy Pasta Salad with fresh herbs, bell pepper, and cheese. This is a mayo-less salad, perfect to serve crowds for parties and picnics. 🧺🌿🥣
The BEST Macaroni Pasta Salad recipe with chopped eggs, pickles, and PICKLE JUICE! A favorite old-fashioned recipe loved by all but just a little different with those pickles. 💚🍽
Dressings & Vinaigrettes
Take any green salad and top with homemade dressing from this collection of recipes. Each one of these is an easy recipe, and would be an excellent choice for your family gathering! I love to make vinaigrettes at home with ingredients like olive oil, lemon juice, and balsamic vinegar.
Added bonus: each one of these can be made in a mason jar in minutes with simple ingredients. You can drizzle on any spring green salad mix and toss in fresh herbs and grated parmesan for a gorgeous salad. 🍶🍋🥗
Easter Dinner Party Appetizers
As the family gathers, put out some gorgeous tasty recipes for people to nibble on. Put out a plate of Easter Deviled Eggs that look like little spring baskets, are they pretty or what? They have fresh herbs and edible flower garnish with tons of tips. 🥚💐🪴🧺
Crudités with a green goddess dip is an easy appetizer. Serve veggie cups and a purple cabbage "bowl" for a unique relish tray at your party. Little dipping cups are great for kids and guests to enjoy munching on veggies while the party gets going. 🥒🥕🫑🥦
And Crostini is an easy appetizer topped with a cream cheese spread, edible flowers, and herbs. 🥖🌸🌱🌼🧺🌺
Serve with bubbly champagne or drinks at your gathering...
Drinks & Cocktails
One of the best parts of life is relaxing with those you love over a beverage. Offer a variety of alcohol and no-booze options for guests. Lemonade, iced tea, punch, or serve hot cocoa or coffee and let guest top their creations with bright color spring sprinkles, whip cream, or chocolate shavings.
These St. Germain Cocktails are easy spritzers with Elderflower liqueur, Prosecco, hibiscus tea, and a splash of club soda over crushed ice. 🌸🍾
Hibiscus Tea Cocktails are low carb, low sugar, vegan, keto, and gluten-free. A healthier refreshing keto cocktail under 100 calories! 🌺🍹
Ice cold Blueberry Lemonade can be made in minutes with homemade blueberry syrup, fresh lemon juice, and sweet honey. 🫐🍋
Make a DIY Wine Ice Bucket with flowers frozen inside the ice. It is gorgeous and chills bottles of wine or champagne. This is best at an outside party as the ice melts! 🧊🍾💐
Limoncello is also known as Lemoncello. It is an icy cold Italian lemon liqueur, perfect to serve on holiday evenings. 🍋
These Mojitos are 100% authentic Cuban Mojitos! Learn the secret ingredient in these famous Cuban cocktails. 🧊🌿🌴
Bloody Marys have a mix of fire-grilled green chiles (jalapeno, Anaheim, or Hatch Chiles) tomatoes, onions, horseradish, and spices. 🍅🌶🌿
Indulgent Desserts Ideas
With 2-3 desserts, that is a party! 🎉 I usually buy a few things and make a couple. Prepare ahead and bake a cake or cookies, or make a nice snack mix with pastel candy M&Ms, nuts, and pretzels.
You could set up a chocolate fondue bar or even a chocolate fountain and let guests dip away! This works great with strawberries, marshmallows, cookies, and pineapple. 🍓☁️🍪🍍🍫
Each year I try to come up with the best treats for celebrations and potluck parties with family and friends. These are the desserts everyone always loves.
Of course my all time favorite is this Bunny Cake, it was the first cake recipe I baked as a young girl. 🐰💝🐇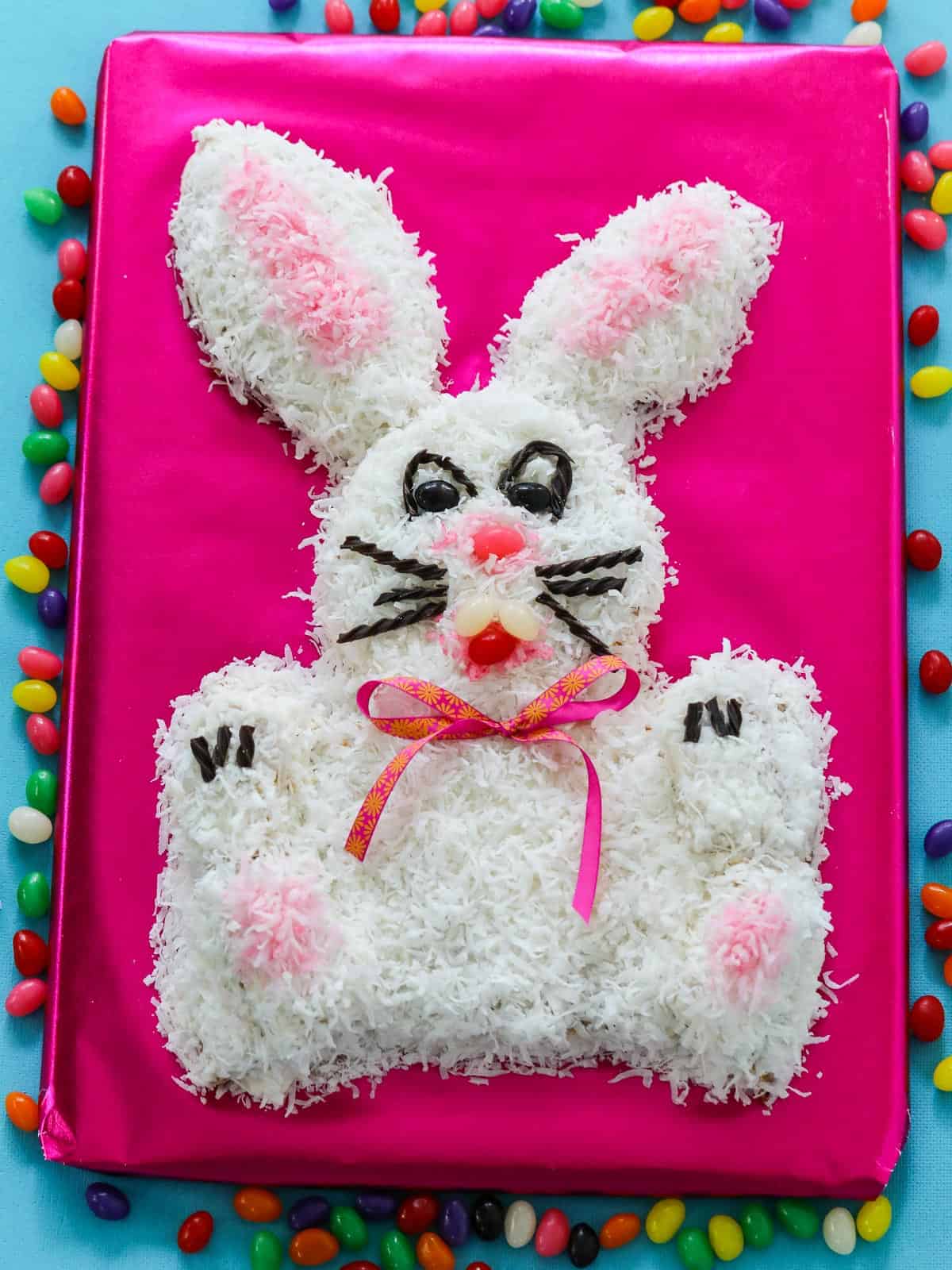 Coconut Macaroons shaped like bird nests with chocolate eggs are so dang cute!! 🐣💛
Lemon Bars are a classic for springtime, but these take you to a tropical island with coconut and lime 🍋💛🥥
Easy Easter Desserts
Festive Easter desserts that are made in minutes, and these are great recipes for kids! Easter Cupcakes with a homemade Frosting Recipe, that is fluffy, not too sweet, and so spreadable. Cake Mix Cookies are an easy recipe baked in 11-minutes and just 4-ingredients. You can mix in candies, sprinkles, or chocolate chips. 💕🍪🥣
And Chocolate Bunny Cupcakes are an easy dessert. Top baked cupcakes with buttercream frosting, sprinkles, and chocolate bunnies-nothing could be easier. 🐰🥕🐇🌸🌷
Easter Cookies: Set up a decorating station for the kids at your party, where they can decorate cookies, eggs, or a cake together!
Fruity Desserts
Peach Cheesecake Pie is a 30-minute no-bake easy recipe with a crisp graham cracker crust, sweet cream cheese filling, and juicy summer peaches! 🍑🍰
These Pineapple Coconut Madeleines have fresh pineapple pieces and sweet coconut to create a nice crumb and prevent them from drying out while baking. 🍍🥥🌴
A real fresh Strawberry Cake with no artificial ingredients like food coloring or jello. It has sweet juicy summer strawberries and is topped with amazing strawberry buttercream frosting. 🍓🍰
Easter Gathering Ideas
Table Setting Ideas: Pick white, vintage print, or pastel dishes. It might be time to finally use that vintage china from your family with the flower patterns!
Plan an area for your dining table, buffet, or serving area. A nice long table, the dinner table, or a kitchen counter spaces all work great for special occasions. Plan for your number of guests and space to walk around the buffet or space at the dining table for each guest.
Buffet Table Tips: Try to set up a buffet table with levels. Use what you have to create different heights and to keep people moving around trying different dishes. I sometimes use boxes under pretty linens and tablecloths to create high and low places.
Place things up high, low, and spilling out of spring-colored baskets. Pick bright spring linens and floral prints. Use or use colorful paper goods, basket grass, fresh flowers, bright-colored fruit, and eggs.
Use serving pieces you have, look high and low for trays, baskets, cute bunny bowls, or buy inexpensive ones. Trust me you have great pieces to use or borrow from family and friends!
Guests: Plan for your number of guests, space to walk around the table, chairs, and places to sit in the shade. Set up additional folding tables and chairs, and borrow them from friends and neighbors if you need more seats.
Grazing Boards: Arrange a long-serving table and put a GRAZING BOARD down the middle! Oh my goodness, this has changed how I entertain. I load it full of...cheese crackers, chips, pretzels, or breadsticks. Sliced cheeses, string cheese, and spreadable cheese roasted salted peanuts, pistachios, or macadamia nuts, chocolate-covered almonds, candies, caramels, or mints.
Leftover Tip: Have containers to send leftovers home with guests, people love it! I use inexpensive Chinese paper takeout containers or grocery store brands.
Easter Party Checklist
Easter Menu Plan
Candy, Chocolate Bunnies & Easter Baskets 🐇🐰🐣
Hard Boiled Decorated Easter Eggs 💜🥚🐰💚💖
Chilled Serving Trays - food stays cold
Electric Food Warming Trays - food stays hot
Small Plates & Small Bowls
Serving Spoons & Grilling Tongs
Pretty Spring Table Cloths
Cheese Board, Knives & Spreaders
Plates, Napkins, Utensils
Colorful Baskets with Paper Liners or Paper Plates
Red Solo Cups, Cooler & Ice
Beer & Wine 🍷🍾
Bottle Opener & Corkscrew
Punch, Iced Tea, Lemonade, Soda, Bottled Water 💦🥤🧃
Chips, Dips, Pretzels, Snacks 🥨🍿
Signature Cocktail and Drink Recipes 🍹🍸
Easter Desserts 🍰🍬🧁
Chinese Take Out Containers (share those leftovers!)
Pop-Up Food Tents/Covers (keep critters off your food!) 🐜🐜🐜
Easy Decorations
Use fresh spring flowers like lilies, daffodils, daisies, or tulips. You can even add fresh carrots with tops into the arrangements! Just add those at the last minute. 🥕💐🌼🌷
Arrange a large beverage container, fill with punch or lemonade, and decorate with flowers and decor pieces you love all around the base.
For simple pretty table decorations, place flowers tied with ribbons in small jars, glass bowls, or tiny buckets.
Scatter jelly beans or small candies on the table or put cute little fluffy chicks in small baskets. 🍭🍬🧺🍫🐥
Serve bread, cookies or rolls from spring baskets with bright cloth napkins.
Ways To Keep Food Warm
Use an electric Heated Warming Tray. These are great for large gatherings when people can arrive at different times.
Put a Hot Pad Under A Dish Towel, and place your casserole dish right on top.
A classic Chaffing Dish with Sterno Cans is an great way to keep food hot.
To transport dishes to a party, take from oven, wrap with heavy Aluminum Foil and Cover With Towels. Place in a cardboard box to keep the food warm in the car.
Slow Cookers are so great to serve from at buffets, and is how I love to make crowd pleasers like my Cowboy Baked Beans.
Ways To Keep Food Cold
Serve out of the heat, cover food, and try to keep any salads or meat items covered or under food nets.
Serve salads in large chilled bowls on ice packs with a pretty towel covering the ice packs underneath.
PRO TIP: Buy platters that stay chilled for up to two hours, I have a couple and love them. They also can be heated in the winter for parties and holiday celebrations!
Serving Inside Or Outside?
Plan for the weather, I have found that by the time Spring is here most of us will be entertaining indoors because the weather is so unpredictable, and for many parts of the US and around the world, it is too cold outside.
Best to have a backup plan, and if you do have your party outside set up under a covered patio or use a popup tent and patio heater.
In Southern California, we can usually get away with being outside in spring. You could light up a smokeless fire pit which are all the rage now for people to cozy up to. And have a nice stack of matching inexpensive cotton blankets the ones I love are from Mexico!
More Party Food
A complete Cookout menu with over 60 recipes for grilling, sides, drinks, desserts, potluck sides, and more for your outdoor BBQ party. Plus inspiring ideas, tips, and hacks to make your party spectacular. 🍔🌭🔥
100+ July 4th recipes for your cookout menu including grilling recipes, side dishes, and picnic food ideas with drinks, desserts, and more! 🇺🇸🧨💫
Learn how to set up a Fall Crostini Bar with all the toppings, plus get beautiful design inspiration for arranging an easy and relaxed party for Fall gatherings, Friendsgiving or Thanksgiving.🍂🥖🌿
And speaking of Thanksgiving, here are plenty of Thanksgiving Appetizers to celebrate the holiday season. 🦃 🍽