Last Updated August 4th, 2018 at 09:52 am by Lisa
publications for Lisa Torres  of Delicious Table
46 Easy Fall and Thanksgiving Centerpieces That Will Make Your Table Memorable (Woman's Day, July 2018)
These Unique Slaws Will Take Your Fish Tacos From Good To Amazing (Chowhound, July 2018)
10 Super Simple Summer Desserts To Make On The Grill (Community Parade Magazine, June 2018)
9 Keto Summer Recipes For Anyone on The Ketogenic Diet (Meraadi, June 2018)
6 Delicious Summer Smoothie Recipes To Boost Your Day (Style Democracy, May 2018)
Cool Off This Summer With These 25 Tasty Tropical Recipes (BuzzFeed, May 2018)
9 Easy Keto Salad Dressings To Successfully Lose Weight (Fitness Bash, March 2018)
53 Flavorful Fruit Popsicle Recipes For The Summer (Chief Health, March 2018)
9 Cocktail Recipes That Are Keto-Friendly (Pure Wow, March 2018)
9 Keto Friendly Cocktails That Are Totally On Your Diet (MSN, March 2018)
50 Easter Brunch Ideas and Recipes (FTD.com, March 2018)
25 Truly Delicious Easter Brunch Recipes (Style Caster, February 2018)
6 Healthy Smoothie Recipes to Start Your Day Off Right (Style Democracy, January 2018) 
Pink Grapefruit Juice (All Women's Talk, January 2018)
Cauliflower Power: 24 Ways To Enjoy This Versatile Superfood (Parade Magazine / Community Table, January 2018)  
How To Make Fall-Themed Empanadas (Chowhound, November 2017) 
Try One Of These 7 Delicious Treats At Your Next Brunch (Women.com, August 2017)
16 Times Breakfast potatoes Seriously Stepped Up Their Game (BuzzFeed, May 2017)
12 Healthy Low-Carb Chicken Recipes That Taste Amazing (Diabetes Strong, July 2017)
10+ of the BEST Pistachios Recipes on The Feedfeed (FeedFeed, May 2017)
35 Breakfast Hacks for Lazy Mornings (Gourmandize, March 2017)
Recipe Development
Grilled Lamb Gyro Wraps + Greek Tzatziki Sauce  (True Aussie Beef & Lamb & Big Green Egg, August 2017)
Culinary Judging Events
OC Fair 2018: What it's like to eat as a judge at the Concessionaires Cup fair-food contest (OC Register, July 2018)
2018 OC Fair Culinary Arts Competition Judge: Pies, Cheesecake, Yeast, and Quick Breads
2017 OC Fair Culinary Arts Competition Judge: Cakes and Cupcakes
Cooking Competitions
1st Place – Award Winning Lobster BLT ~ Food Blogger Bacon Battle Onstage Cooking Competition  (OC Fair,  July 2018)
1st Place – Surfas Professional 2 Cooking Course + Team Competition  (Surfas Culinary District, March 2016)
1st Place- Surfas Professional 1 Cooking Course + Team Competition  (Surfas Culinary District, October 2015)
Interviews and Guest Contributions
Pinterest VA Success Story (Pinterest VA.com, May 2018)
Guest Contributor and Recipe Writer (Coco and Ash, March 2018)
Meet Chef Lisa Interview  (French Garden House, December 2016)
TV Stories 
Simple Tips for Better Instagram Food Pictures – (KTLA News, April 2018) TechMunch Food Photography and Culinary Story Telling Workshop Event with celebrity Chef Curtis Stone at his Share restaurant on Princess Cruises.
Recipe Website Blog Features
Epic Collection of Summertime Drinks (The Unlikely Baker, June 2018)
Six Interesting and Delicious Summer Grilling Recipes (Ramshackle Pantry, June 2018)
70 Healthy Strawberry Recipes-Paleo & Gluten Free (Healy Eats Real, July 2018)
11 Mouth-watering Father's Day Brunch Recipes That Are Sure To Melt Hearts (Today We Date, June 2018)
101 Healthy Salad Recipes for Everyone (Happy Healthy Mama, June 2018)
4th of July Dessert Recipes for Your Neighborhood BBQ (PlayDates To Parties, June 2018)
Good Food Reads: Cinco de Mayo Cocktails and Mocktails (With Two Spoons, My 2018)
Good Food Reads: Summer Grilling (With Two Spoons, May 2018)
25 Quick and Healthy Breakfast Recipes (Be Forever Healthier, May 2018)
20 Comforting Soup and Sandwich Recipes (Girl Heart Food, April 2018)
Delicious Hawaiian Food (Berry & Maple, March 2018)
20 Truly Tasty Easter Meal Ideas That Everyone will LOVE!  (The Salty Pot, March 2018)
9 Keto Salad Dressings To Successfully Lose Weight (Fitnessbash.org, March 2018)
The Complete Guide To Keto Snacks -Over 50 Keto Diet Snacks (Recipes From Pantry, February 2018)
Best Blogging Tips and Tricks from Top Bloggers (Burlap and Blue, February 2018)
20 Romantic Dinner at Home Recipes (Time & Thyme Again, February 2018)
25 Olympic Recipes, Crafts, & Activities (Love To Be In The Kitchen, February 2018) 
20 Romantic Valentine's Day Recipes (GoGoGo Gourmet, February 2018)
33 Tasty Homemade Dog Treat Recipes (My Pinterventures, February 2018)
Baked Parmesan Hash Browns (Plan To Eat Online Meal Planner, January 2018)
15 Creative Recipes for Thanksgiving Leftovers (Living Rich With Coupons, November 2017)
16 Delectable Lobster Recipes (Just A Pinch, September 2017)
Pack Yourself a Southern Picnic with These 9 Easy To Make Recipes (Cooktop Cove, August 2017)
13 Bite-Sized Recipes That Are So Much Cuter in Miniature Form (Wide Open Eats, January 2017)
Beyond Green Food Coloring: Kid Friendly St. Patrick's Day Recipes (Nashville Mom's Blog, March 2018)
Can I Freeze Fruit Pie Filling? (Millennial Belle, September 2017)
Fruit Salad With Watermelon and Mint (Millennial Belle, July 2017)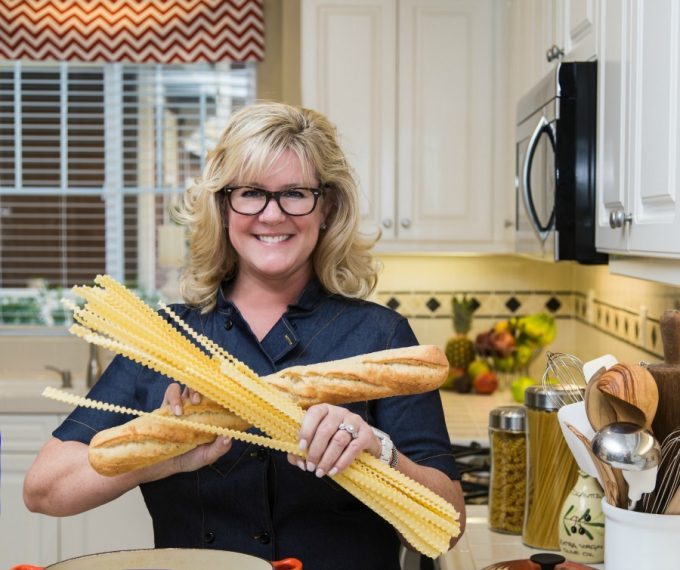 Let's Collaborate!
To discuss a potential partnership, please contact me at [email protected] to obtain a media kit and rates. I am always ready to work with the best companies and amazing brands that I truly love and use in my cooking.
Our team has the skill set to deliver on your marketing objectives and goals, as well as to share your great products with the Delicious Table community.
Let's Work Together and create some delicious recipes.