The Cuba Libre are classic Cuban cocktails similar to Rum and Coke. During my trip to Cuba, I learned how they make them in a uniquely Cuban way and it is the national drink of Cuba!
This drink is well over 100 years old. It has quenched the thirst of travelers and people around the world who enjoy this Coke cocktail. With the addition of fresh lime juice, it is simple yet sublime...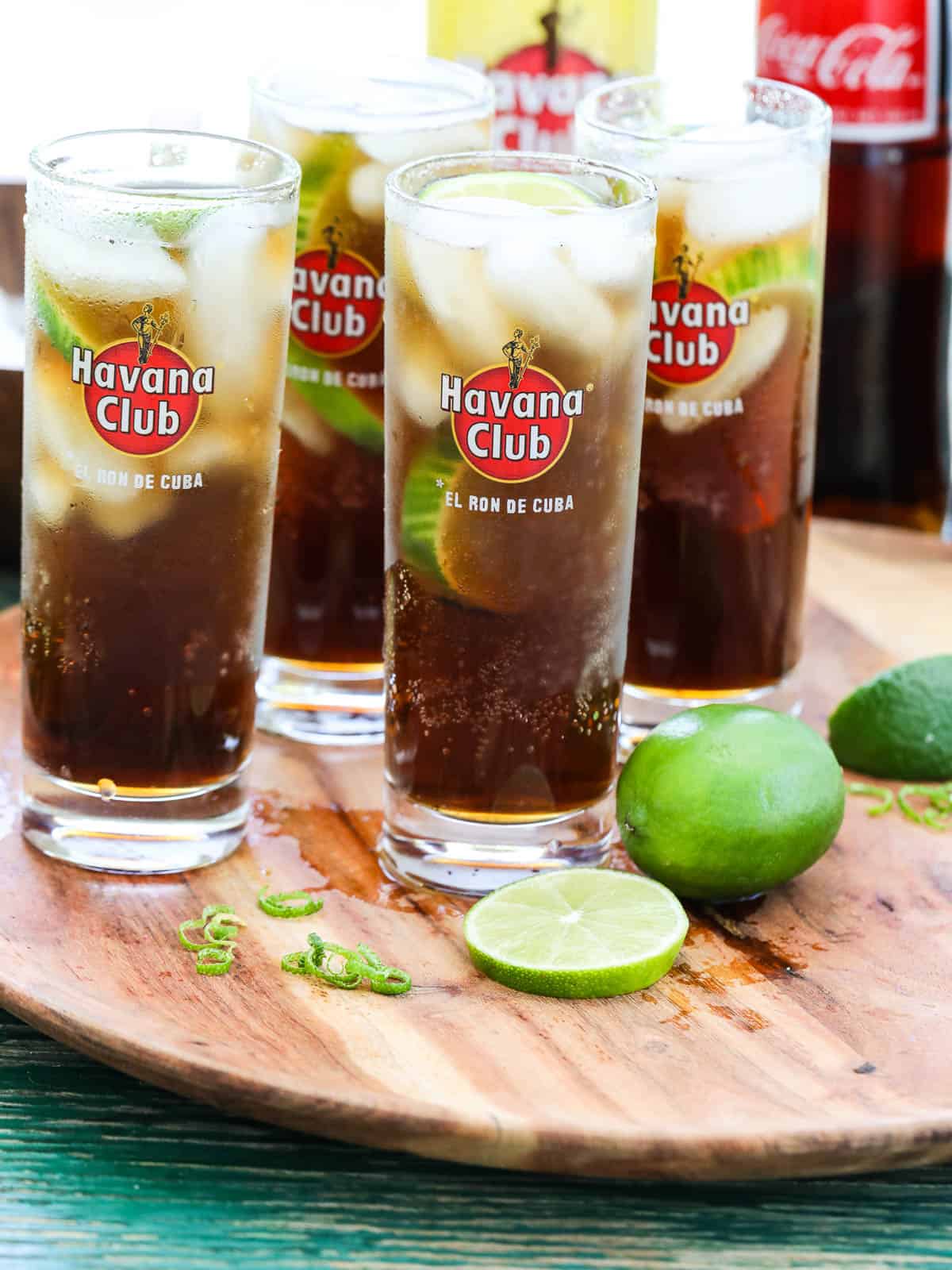 Cuba Libre Cocktail Recipe
The Mojito, The classic Daiquiri, and this classic Cuba Libre all come from Cuba. Each of these drinks carries a lot of history in the creation of these cocktail recipes. Hotels and bars have become famous for mixing popular drinks for thirsty tourists. The bartenders are highly skilled professionals. Today, I will share some of their secrets to share with you!
Rum and Coke is a classic combination with the lime and honors the very essence of Cuban rum in the best way...
Cuba Libre Ingredients
1-2 ounces rum. Use a light white or dark rum (1-3 years Puerto Rico Bacardi is close to Cuban rum)
Coca-Cola bottled in Mexico (as used in Cuba)
Lime wedges
Fill a tall glass or highball cocktail glass with ice, then squeeze a little lime juice in. Toss the spent lime shell.
Add rum 1-2 shots of good rum, and top with Coca-Cola.
Stir with a bar spoon, and garnish with a wedge of lime.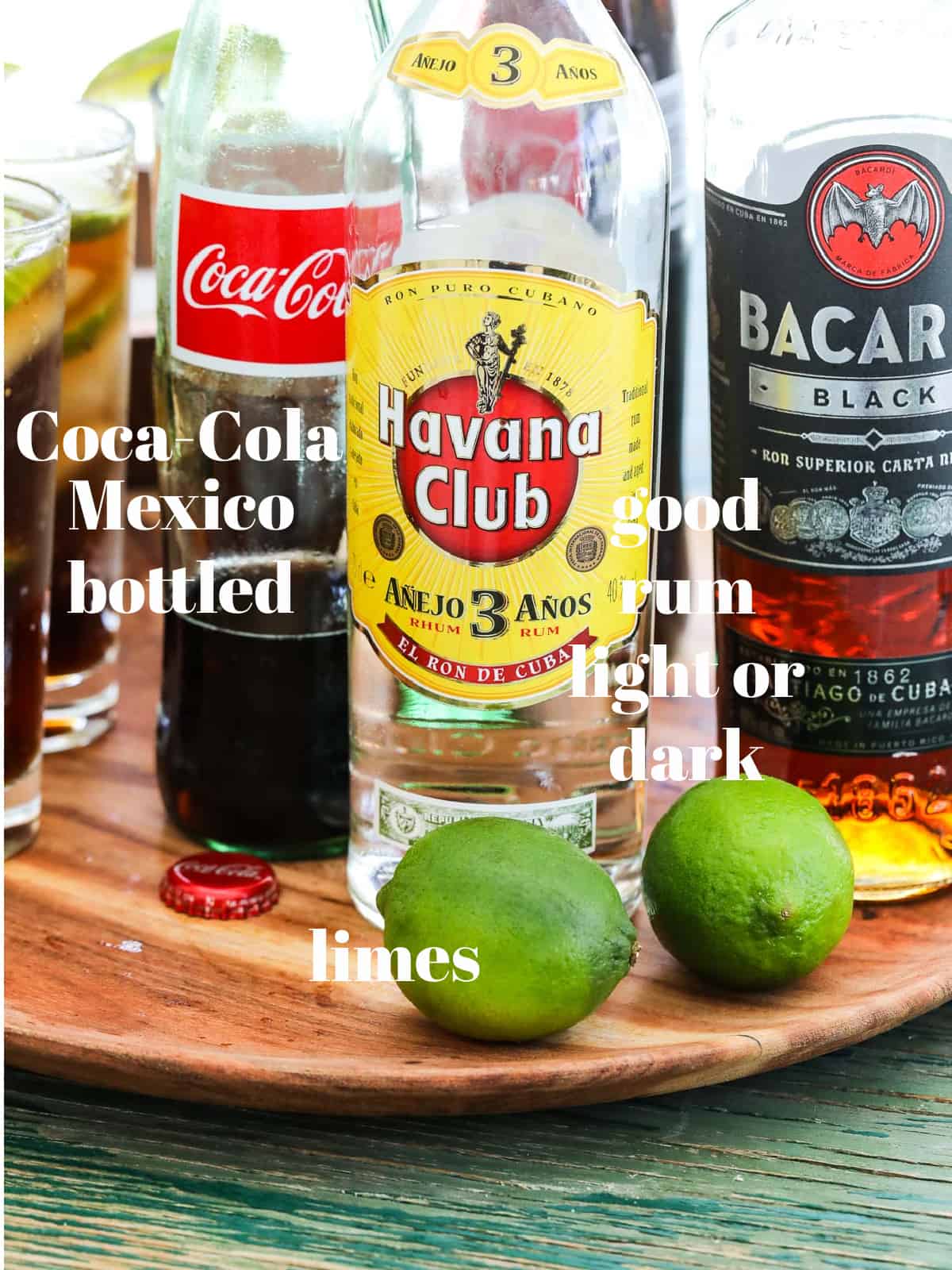 Lime Juice ~ adds a tangy zing and balance to the sweetness of the cola.
Coca-Cola ~ Look for Coca-Cola soda made in Mexico. It is sweeter, and not easy to find in stores, but you can order it on Amazon. In Cuba, they can't buy US bottles of Coke, so this is one of the authentic tips for this drink.
Rum ~ Both light and dark aged rum work well in this coke cocktail. The añejo blanco 3 años Havana Club rum is easy to find and buy everywhere in Cuba. And commonly used in bars and restaurants. In the United States, American distillers like Bacardi rum are a good brand, and you can also use premium golden rum you prefer.
Lime Garnish ~ By the way, in Cuba, they do not use mint as a garnish on a Cuba Libre. This drink often has a piece of mint for online photos in an American bar in the United States, but that is not authentic. They do use colorful straws sometimes, but keep it simple with just the lime they squeeze in, or a zested round of lime.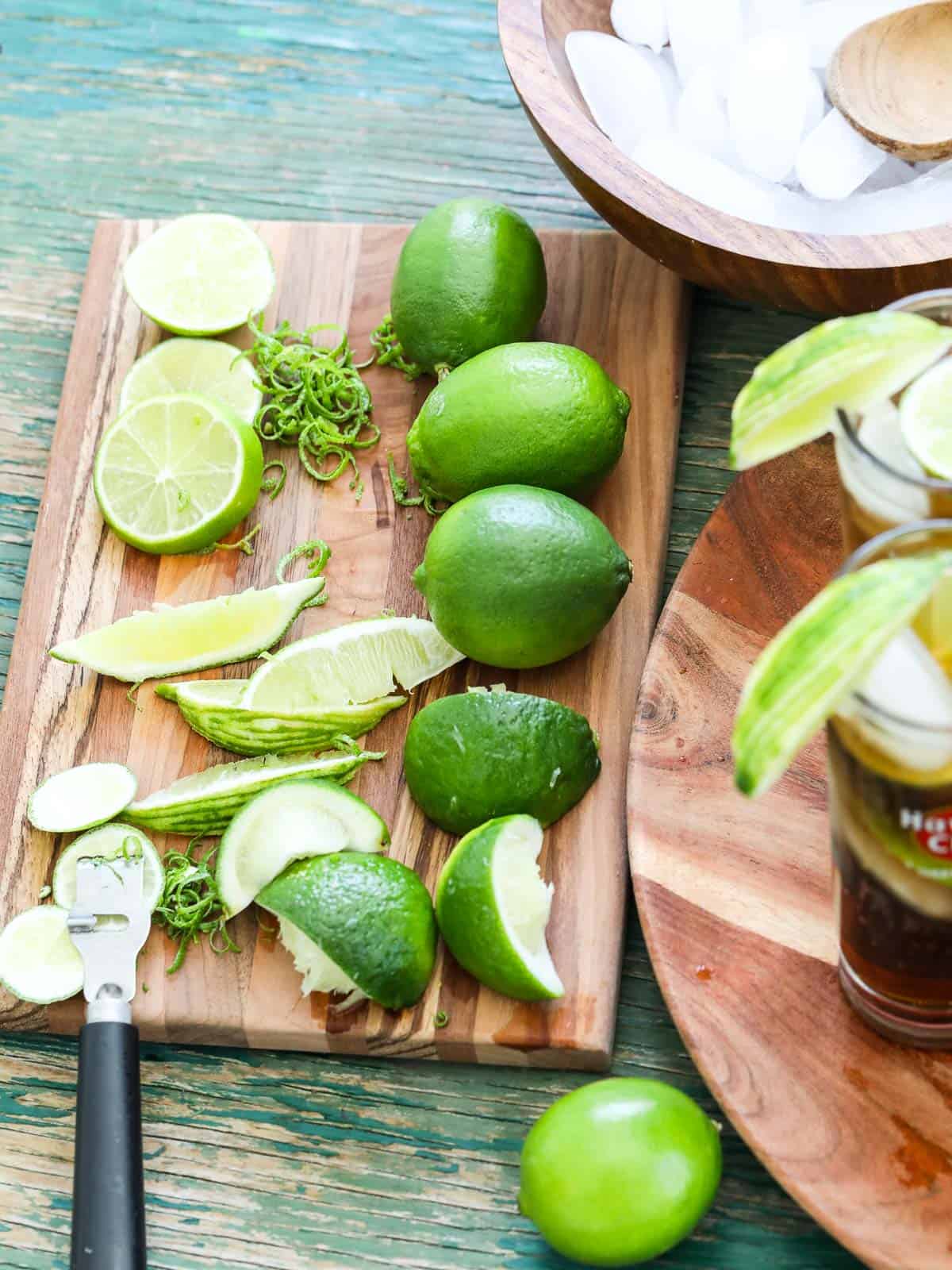 A Word About Cuban Rum
Rum is a liquor that starts by fermenting and then distilling sugarcane molasses or sugarcane juice. The distillate is a clear liquid. And usually aged in oak barrels.
While in Cuba, I took a tour of a farm that grows and processes cane sugar. And we each took a sip of the sugar cane juice.
Rum is a distilled liquor that comes from sugarcane products. It is a by-product of sugar manufacturing, one of Cubas's leading industries.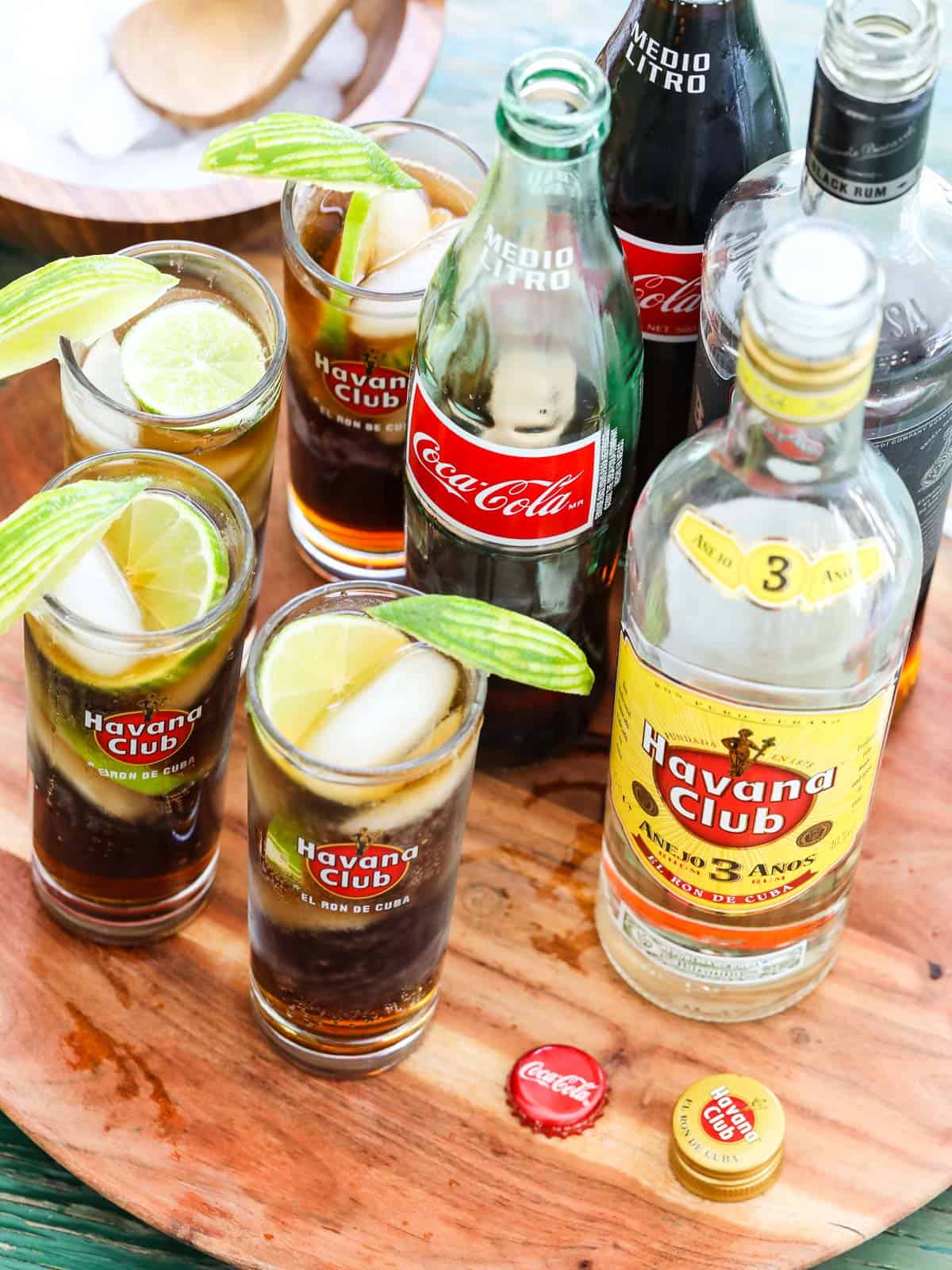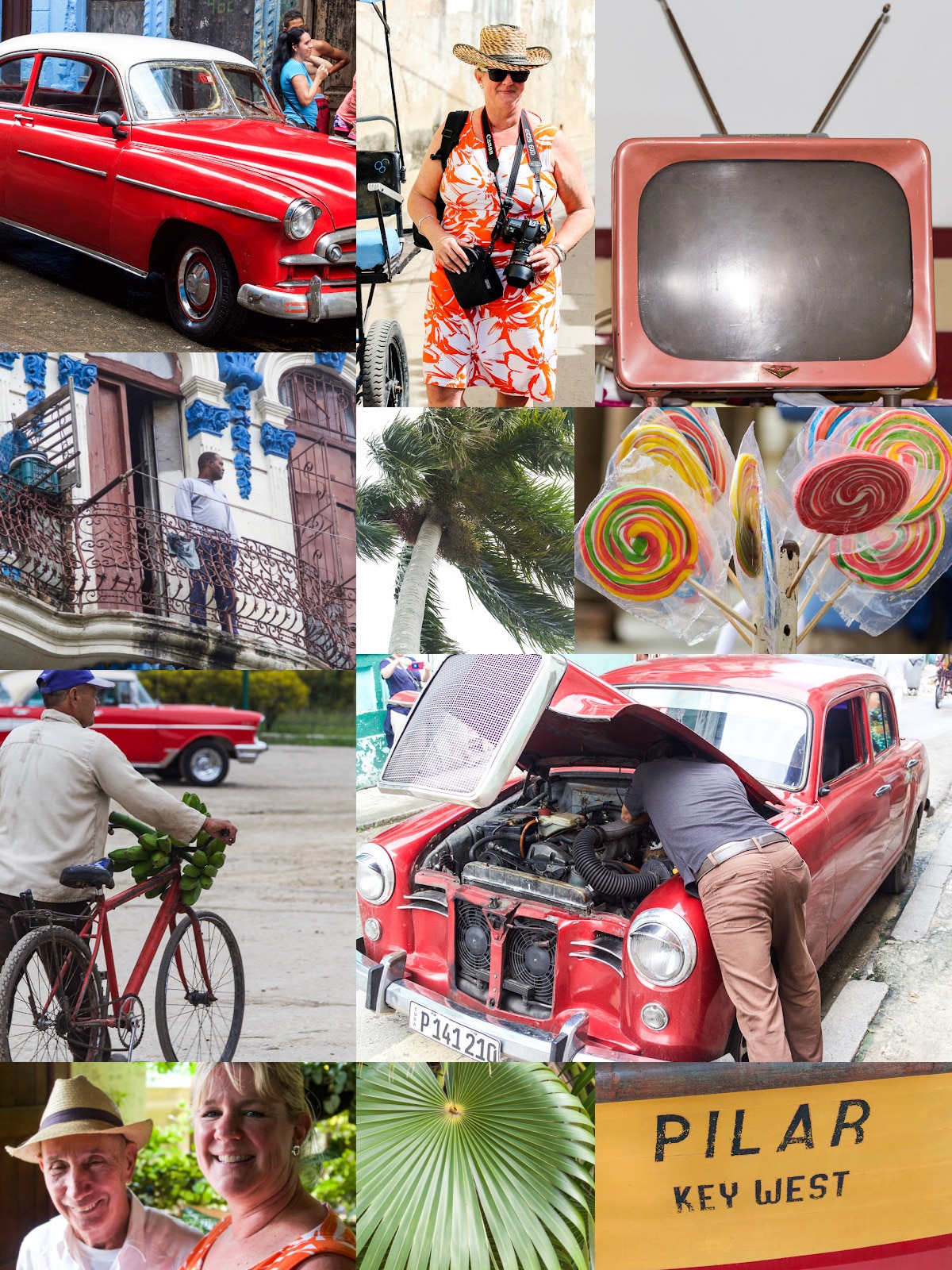 The Cuban sugar economy is the principal agricultural economy in Cuba. Throughout history, the Cuban economy heavily relied on sugar exports, however, sugar production has declined over the decades.
Cuba and Puerto Rico are known for their light-body rums. The fuller-flavored higher-proof rums are widely produced in Jamaica and the Caribbean islands.
Memories Of Cuba
Cuba Libre cocktails in this photo collage are from my trip to Cuba when I first arrived in Havana. It is culinary "research"! There are so many things to love about Cuba, it is an intoxicating country of contrasts. Of course, you know about the colorful classic cars and cigars.
Some of my favorite memories are that Cubans love their families, and take their time doing things. They have extremely talented artists, and everyone works at something. "Fast service" is not part of the Cuban way, there is no rush. Waiting for food and drink from your server, is normal. However, it's worth the wait. Even with a reservation. The pace is slow. Eventually, you relax and sink right into the low key pace.
Cuban Food & Drinks
The food was surprisingly delicious, I tried many dishes in the 3 weeks of my travels, and there are strong Spanish and French influences in their cuisine. Some of my favorite dishes were; Croquettes, Paella, Cuban Sandwich, Malangas "fritters", Tapas, Ajicao (Cuba's national dish), Ropa Vieja-shredded beef, and Congri -mixed black beans and rice.
The Caribbean sun produces some of the best tropical fruits like crops of banana, pineapples, mango, cacao, coconuts, and mamey - the national fruit, to name a few.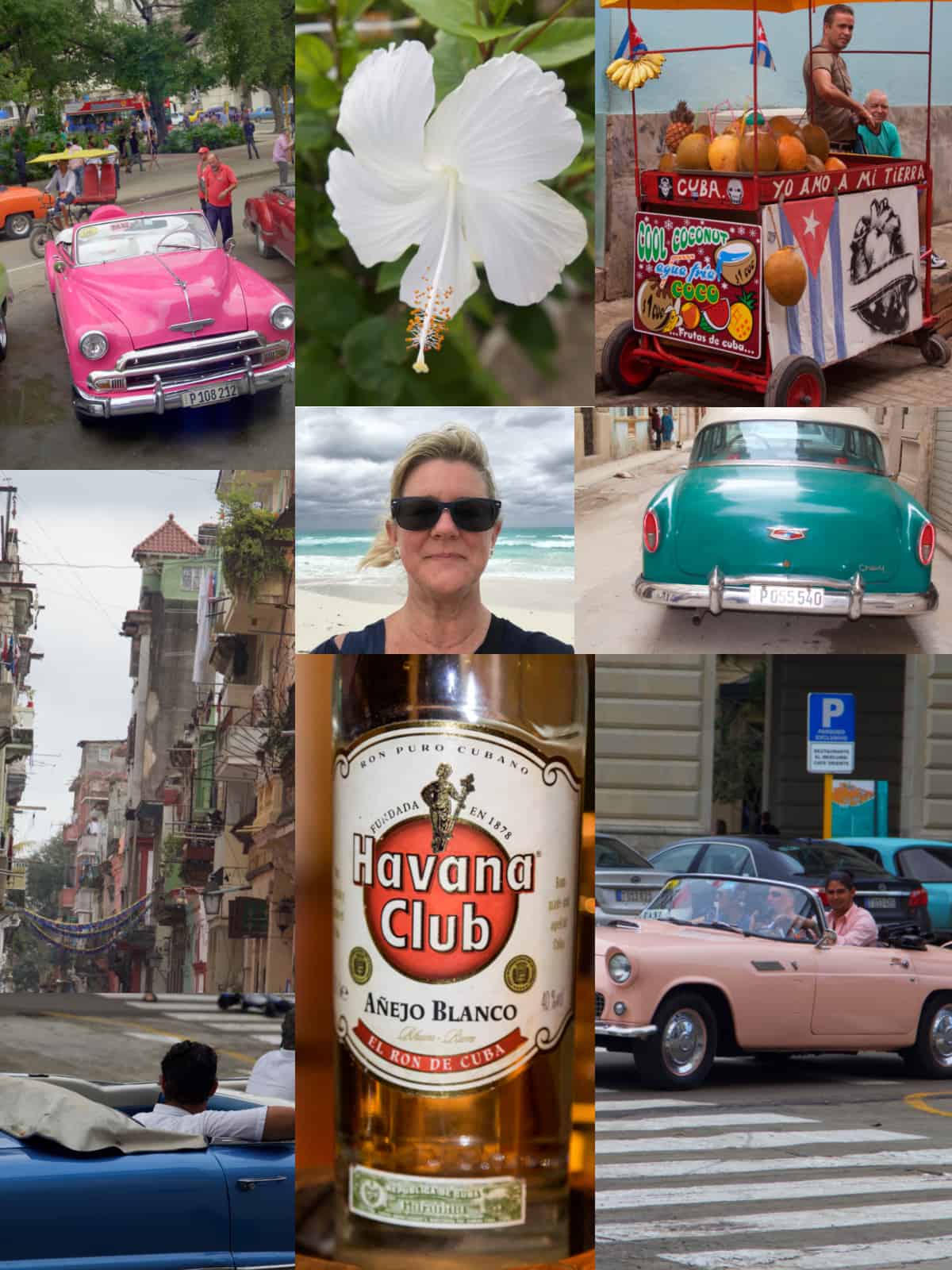 Other famous local crops include tobacco for rolling cigars, and sugarcane to make rum cocktails, which have grown on the island of Cuba for centuries.
The internet was quite undependable. And we loved the disconnect! Everything is so clean. The Cuban people are so kind and take great pride in their homes with lovely gardens. The older buildings are sometimes crumbling, and I saw one literally held up by old trees that grew inside the structure.
Homes and buildings occasionally collapse. As that happens, the land is cleared and a new park is ready for the neighborhood to gather and socialize.
It is common to see Cuban neighbors sharing a bottle of rum, no cups or ice just sipping it, listening to great music, and always dancing.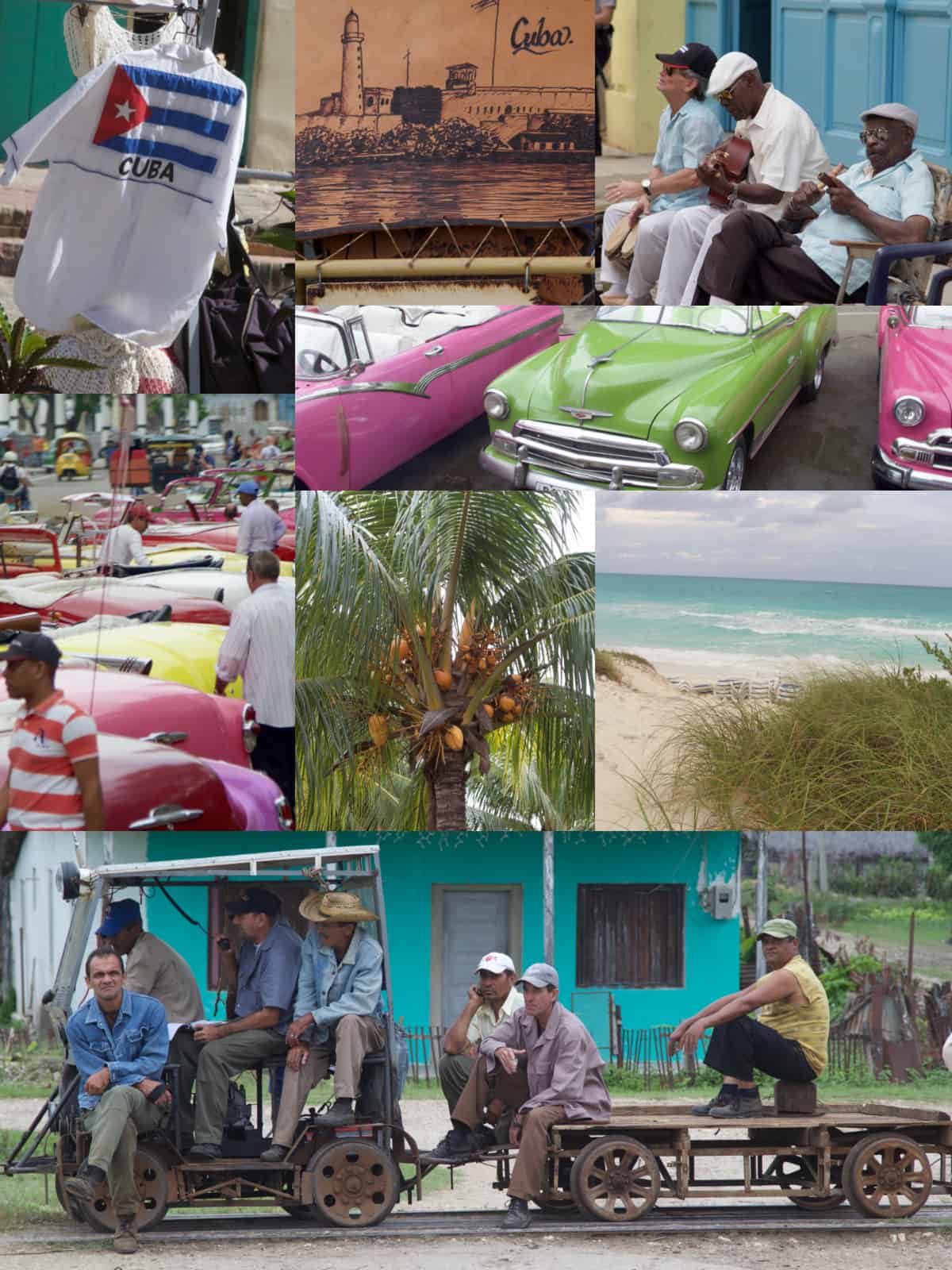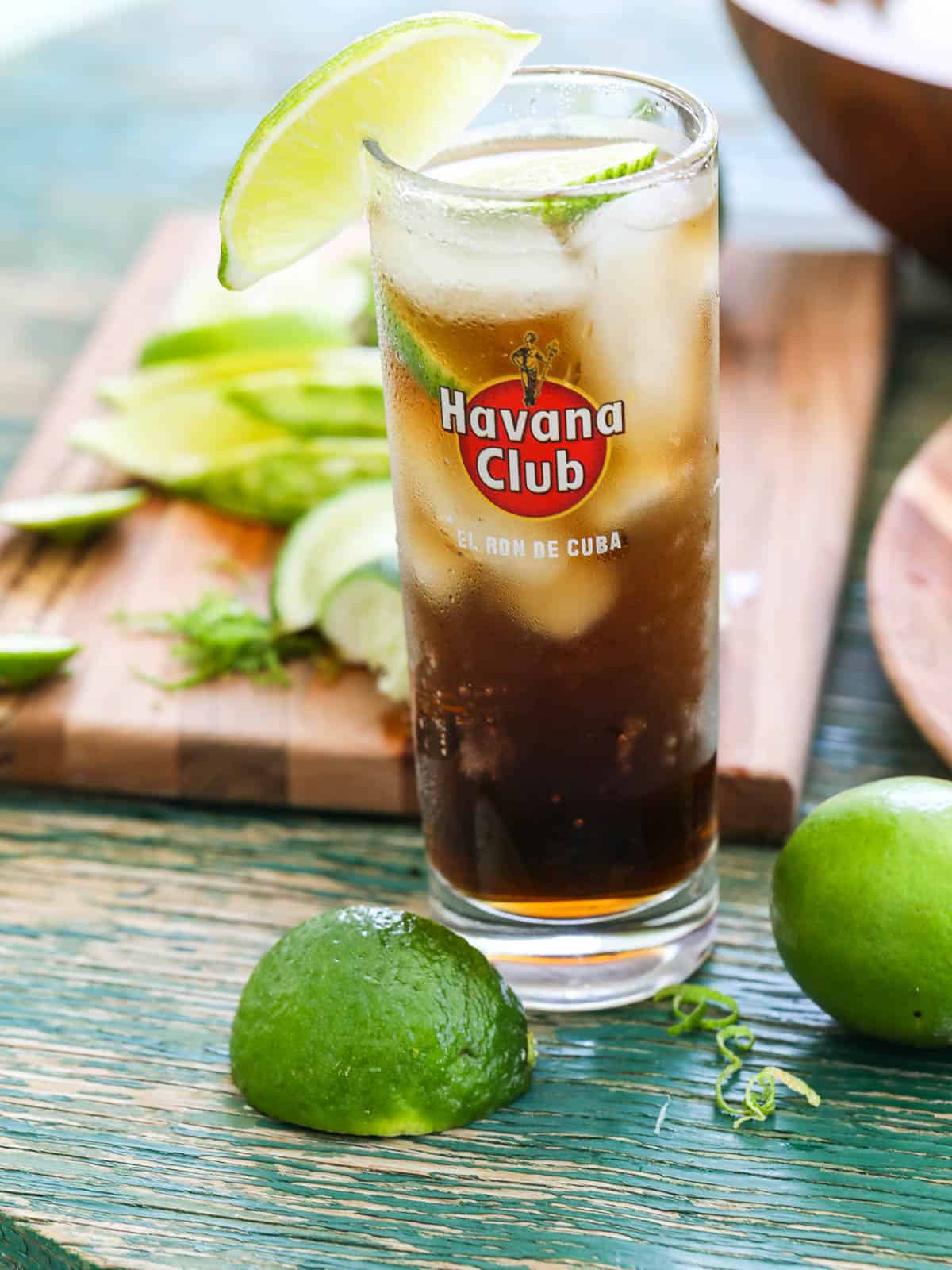 Cuba Libre FAQ
The History Of The Cuba Libre Cocktail
The Treaty of Paris was the end of the Spanish-American War and was signed on December 10, 1898. Spain renounced all claims to Cuba formerly under Spanish rule.

The origin of the Cuba Libre dates back to the Ten Years War, where, as the story goes, a group of American soldiers were in a Cuban bar.
A Captain in the US Army stationed in Havana ordered a rum and Coca-Cola, and toasted Cuban friends with the words por Cuba libre meaning Free Cuba. The toast helped name the drink and celebrates Cuban independence to this day.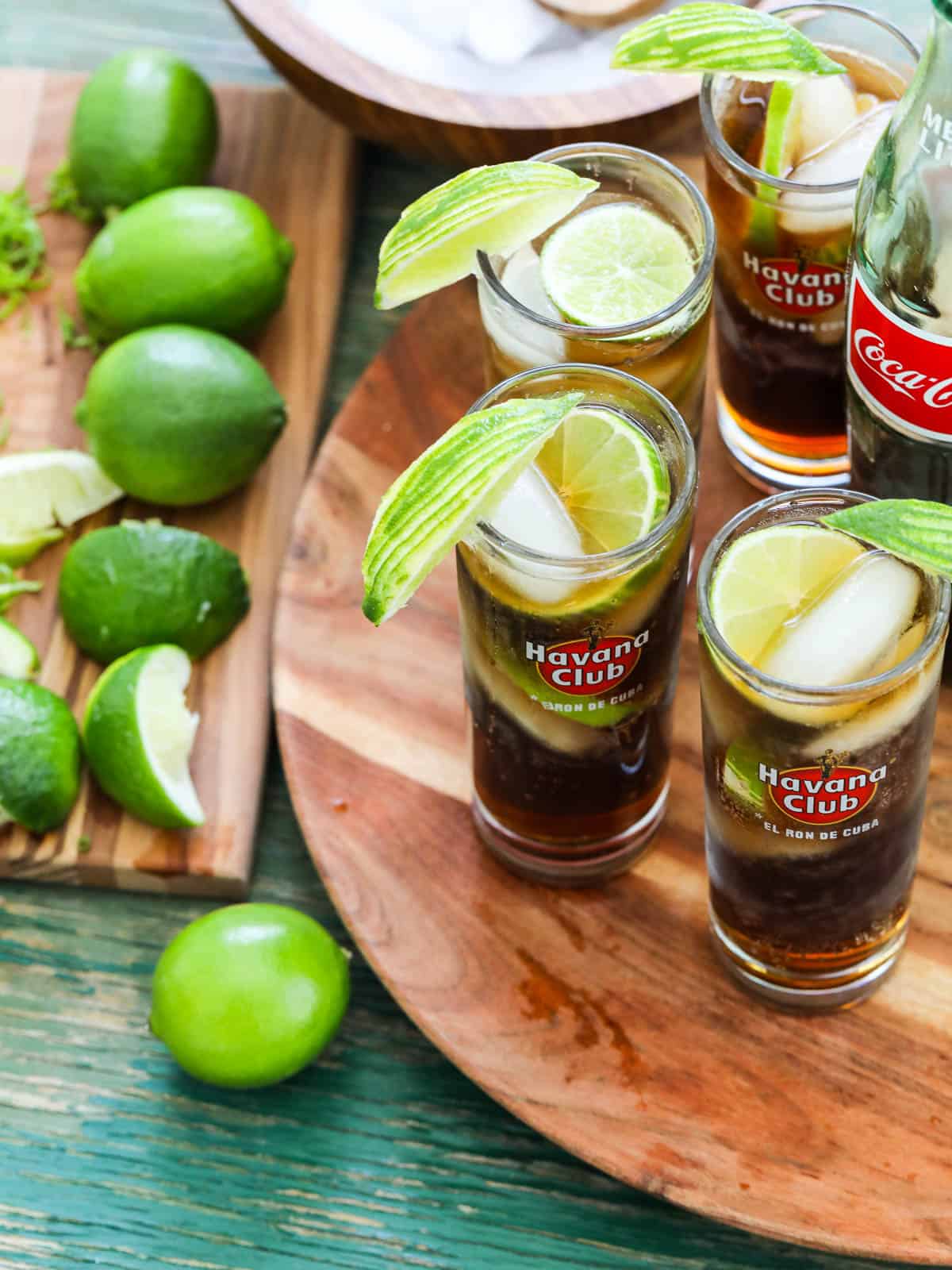 More Cocktails and Drinks
Straight from Cuba, this Mojito recipe is 100% authentic. Learn the real ingredients from Cuban bartenders in Havana. And what makes these famous cocktails the real deal! Classic mojitos are the very essence of beach cocktails. St. Germain Cocktails have notes of floral flavor with Elderflower liqueur, Prosecco or Champagne, tropical tea syrup, and a splash of club soda over crushed ice.
Serve this White Wine Sangria recipe for a light and refreshing summer sipper. It is great for July 4th celebrations, picnics, barbecue cookouts, or any summer party. Hibiscus Cocktails have under 100 calories each, are low in carbohydrates, vegan, low sugar keto, and gluten-free!
Fireball Whiskey Cocktails has fresh oranges, cinnamon, cloves, apple cider, and cinnamon flavored whiskey. Serve these fireball whisky drinks for game days, the holiday season, brunch, Fall parties, and Thanksgiving Day.
For a slushy refreshing drink, whip up a CoronaRita Margarita or serve Aperol Spritz cocktails, perfect for pool parties, outdoor potlucks, and BBQs. A Candy Corn Martini is the ultimate Halloween drink for parties, with simple ingredients that are easy to find.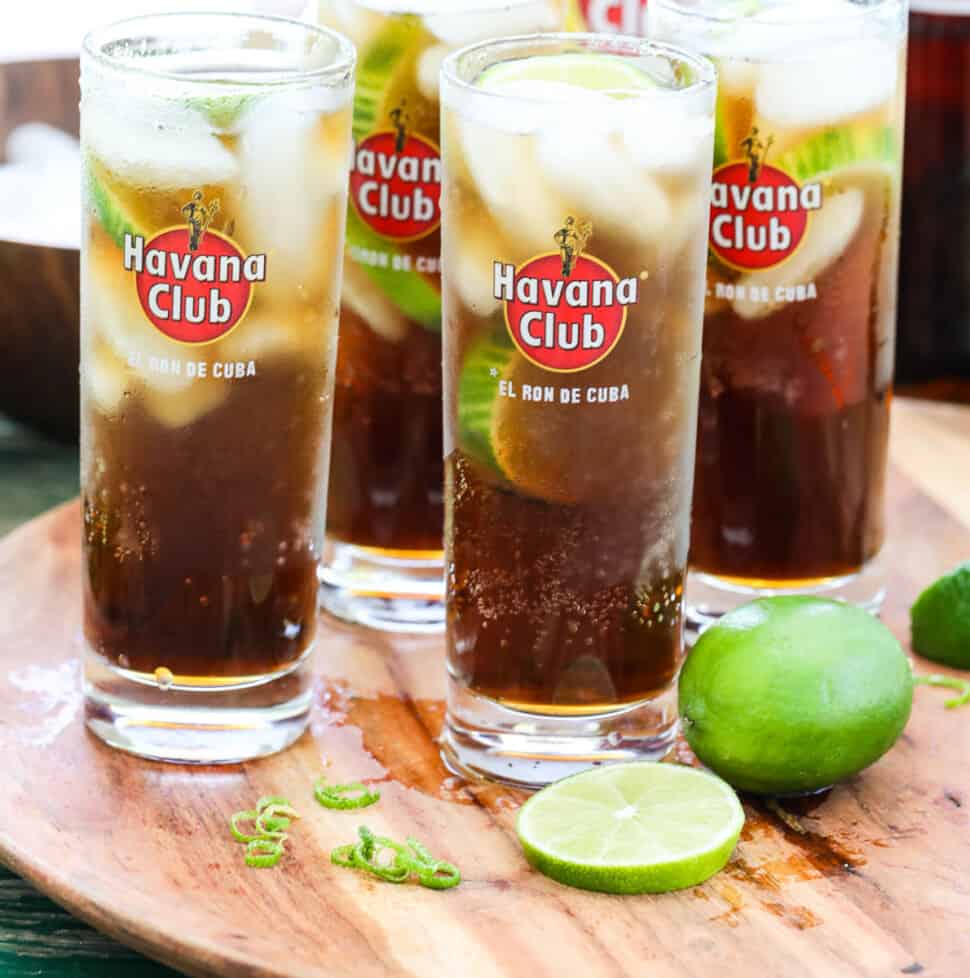 Print
Pin Recipe
Cuba Libre Cocktail Recipe (Cuban Rum and Coke)
Cuba Libre Cocktails from my trip to Cuba. Learn the secret ingredient in these famous Cuban cocktails and what makes them authentic. And yes, this cocktail is a Rum and Coke, but made the Cuban way!
Ingredients
1

slice

lime

juice

1-2

shots

dark or white rum

good US or Puerto Rican brand, Cubans typically use Havana Club 3 year white rum

Coca-Cola-Bottled in Mexico

2

slices

lime wedge

garnish
Instructions
In a glass, add ice and a squeeze of lime. Next, add 1-2 shots dark or white rum.

Add a few more ice cubes, and top with chilled Coca Cola. In Cuba they don't add lots of ice.

Garnish with a lime, you can zest it in strips, then slice into wedges.
Notes
Cuban Rum
Havana Club - El Ron De Cuba, is not currently available in the US due to the import embargo.
You can find some good options like Havana Club - Puerto Rico available at specialty liquor stores.
Another good brand is Bacardi Black, this Puerto Rican dark rum aged between 1-3 years in oak barrels, works well in Cuba Libre.
Coca Cola - Mexico Bottled
Try to buy it in Mexican or Latin markets, and sometimes Taqerias (taco shops) sell bottles on ice. There is a difference, to me, it is sweeter and just tastes better! People go crazy for it here in Southern California.
Nutrition
Calories:
157
kcal
|
Carbohydrates:
13
g
|
Sodium:
31
mg
|
Sugar:
8
g
|
Vitamin C:
9.7
mg
|
Calcium:
11
mg
|
Iron:
0.2
mg
Need ingredients or equipment to make this recipe?
Shop Now Every cooking product recommended I own, use, and love how they perform in my kitchen. Happy Cooking! Lisa
Disclosure: As an Amazon Associate, Delicious Table earns advertising fees from qualified purchases linking to Amazon.com