Last Updated August 29th, 2022 at 10:19 am by Lisa
Homemade Relish is a mix of clean crunchy fresh produce. Sure you can buy it at the store, but once you have the real thing, you can't go back. You can make it coarse or fine as you prefer. Top hot dogs or load-on burgers as part of your cookout menu.
There is a whole list of hot dog toppings with this recipe too. Make a bowl of this cool crisp condiment in minutes, it elevates classic grilled foods to a whole new level...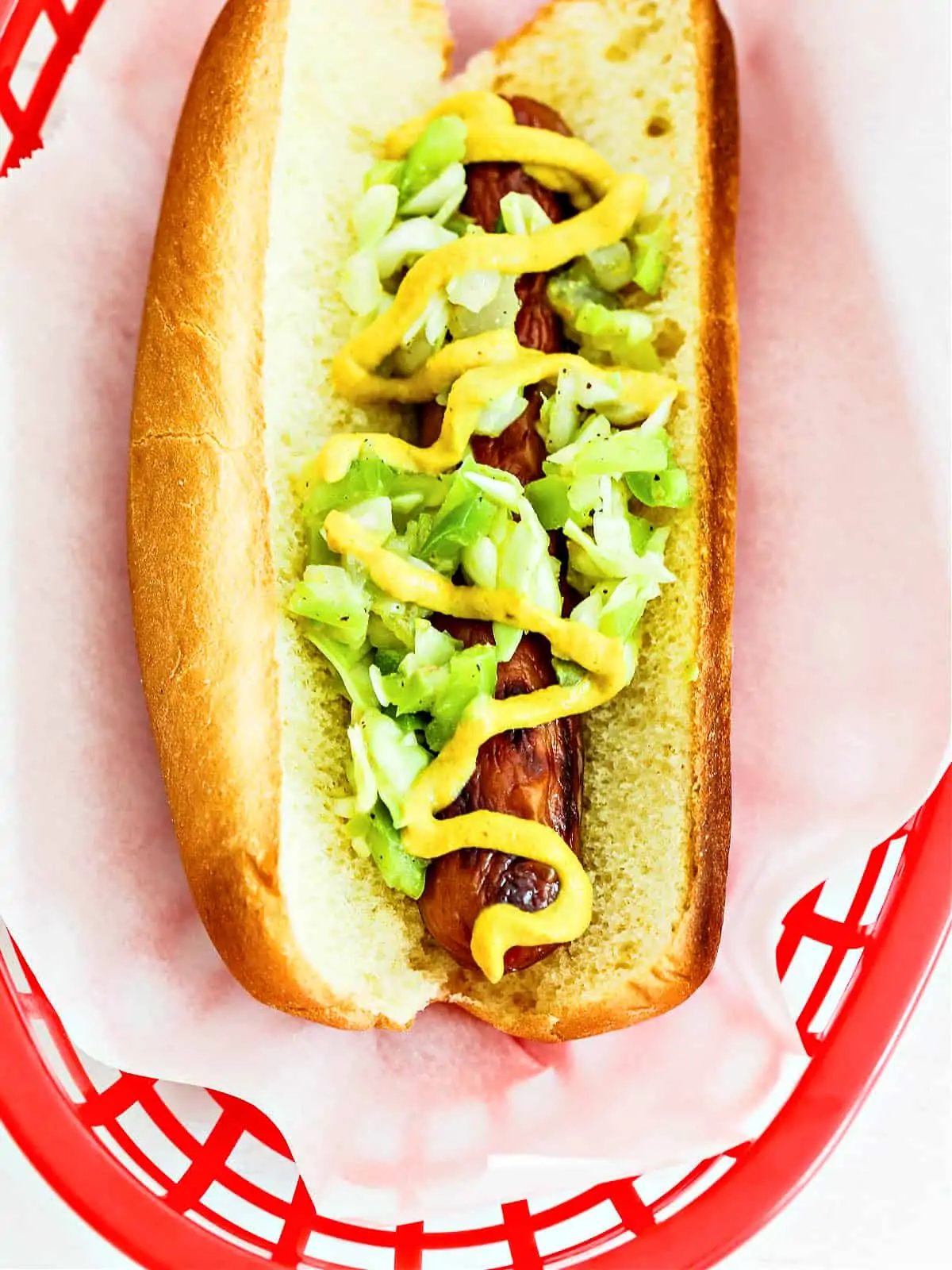 Relish can consist of a single type or a combination of vegetables and fruit, coarsely or finely chopped.
Relish texture will vary depending on the slicing style used for these solid ingredients. One of the best things is you can chop the ingredients course or mix them in a Cuisinart for a finer texture.
It's a good way to use up extra ingredients like cabbage, pickles, and vinegar.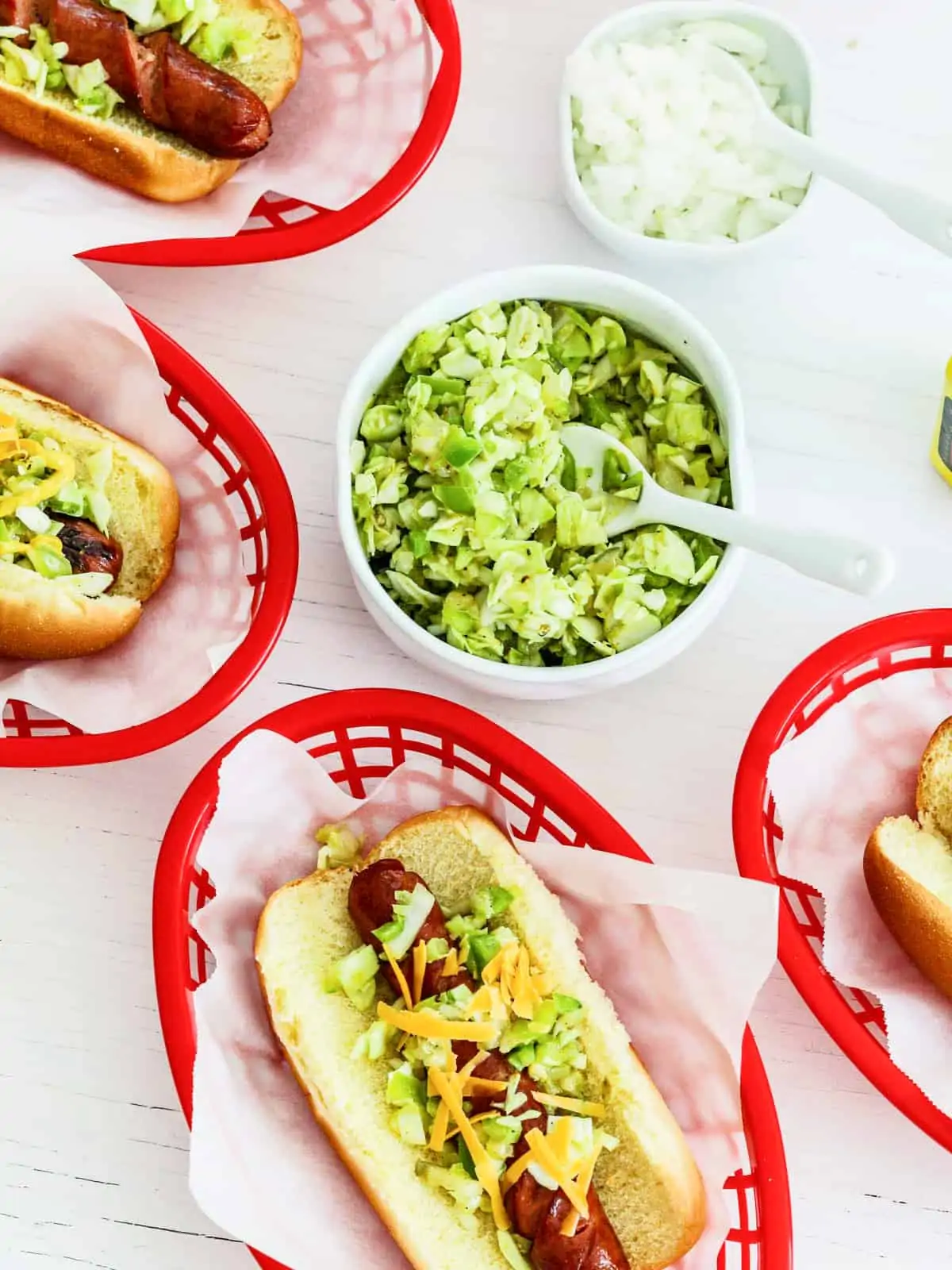 Homemade Relish Recipe
1 green bell pepper chopped fine
1-2 dill pickles chopped fine (or use finely chopped cucumbers)
1 cup green cabbage finely shredded
¼ cup onion (chopped fine)
1 tablespoon apple cider vinegar
2 tablespoons yellow mustard
½ teaspoon sea salt
½ teaspoon ground pepper
Finely chop all the bell pepper, dill pickles, cabbage, and onion on a cutting board or in a food processor. Add to a medium bowl. Stir in vinegar, mustard, salt, and pepper.
Seal in an airtight container and keep refrigerated for at least a day. Use within a week on hot dogs and hamburgers. This relish is safe at room temperature for cookouts.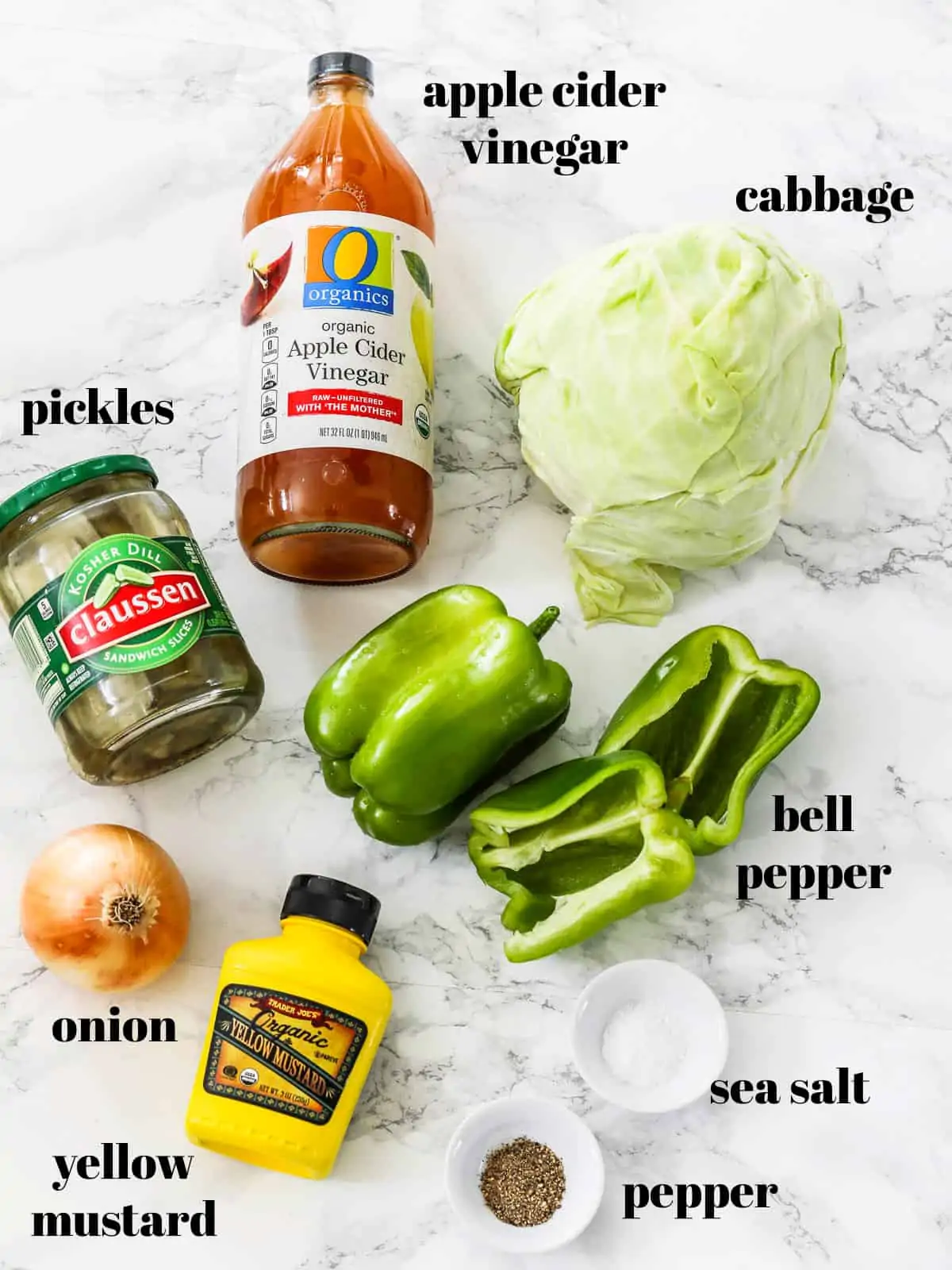 PRO TIP: For a finer texture, pulse all ingredients in a food processor until it becomes a fine mix. If you like relish chunky and course, hand chop it on a cutting board.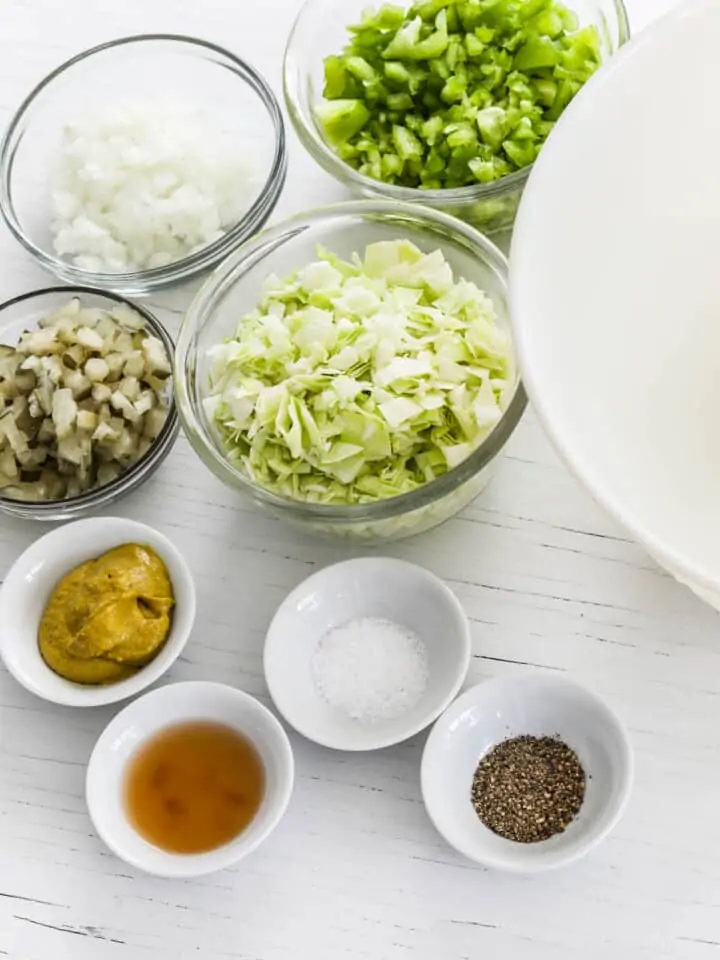 Homemade Relish Variations & Swaps
Homemade pickle relish can be made in so many ways with different flavors by adding ingredients you have on hand or prefer.
Kinds of Peppers: You can swap in different types of peppers; any sweet pepper including mild red bell peppers, green bell peppers, pickled hot peppers, or spicy red peppers like serrano.
Spices: Any seasoning addition like a sprinkle of mustard seed, celery seed, coriander seed, celery salt, dill seed, or red pepper flakes will turn up the flavor.
Onions: You can use any large onions,white, yellow, or red onion. Milder sweet onions are also nice and don't have the strong bite that white onions do.
Pickles: Add some homemade pickles! You can add diced English cucumbers, sweet pickles or your own pickle recipe for extra crunch.
Vinegars: Any regular white vinegar, white wine vinegar, apple cider vinegar or even lemon juice will work.
Tomatoes: use up green tomatoes, or even a bit of red tomato for extra color.
Sweetness: Adding brown sugar, maple sugar, or white sugar to your relish will up the sweet level.
Why Make Your Own Relish?
Sure you can just buy relish at the grocery store, but when you read that label who wants all the additives like xanthan gum (a thickening agent), corn syrup, food coloring for the bright color, and many other preservatives?
hot relish - add spicy peppers like habaneros, cayenne, red jalapenos, and serranos.
dill relish - load more dill pickles, use a good tart pickle variety
onion relish - Add a majority of Vidalia onions or other sweet onions
chow chow relish - has tomatoes and other spices, popular in the South
classic sweet relish - add more sugar and finely diced
Relish FAQs
What to use relish on?

A popular condiment, most recipes are typically a chopped combination of vegetables, herbs, seasonings, and even fruit.

In America, pickle relish is made with finely chopped pickles, cucumbers, vinegar, and seasonings, then cooked and pickled to make it shelf-stable. You can find sweet dill or dill varieties in the stores.

Try relish on grilled hot dogs, toss into salads for a crisp crunch, and mix into coleslaw for a nice tang, stir into potato salad, load onto a sub sandwich, top grilled fish, or put on a grilled hamburger.


What kind of relish goes on hot dogs?


-Sweet Pickle Relish - classic and sweeter of course.
-Dill Pickle Relish - for people who prefer a tart tang.
-Chicago-style Relish is a type of sweet pickle relish typically used on the windy city Chicago dog. The unique green color of the relish often referred to as "neon green", is created by adding blue dye to regular pickle relish.

More Cookout & Hot Dog Recipes
These are some of my favorite ways to make hot dogs taste amazing. Try some Spiral Grilled Hot Dogs, and fill those nooks and crannies with toppings. Make some loaded Chili Dogs and get the secret for thick hot dog chili! Get inspired with easy recipes for your next cookout.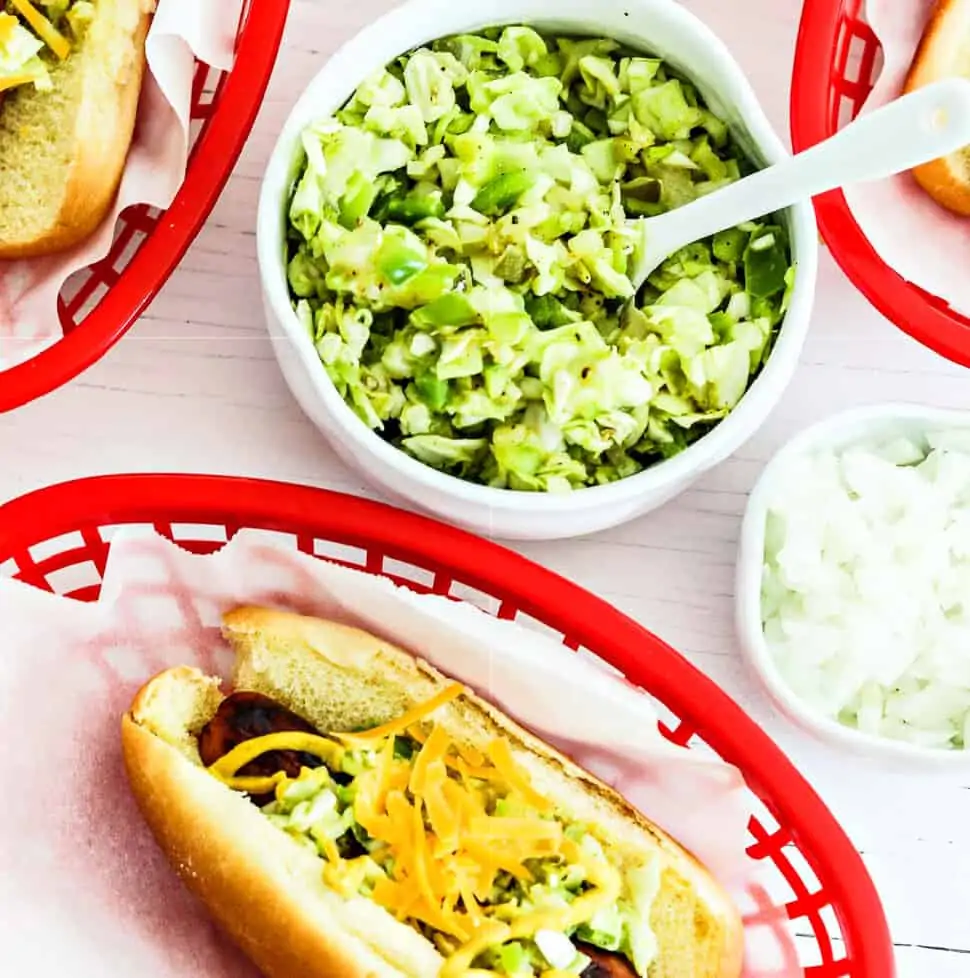 Print
Pin Recipe
Homemade Relish Recipe
Mix up this fresh crunchy homemade relish recipe, to top grilled hot dogs or hamburgers. Serve this condiment at your next cookout or BBQ.
Ingredients
1

bell pepper

chopped fine

1-2

dill pickles

chopped fine

1

cup

green cabbage

finely shredded

¼

cup

chopped onion

chopped fine

1

tablespoon

apple cider vinegar

2

tablespoons

yellow mustard

½

teaspoon

sea salt

½

teaspoon

ground pepper
Instructions
Finely chop all the bell pepper, pickles, cabbage, and onion on a cutting board. Add to a medium size bowl. Stir in vinegar, mustard, salt, and pepper.

PRO TIP: For a finer texture, pulse all ingredients in a food processor until finely mixed.

Seal in a container and keep refrigerated for at least a day. Use within a week on hot dogs and hamburgers.
Notes
Hot Dog Toppings
grated cheese
relish
mustard
ketchup
chopped onions
chopped tomatoes
green onions
sauerkraut
pickled jalapenos
caramelized onions & mushrooms
crumbled bacon
Cookout Party Checklist
Serving Trays - regular or ones that stay chilled
Pop-Up Food Tents/Covers (keep critters off your food!) 🐜🐜🐜
Small Bowls
Serving Spoons
Napkins
Utensils
Plastic Baskets/Paper Liners or Paper Plates
Red Solo Cups
Cooler/Ice
Beer, Wine, Drinks/Cocktails
Bottled Water
Iced Tea, Lemonade, or Soda
Chips, Dips, Pretzels, Snacks
Bottle opener/Corkscrew
Nutrition
Calories:
9
kcal
|
Carbohydrates:
2
g
|
Protein:
1
g
|
Fat:
1
g
|
Saturated Fat:
1
g
|
Polyunsaturated Fat:
1
g
|
Monounsaturated Fat:
1
g
|
Sodium:
174
mg
|
Potassium:
46
mg
|
Fiber:
1
g
|
Sugar:
1
g
|
Vitamin A:
328
IU
|
Vitamin C:
15
mg
|
Calcium:
8
mg
|
Iron:
1
mg
Need ingredients or equipment to make this recipe?
Shop Now Every cooking product recommended I own, use, and love how they perform in my kitchen. Happy Cooking! Lisa
Disclosure: As an Amazon Associate, Delicious Table earns advertising fees from qualified purchases linking to Amazon.com