Last Updated September 4th, 2023 at 08:01 pm by Lisa
During football season, we crave the best game day foods while watching our teams play like juicy cheeseburgers, loaded hot dogs, fun snacks, easy game day appetizers, and hot and cold dips.
Favorite football party food recipes go down so well with creative cocktails to sip or ice cold beers to drink.
Whether you are a fan of the NFL or College Football, cheer on your favorite team with a winning game plan of good food and munchies with over 75 game day recipes in this collection.
Gather your party guests and throw a legendary football party with spectacular, delicious Super Bowl foods for the biggest game of the year. And tailgate in style with all your fan favorites with these amazing football food ideas...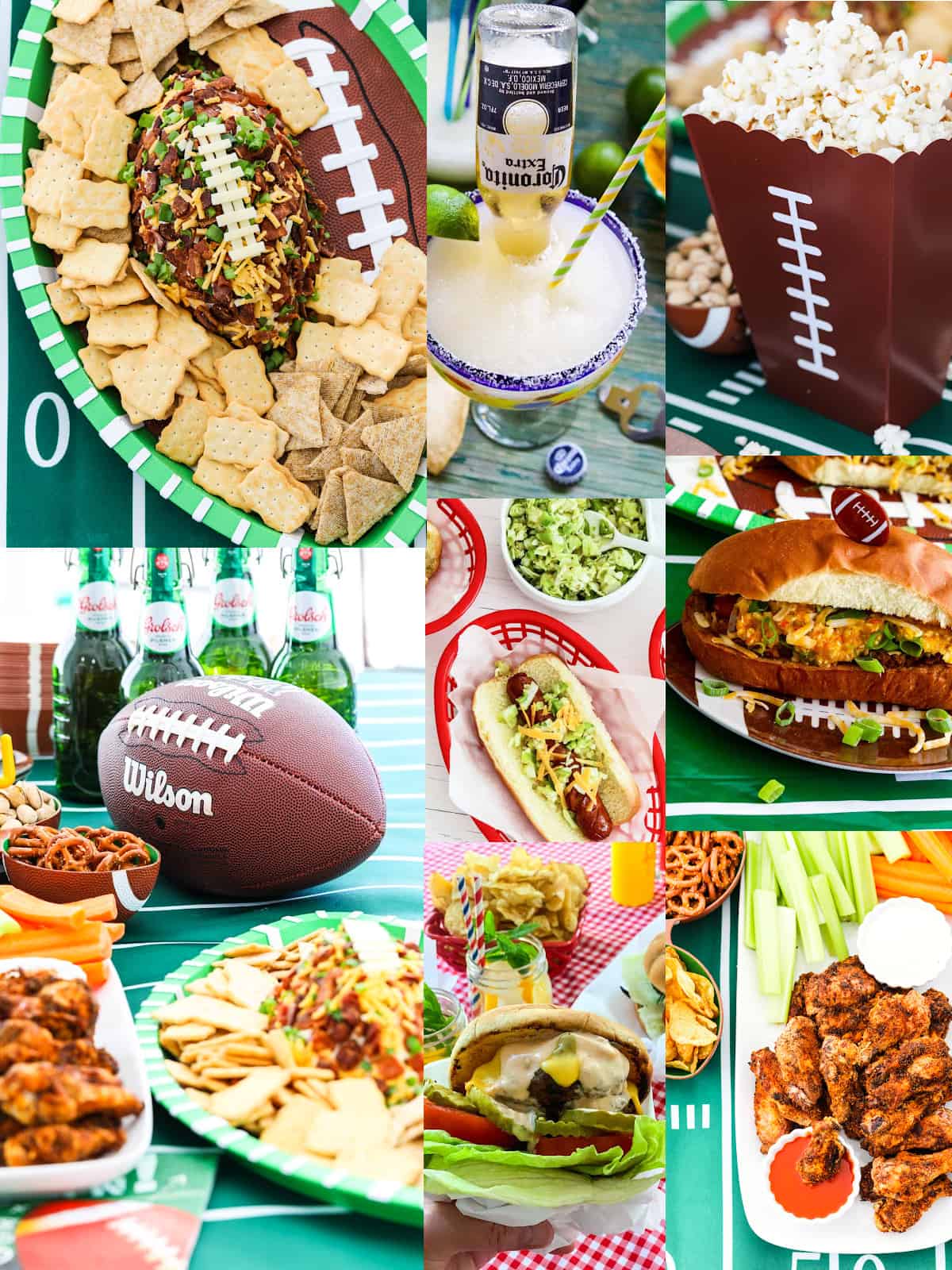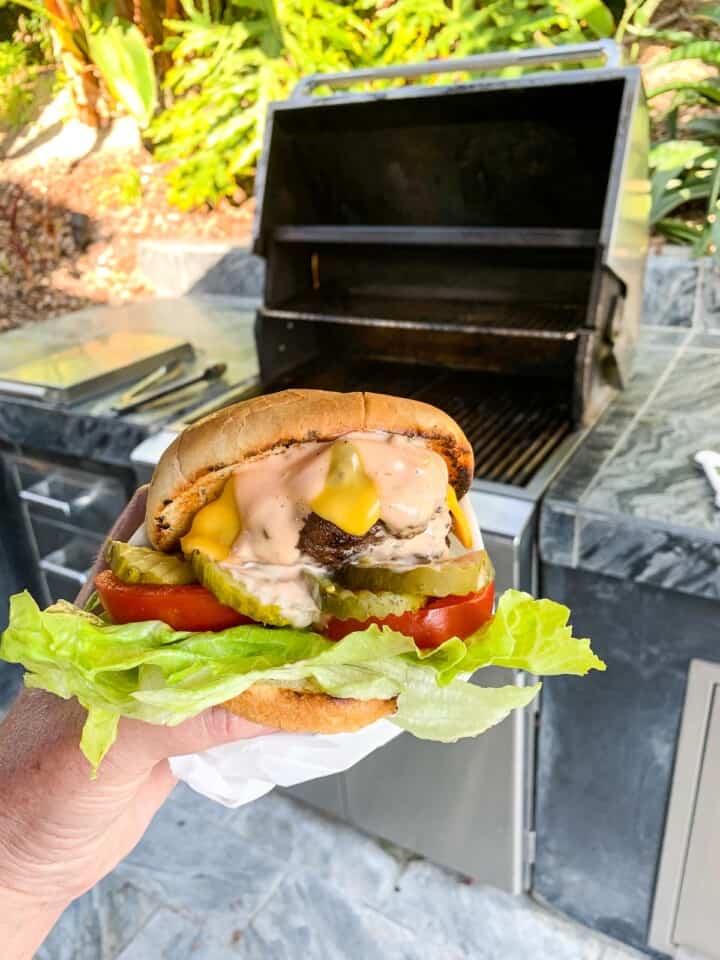 Super Bowl Party Main Dishes
When it's game time, light up your smoker early in the day for ribs or a brisket, or fire up the grill with friends before kick-off. Everyone loves juicy cheeseburgers or hot dogs, or a big pot of chili simmering as a main course crowd pleaser in your slow cooker. There are lots of football food recipes ideas here for classic game day eats, and all are easy party food...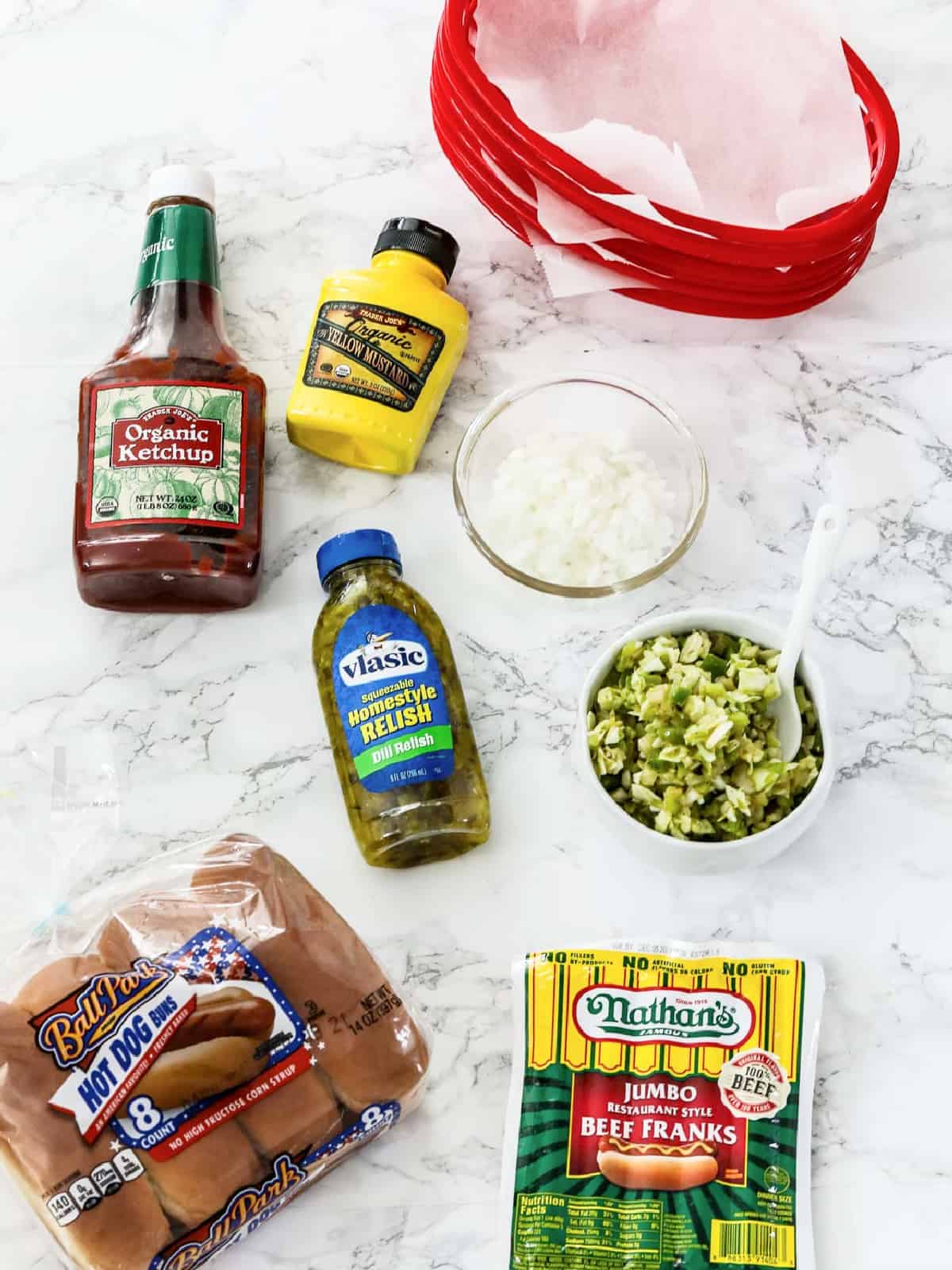 Tailgate Foods
The first time I threw a tailgate party, I learned the best thing is to keep the tailgate menu simple! You are cooking in a parking lot, and want to have a good time.
If you throw a tailgate party, there are a few things to consider, here are my top tips!
Plan for the site, the weather, and the game location. It is a great idea to get online and do some research on what is allowed at that stadium.
The best tailgating recipes are mostly prepped at home and then either quickly grilled on a portable grill or heated before the game.
You can bring things wrapped in aluminum foil, and keep them warm. Or use heated electric trays powered off a generator or to plug in slow cookers.
Get all my tailgate game day recipes, and planning tips for all your tailgate recipes and foods that transport well...
Best Tailgate Side Dishes
This tailgate side dish menu works for game day potlucks and home parties. There are inspiring recipe ideas for salads, hot sides, potluck sides that transport really well, and more for your outdoor tailgate BBQ party. Plus inspiring ideas, tips, and hacks to make your game day spectacular. All the classics are here like baked beans, pasta salads, potato salads, macaroni salads and so much more...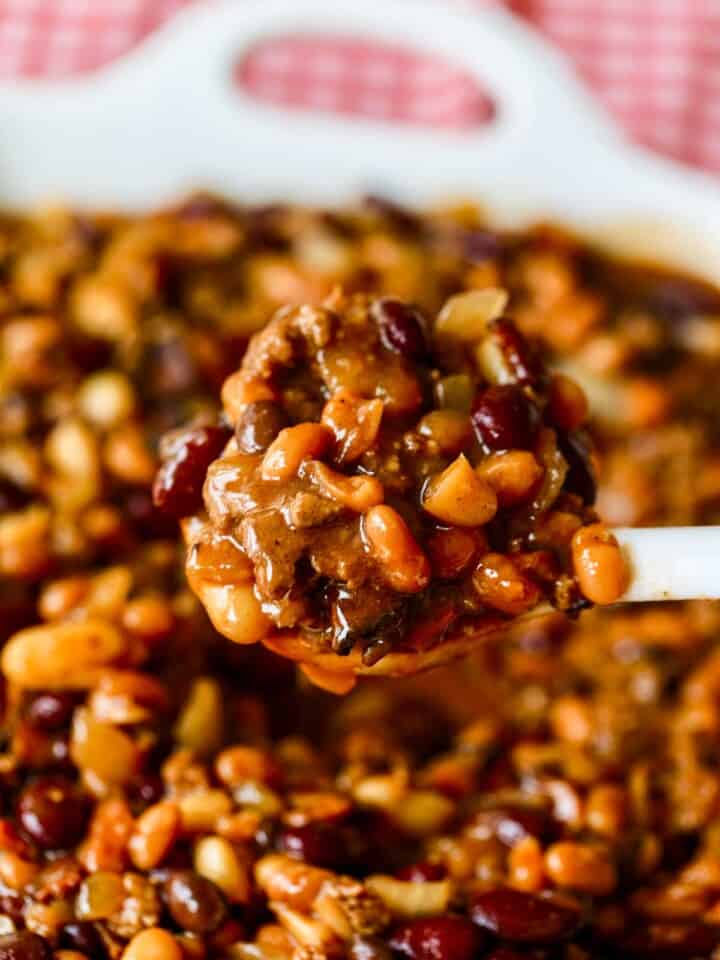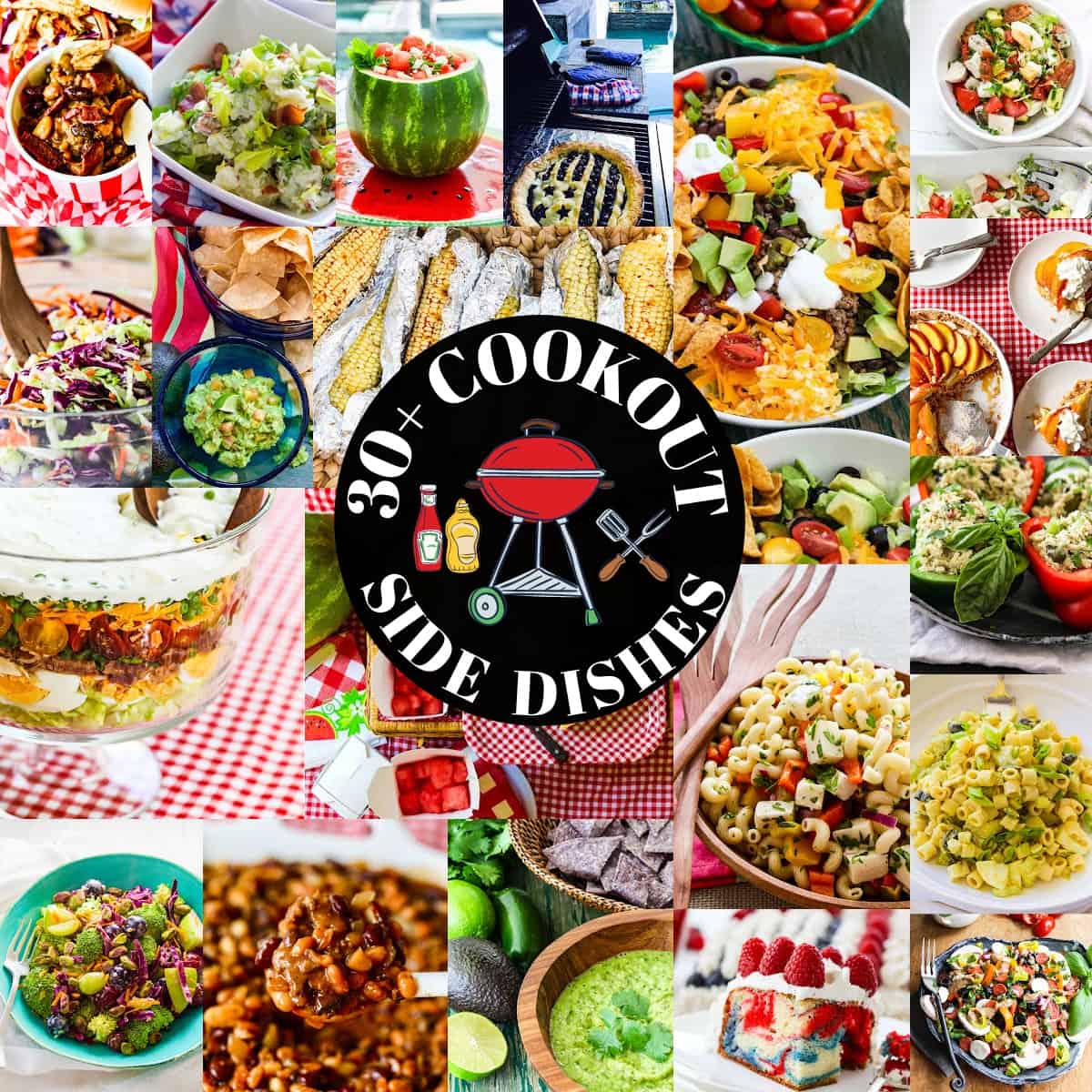 Cookout Side Dishes
These are the best side dishes to make during cookout season! This ultimate list has 30+ Cookout Side Dish Recipes that will inspire you to create the yummiest food for family gatherings, summer picnics, outdoor cookouts, backyard barbecues, or church potlucks.
Easy Pasta Salad
An easy Pasta Salad with fresh herbs, bell pepper, and cheese. This is a mayo-less salad, perfect to serve at outdoor picnics or cookouts.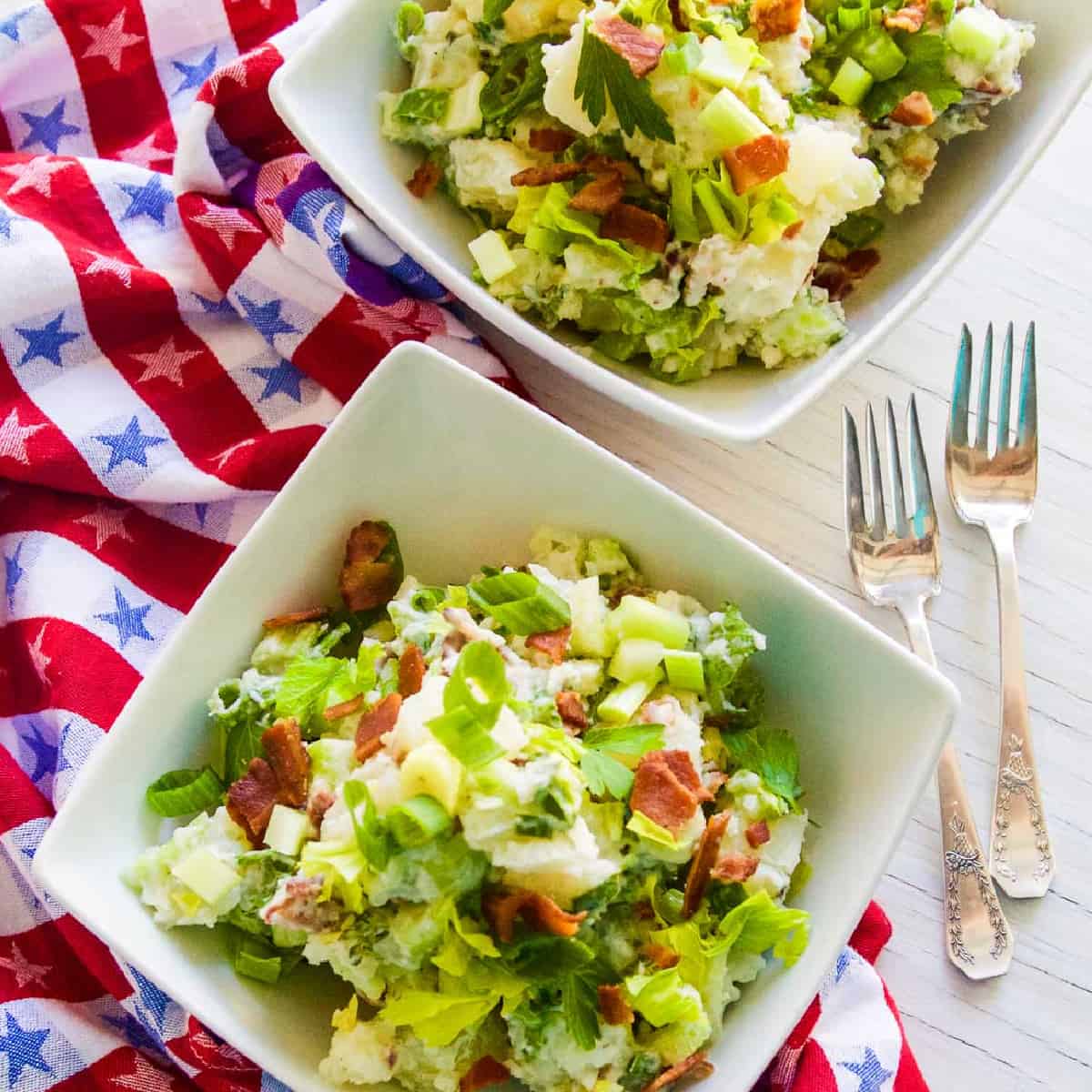 Bacon Potato Salad
Bacon potato salad is loaded with crispy bacon and blue cheese. A perfect side for summer potluck cookouts and BBQs. Since there are no eggs and no mayonnaise, this is a great picnic food idea. Make a double batch, and it disappears quickly!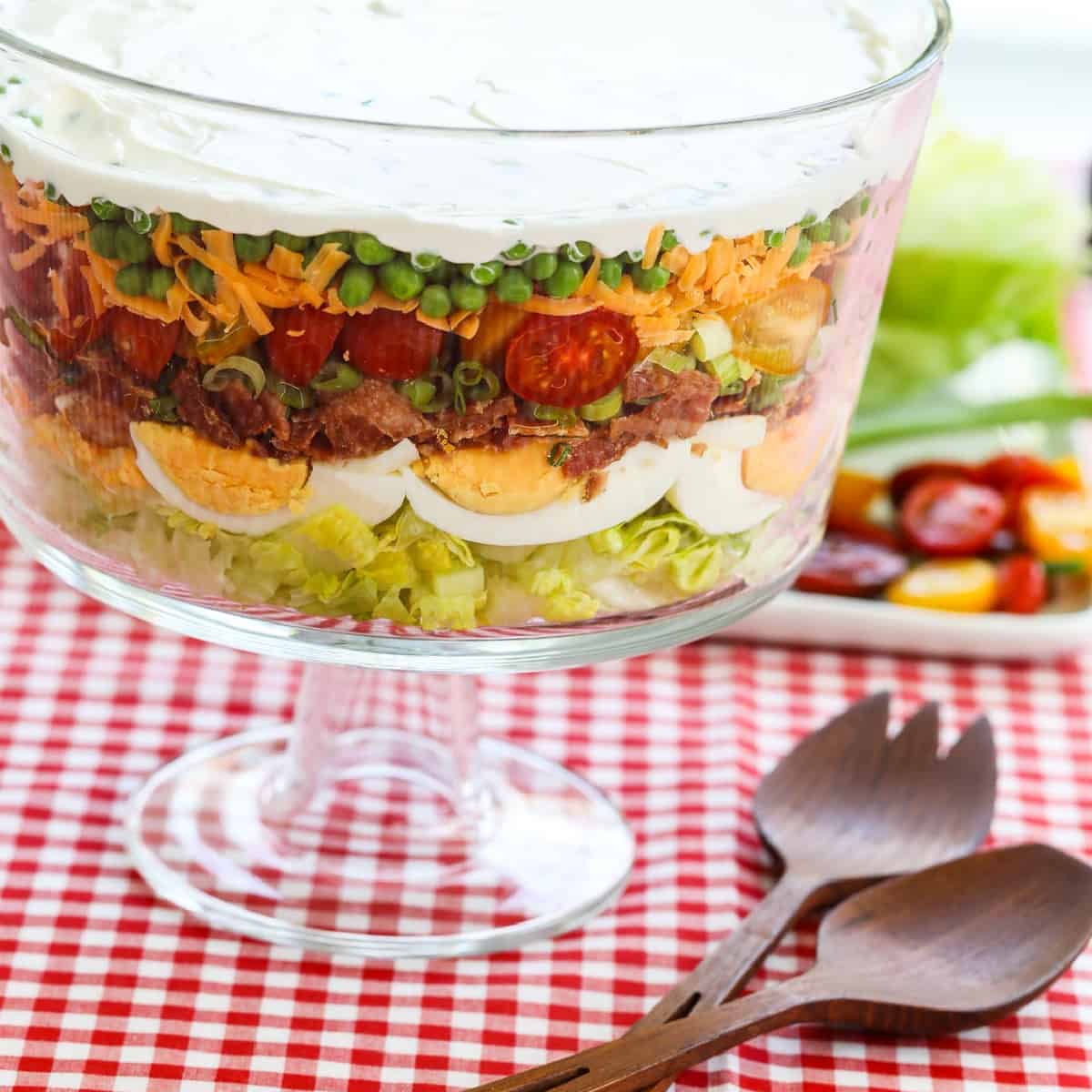 7 Layer Salad
7 Layer Salad (aka Overnight Salad) is one of the most popular potluck dishes for picnics, a BBQ side for cookouts, or a summer side dish.
Watermelon Salad
Watermelon Salad recipe with a light citrus dressing, fresh mint, and topped with crumbled feta cheese. Serve this side dish for picnics, potlucks, and BBQ cookouts in a carved-out watermelon for the salad bowl!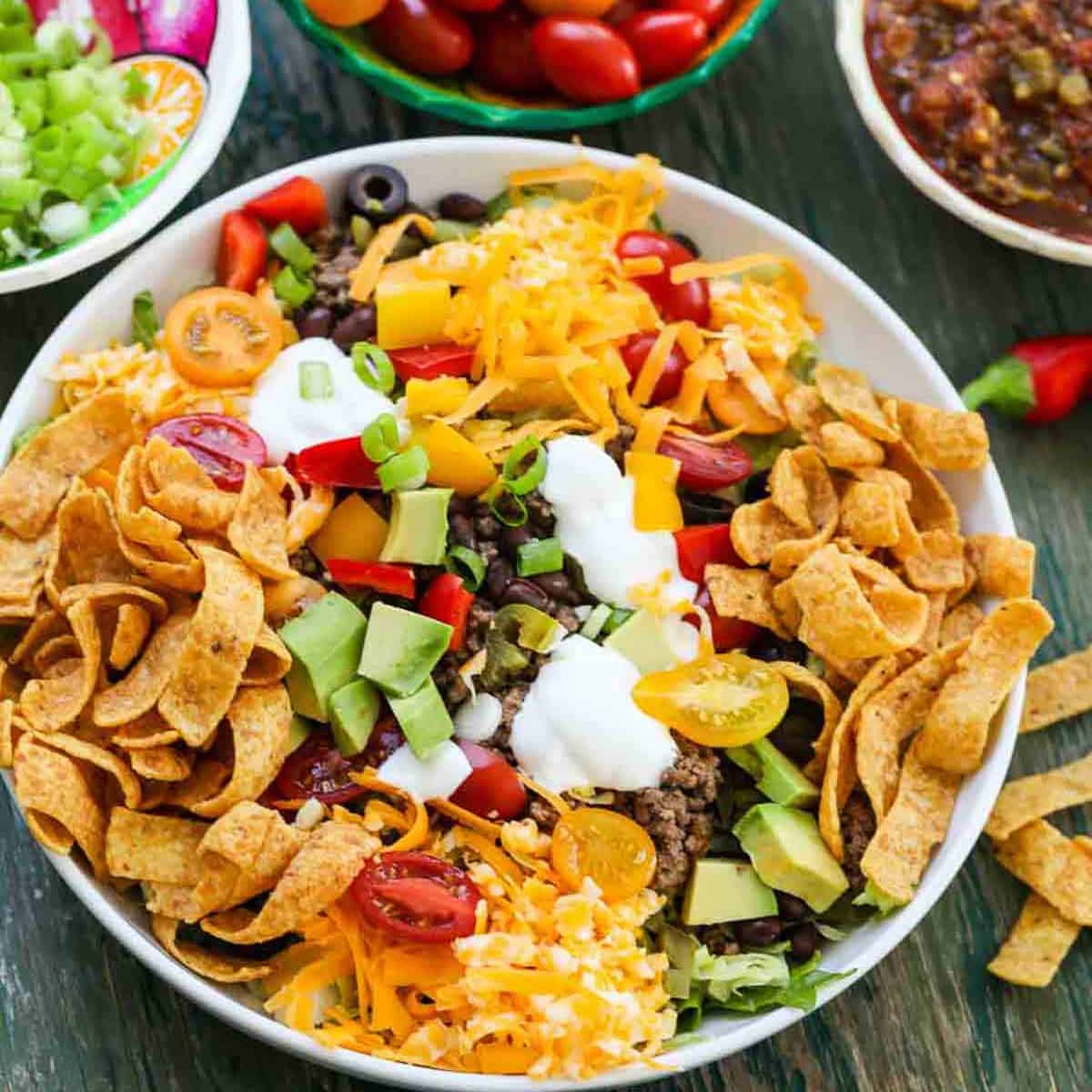 Easy Taco Salad
Taco Salad with a delicious taco meat recipe and 25+ topping ideas from all kinds of cheeses, different corn or tortilla chips, crispy shells, black beans pico de gallo, cherry tomatoes, and more!
Works as lunch, family dinner, or party food for a large gathering.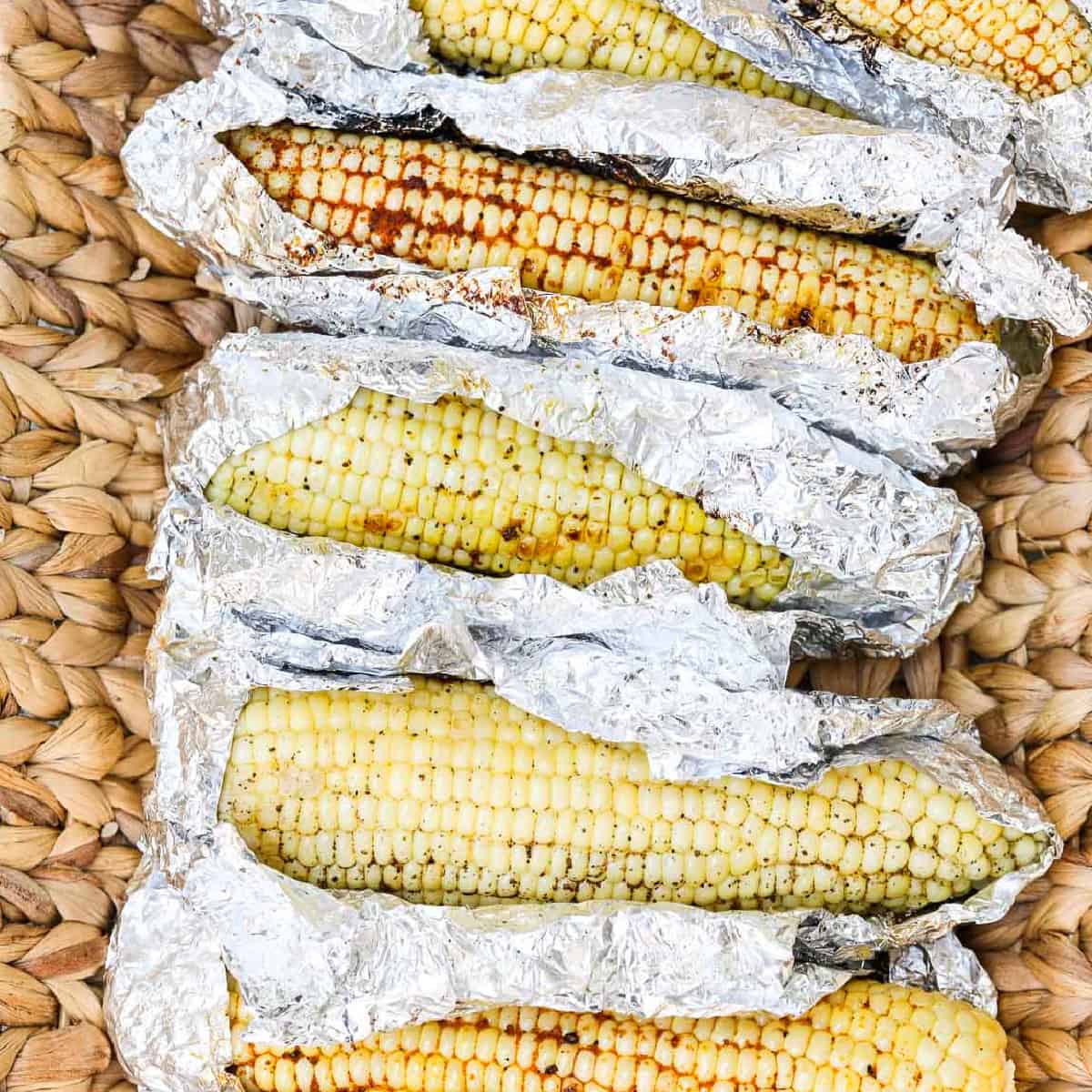 Grilled Corn On The Cob
When sweet corn is in season, try this recipe for the best Grilled Corn On The Cob. It cooks in 10 minutes and can be put together ahead of dinner. There are 12+ creative flavor ideas to try, use seasoning blends or homemade compound butter. With endless flavor options, this is a great party food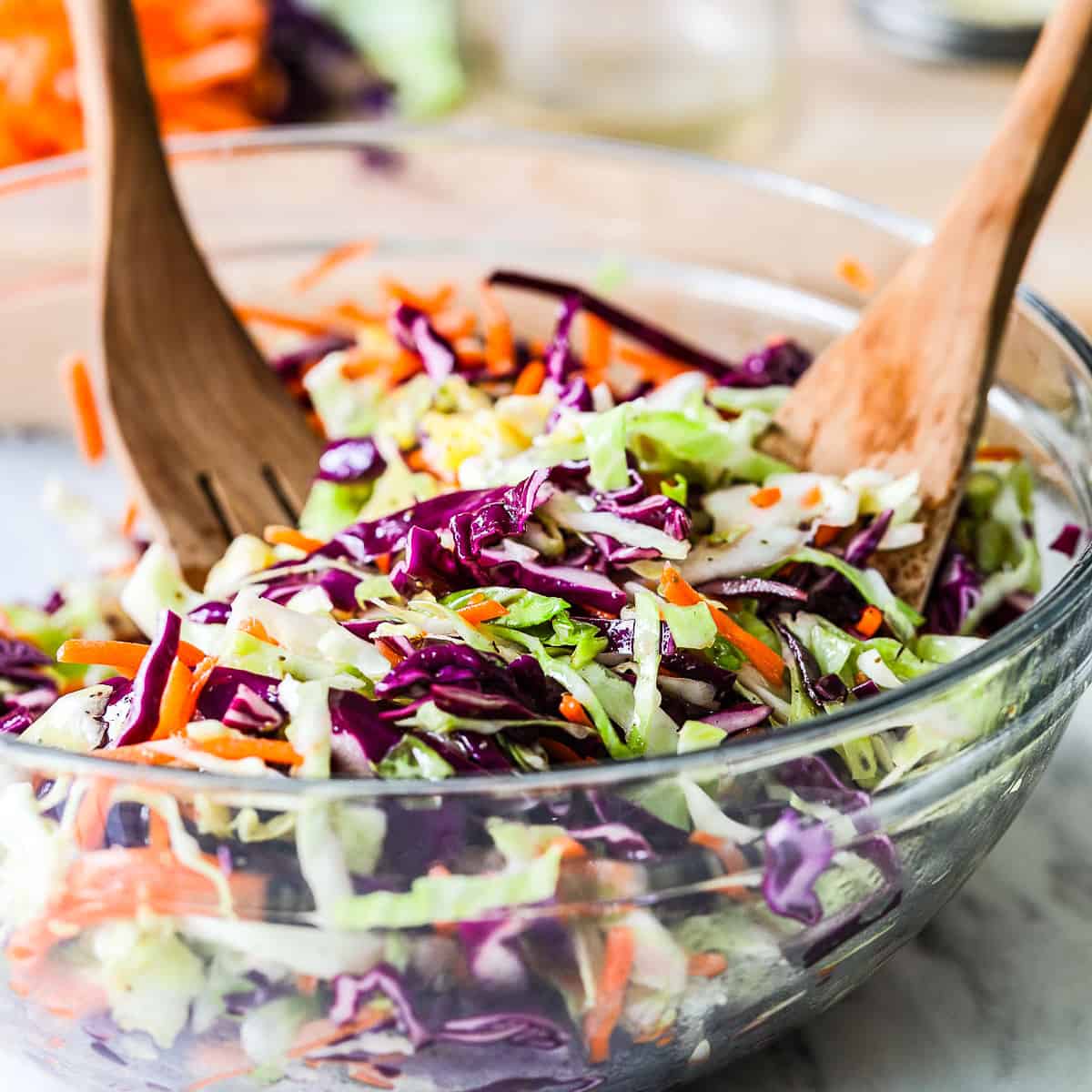 Easy Vinegar Coleslaw (No Mayo)
This Easy Coleslaw Recipe has a clean vinegar-based dressing and has no-mayo. It goes great with pulled pork sandwiches, or as a classic side dish at potluck summer picnics and BBQ cookouts.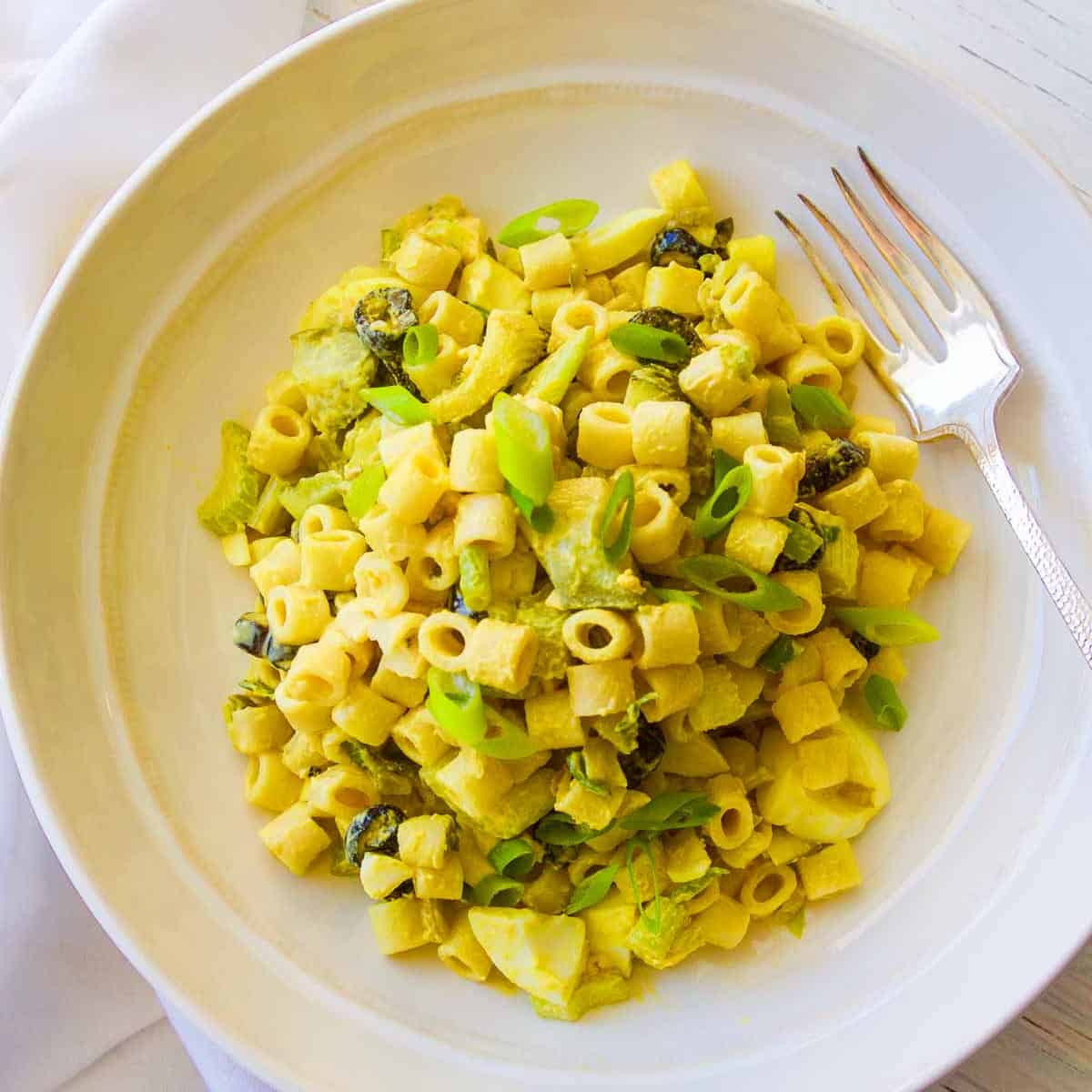 Classic Macaroni Salad Recipe
A classic macaroni salad recipe with chopped eggs, dill pickles, pickle juice, and crunchy celery. A cherished old fashioned family recipe!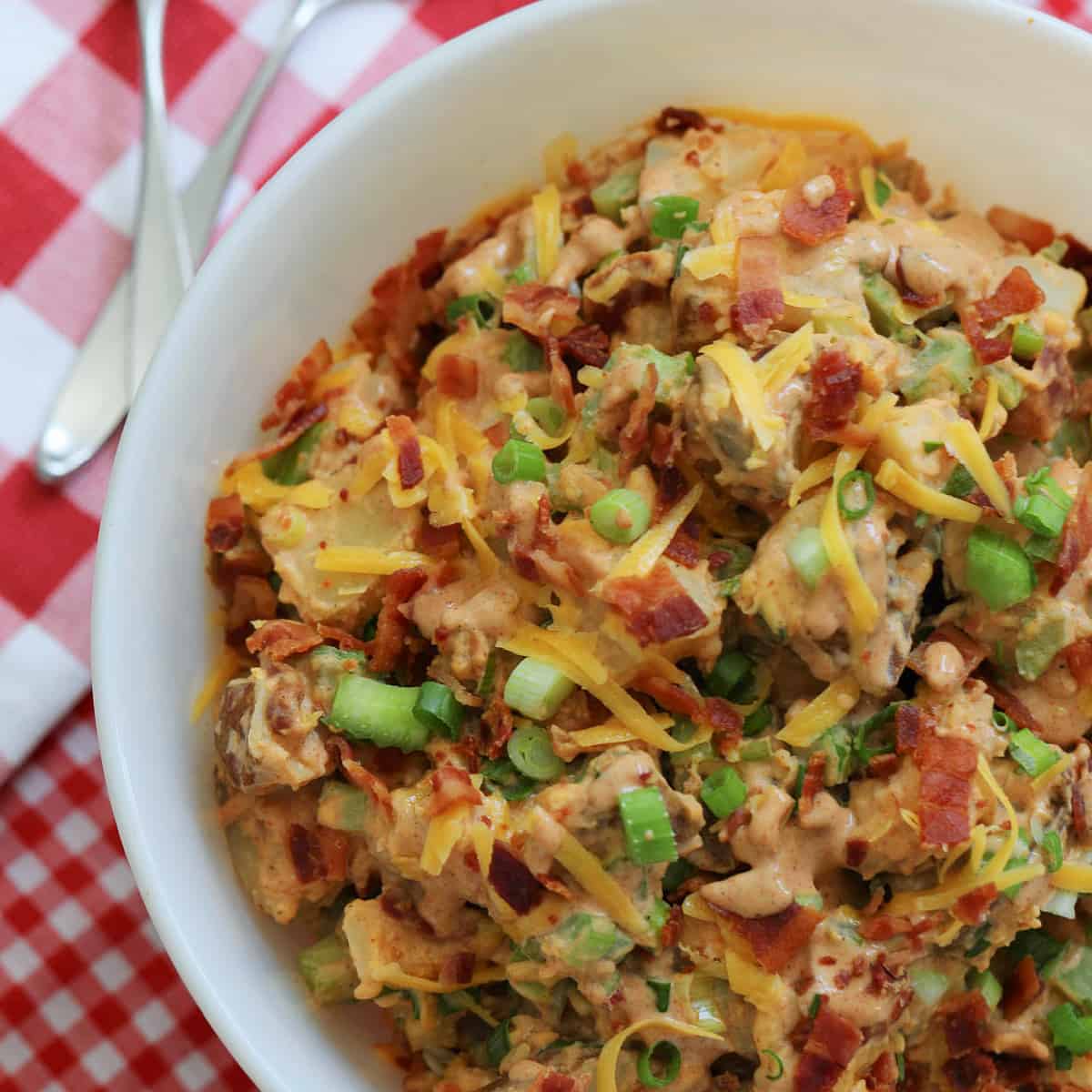 BBQ Potato Salad
A BBQ Potato Salad recipe with yummy flavors from your favorite barbecue sauce, crumbled bacon, buttermilk ranch, crunchy celery, and cheddar cheese. Made with secret ingredients in place of mayo, this super creamy potato salad is inspired by one of America's favorite recipes, a loaded baked potato! A great recipe that uses any kind of potatoes, and is a fresh new twist on a classic. Mix up a double batch, and watch people gobble it up at your next tailgate or cookout.
Sauces, Condiments & Fixings
All the best things to slather on burgers, sandwiches, sausages, and more. Make some good condiments at home in minutes, and spread the good stuff onto spiral grilled hot dogs, and hamburgers, or dip hot chicken wings into Ranch, Barbecue Sauce, Remoulade, or Creamy Balsamic Horseradish sauce.
Easy Football Finger Food Appetizers
Game day appetizers, finger food, and delicious dips can be the best part of your party, with simple delicious snacks like sour cream onion dip, or great food like soft pretzels with a beer cheese dip. Make one great thing like my roasted cocktail shrimp or jalapeno popper dip, then buy a few things from your local grocery store.
Some of the most popular football finger foods in the United States are pizza rolls, French onion dip, cheese sliders, roast beef sandwiches, a favorite guacamole recipe, onion rings, french fries, sheet pan nachos, pepperoni pizza dip, and bean dip.
The full recipe for this winning Bacon Ranch Cheese Ball is at the bottom of this post in the printable recipe card...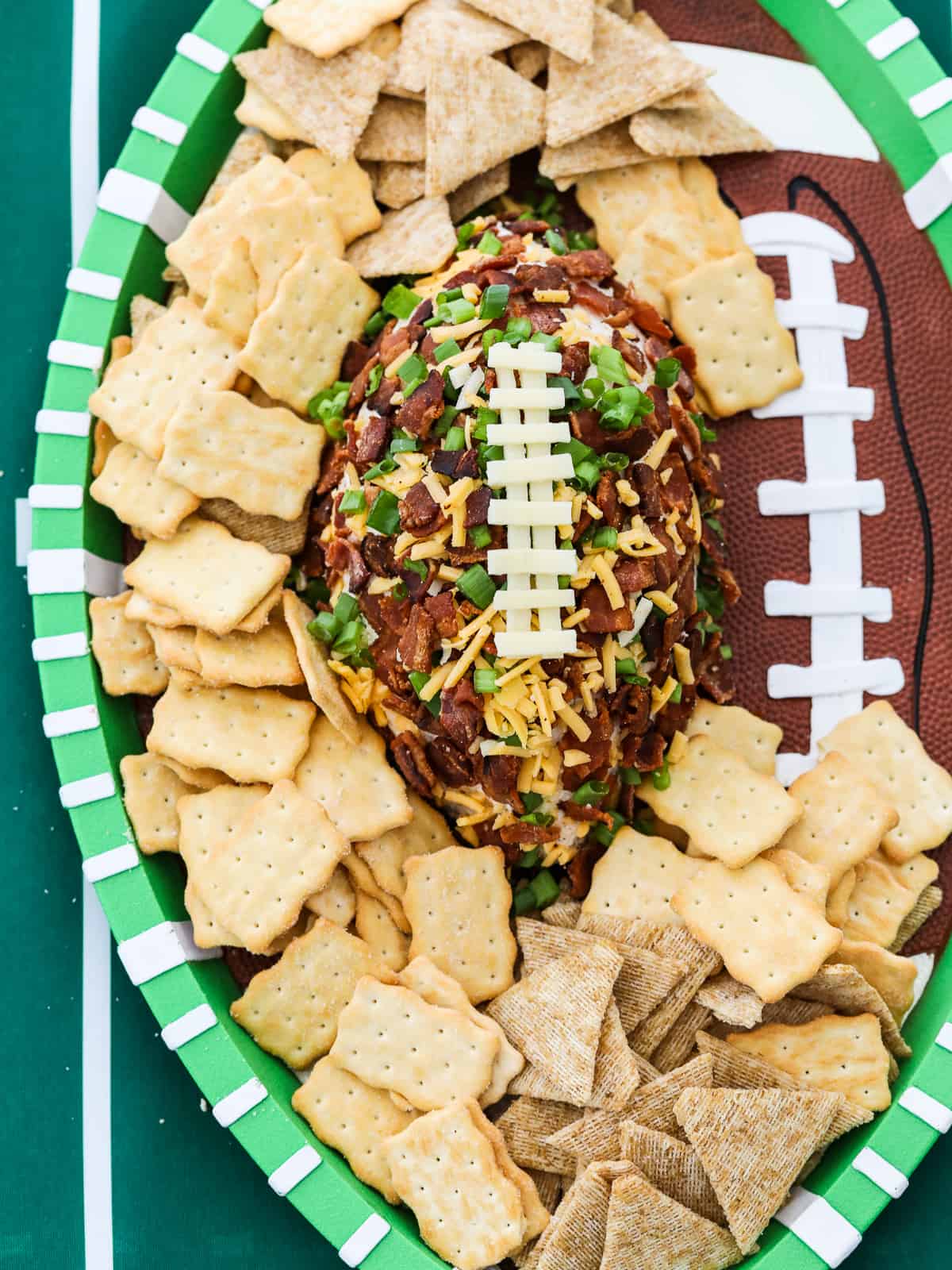 Game Day Cocktails & Drinks
Take your Sunday brunch football game day parties to the next level with a big batch of your own homemade bloody mary mix. Or whip up some CoronaRitas or Micheladas are the perfect way to enjoy all your delicious food and party snacks...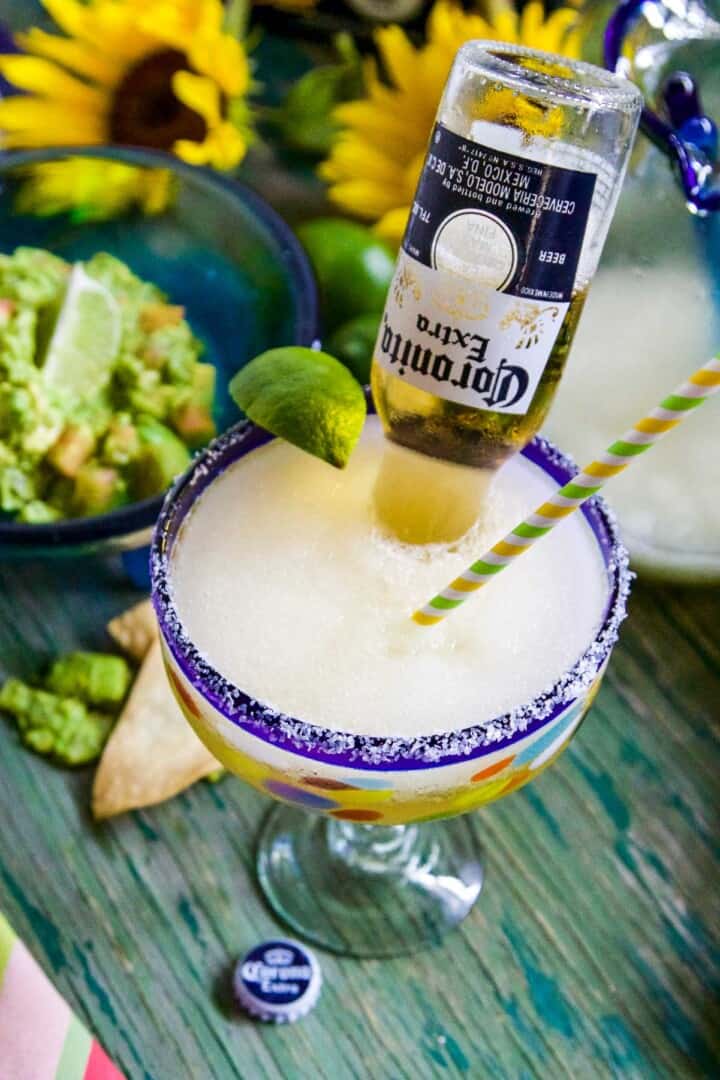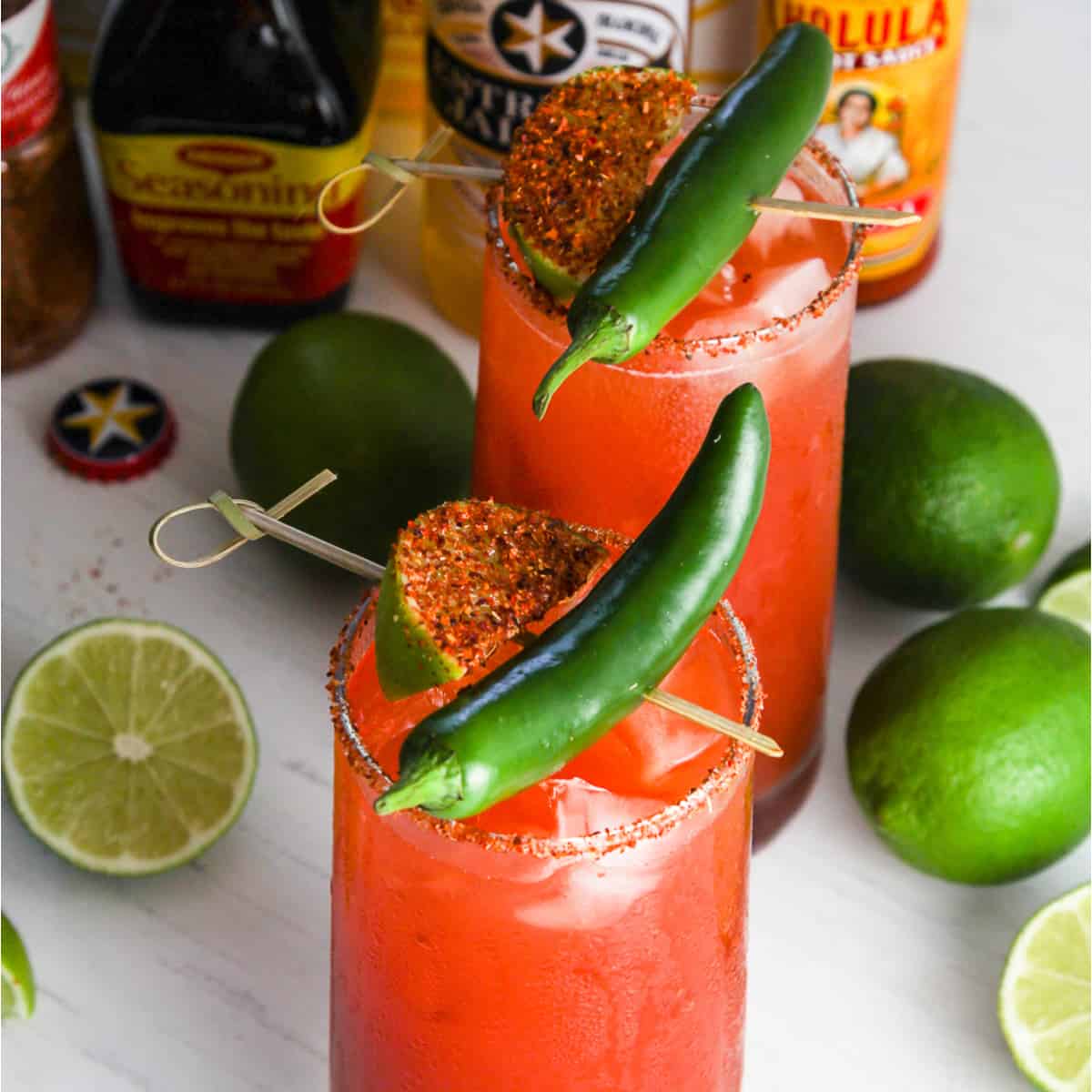 Micheladas Mexican Beer Cocktails
Micheladas are light, refreshing, tomato juice-based beer cocktails served in tall glasses with salted rims. The red color of the popular drink also gave them their nickname, Mexican bloody marys. A really good michelada is loaded with spicy flavors, and swaps in beer for vodka so it's similar to a bloody mary but they are a little lighter. Sip poolside on hot days, mix up at brunch, are great drinks for football season game days, happy hours, and Cinco de Mayo.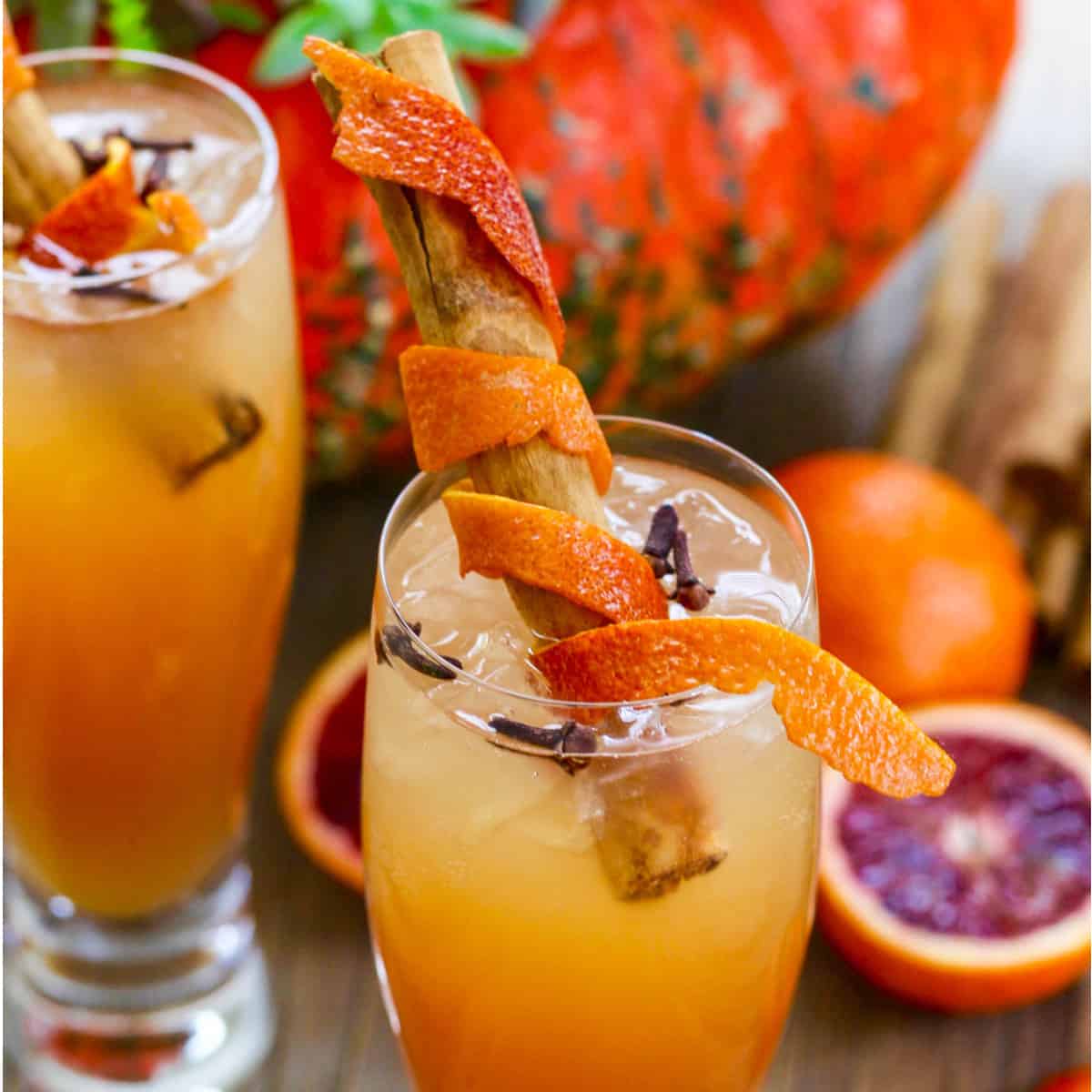 Fireball Whisky Cocktails
"Red Hot" Fireball Whisky Cocktails made with orange, cinnamon, cloves, and apple cider. Serve fireball drinks for Fall parties, brunch, and Thanksgiving Day!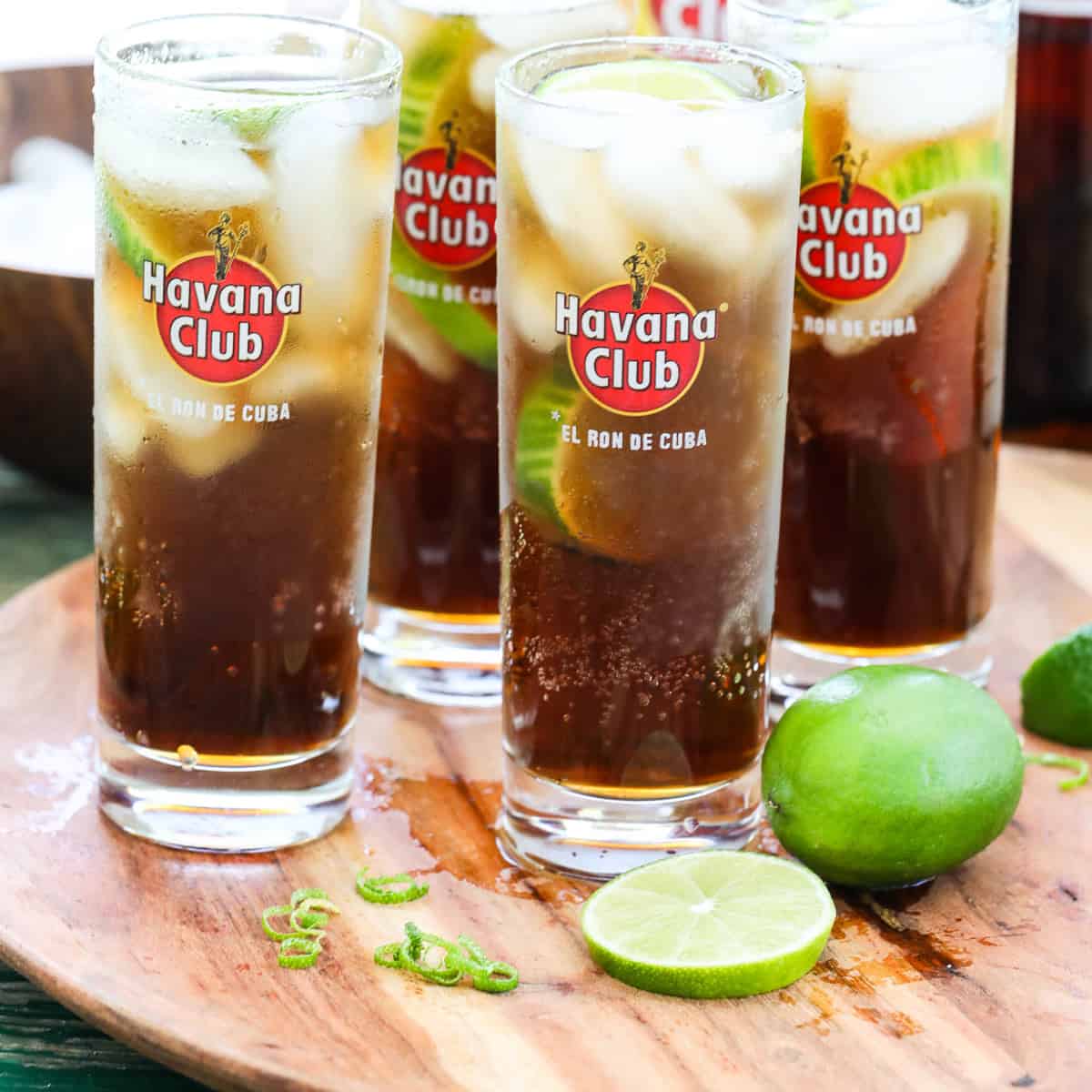 Cuba Libre Cocktails
Cuba Libre Cocktails from my trip to Cuba. Learn the secret ingredient in these famous Cuban cocktails and what makes them authentic. And yes, this cocktail is a Rum and Coke, but made the Cuban way!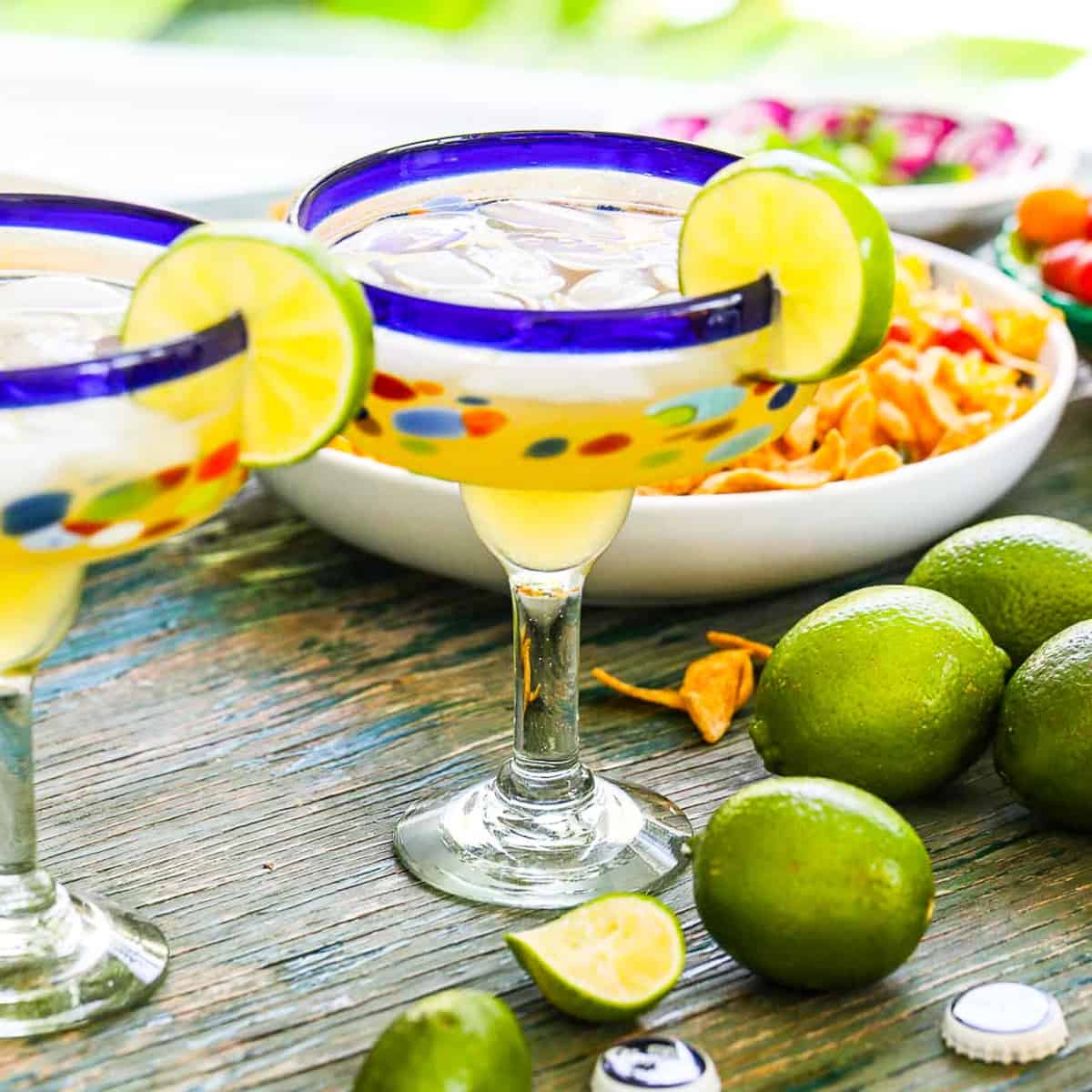 Easy Limeade Margaritas
Easy tasty margaritas made with 3 simple ingredients, you won't believe how good these taste. Made in a pitcher, serve at your next party!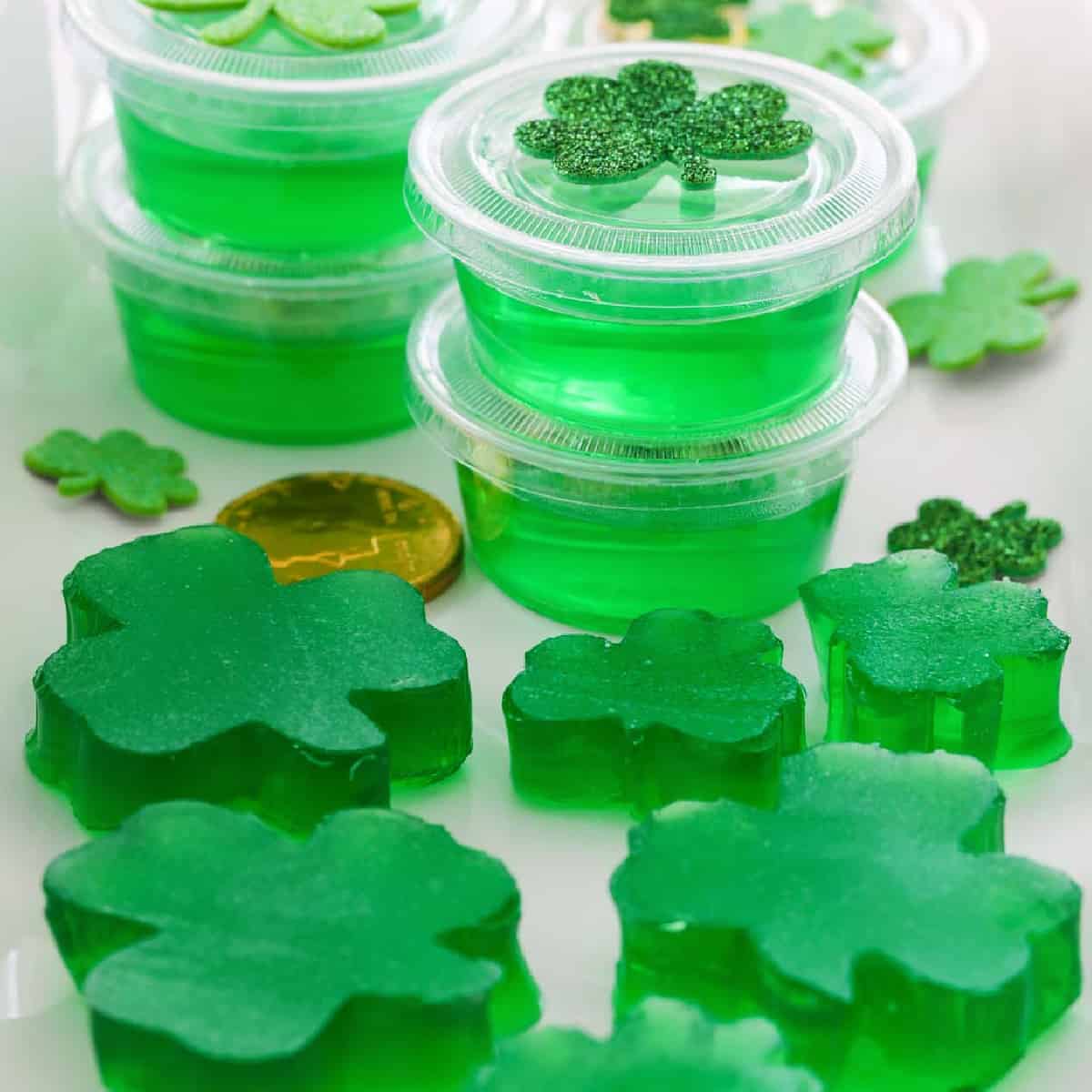 Green Jello Shots & Jigglers
Slurp emerald green Jello Shots or Jell-O jigglers and have some shenanigans with a wee bit of mischief at your game day, tailgate or St. Patrick's day party!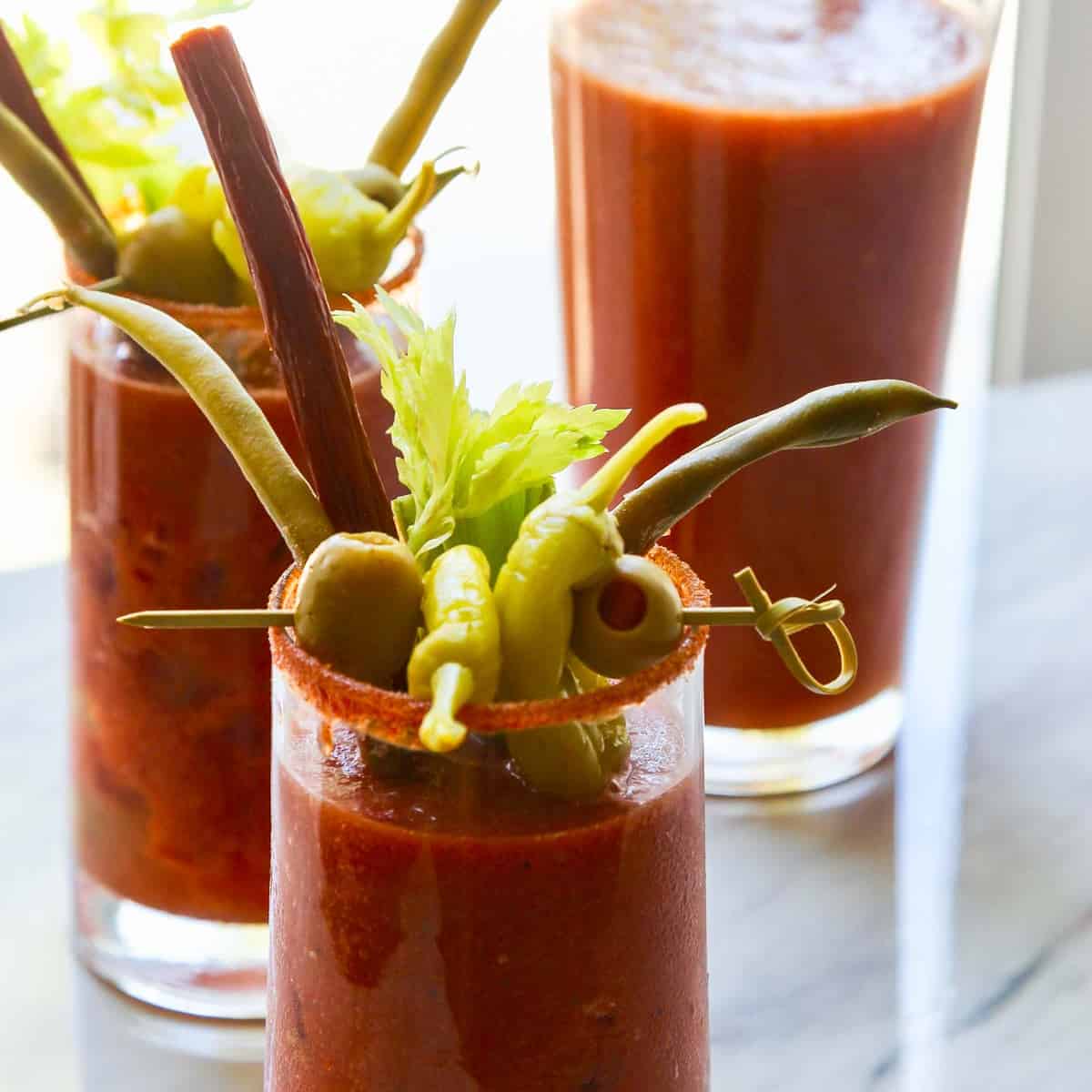 Spicy Bloody Marys
One sip of these Spicy Bloody Marys, and you will never want the bottled mix again! These have the right amount of heat, and bolder spices than boring tomato juice mixes. Fire-roasted grilled chilies, onions, and fresh ripe garden tomatoes create different flavors that are complex and extraordinary.
Irish Coffee
Just like they serve in the pubs of Ireland, this is a classic Irish Coffee recipe. It can be made with a kick of Jameson Irish whiskey and or Baileys Irish Cream. I created beautiful garnish ideas using edible gold and shamrock sprinkles or shaved chocolate to make this one delicious sipper. One of the best ways to relax on chilly evenings is to get cozy with a Bailey's Coffee in front of the fire watching the big game.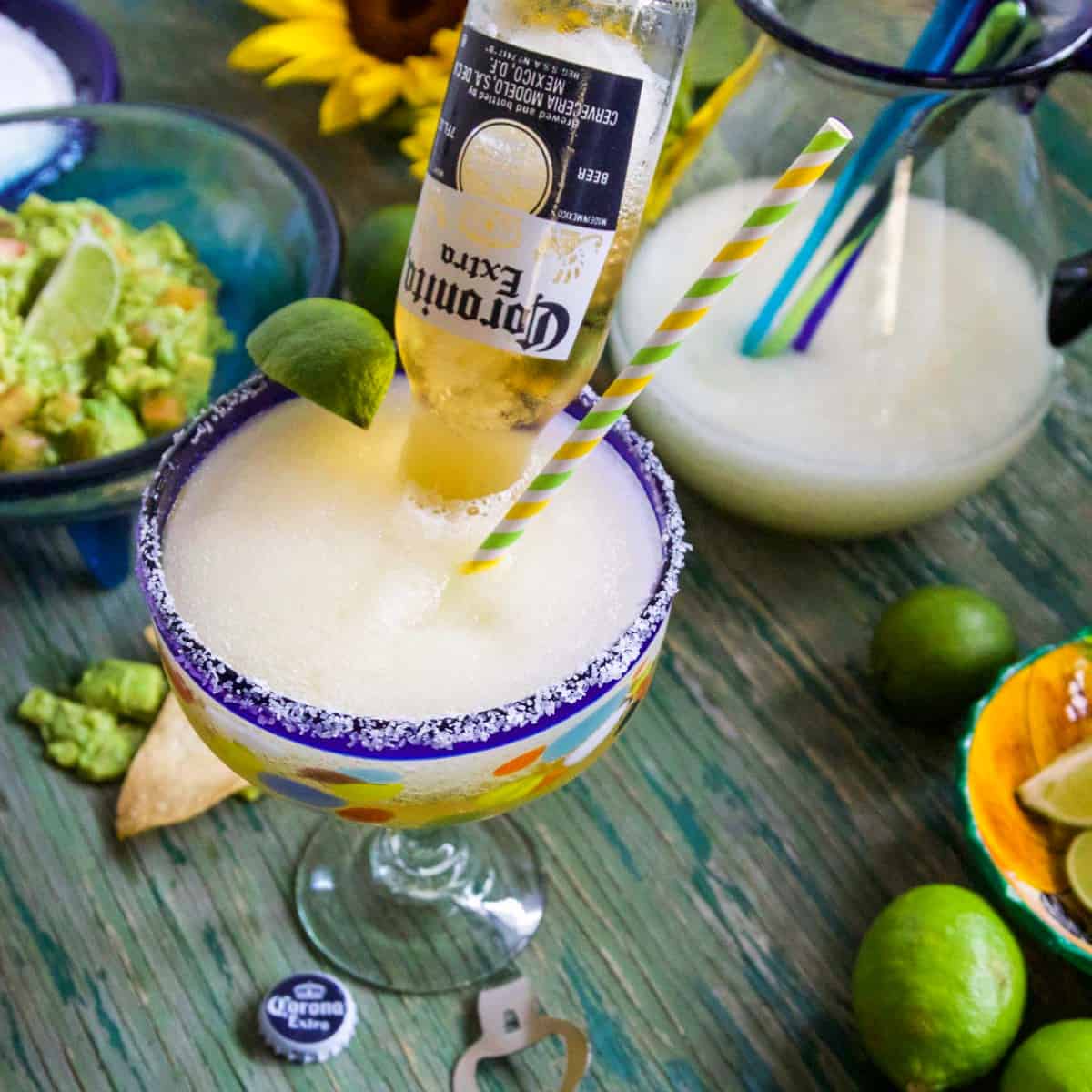 CoronaRita Margaritas
CoronaRita Margarita/Beer Cocktails are made with a margarita and a mini "Coronita" turned upside down into the drink. Perfect when you can't decide between a margarita and an icy cold Corona!
Game Day Breakfast Ideas
Start your game day off right with great food and drinks for breakfast or brunch! And the best thing is these recipes are all easy to prep ahead for a home party or pack up and take to the stadium for the perfect football food for a tailgate gathering.
Football Party Ideas Top Tips
Create a fan-favorite menu of crowd-pleasing recipes and invite your friends and family over for football parties to watch the big game. Put out a spread of delicious appetizers and favorite foods we all love in America for big sports days.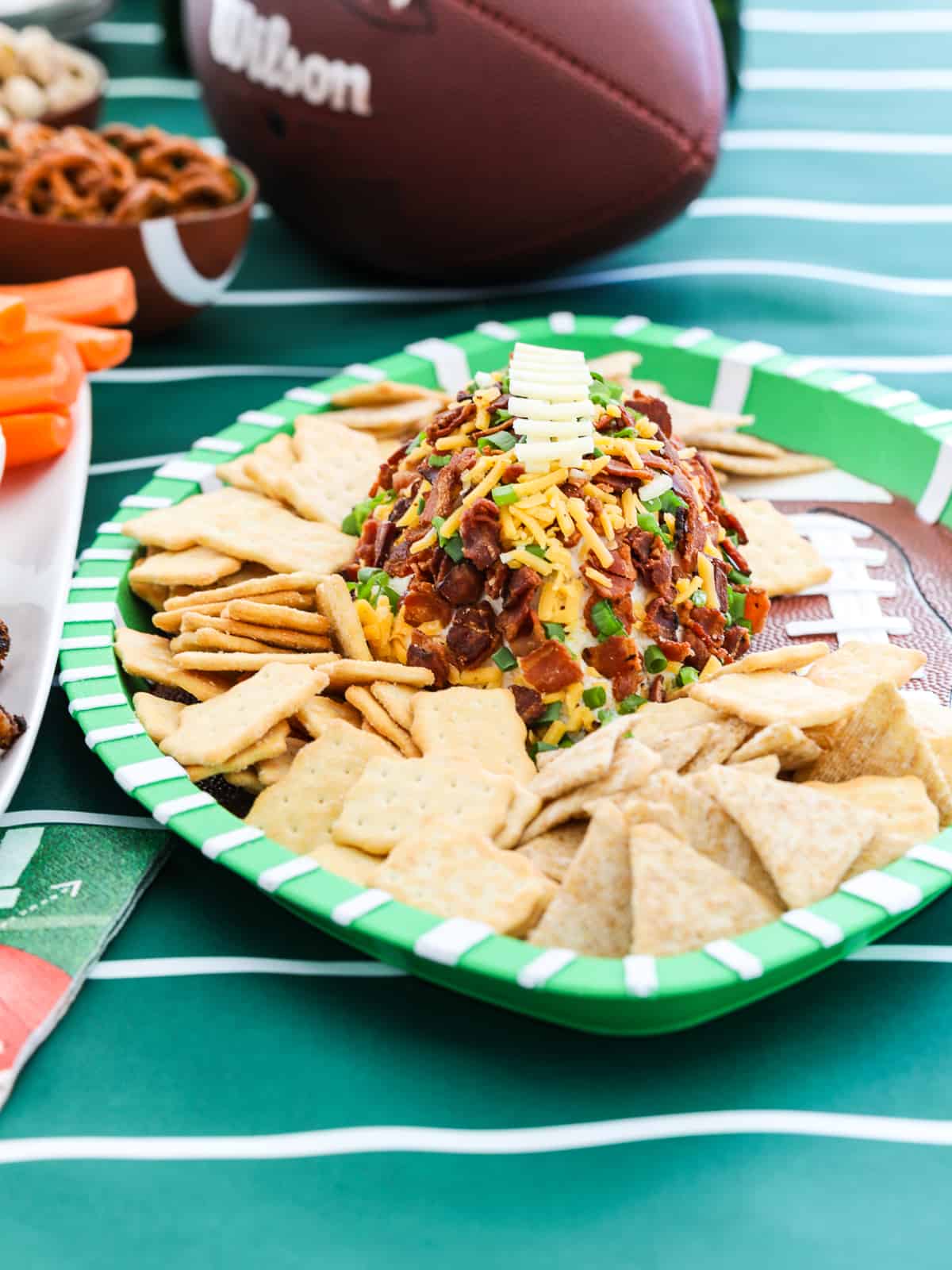 Menu Planning
Plan your menu in advance. Shop a couple of days before your party, and prep as much as you can the day before. Choose a selection of finger foods, main dishes, a couple of sides, and drinks.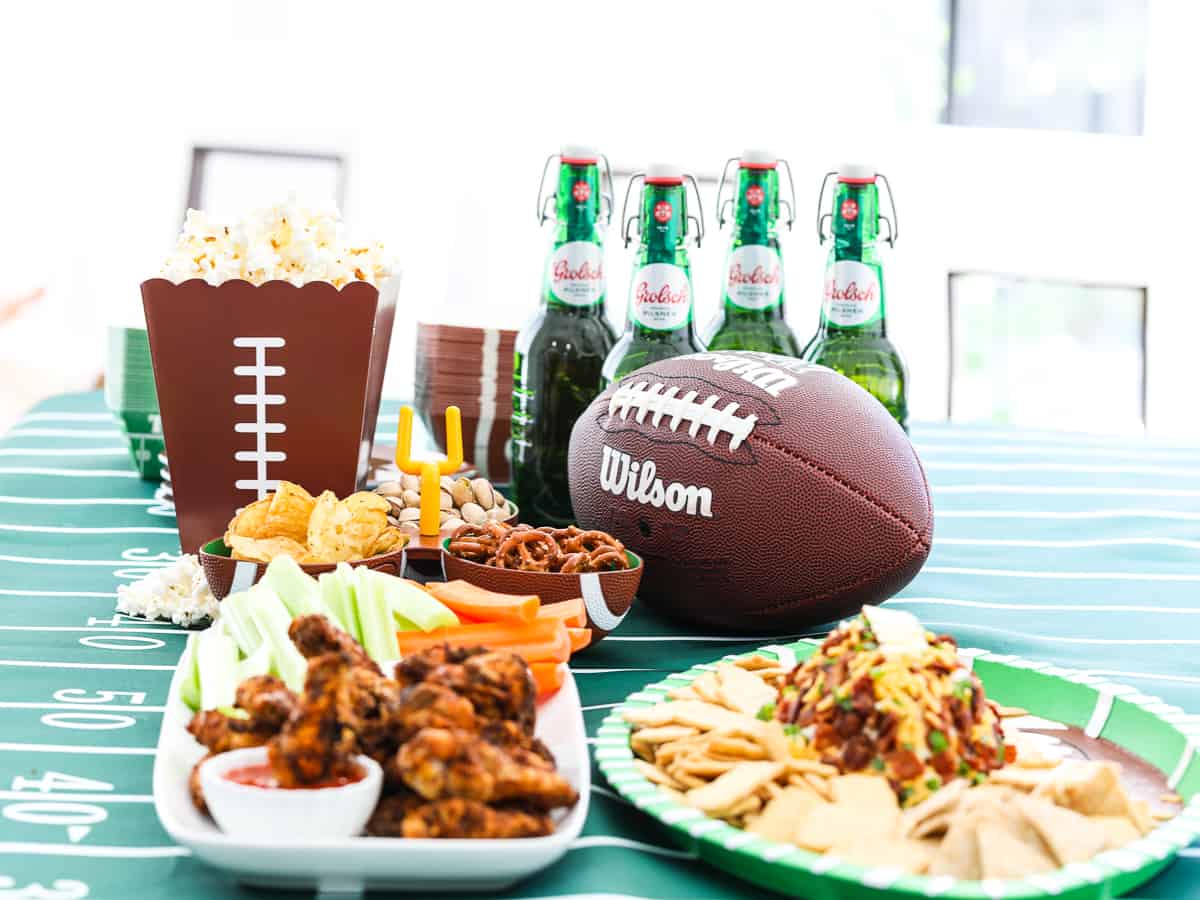 Finger Food, Appetizers, & Tailgating Snacks
Make things in bite-size pieces, some easy dips, classic crispy chicken wings, sweet treats like cupcakes cookies, or chocolate pretzels, great appetizers, some hot and some cold. Grab bags of salty snacks like pretzels, potato chips, tortilla chips, and popcorn.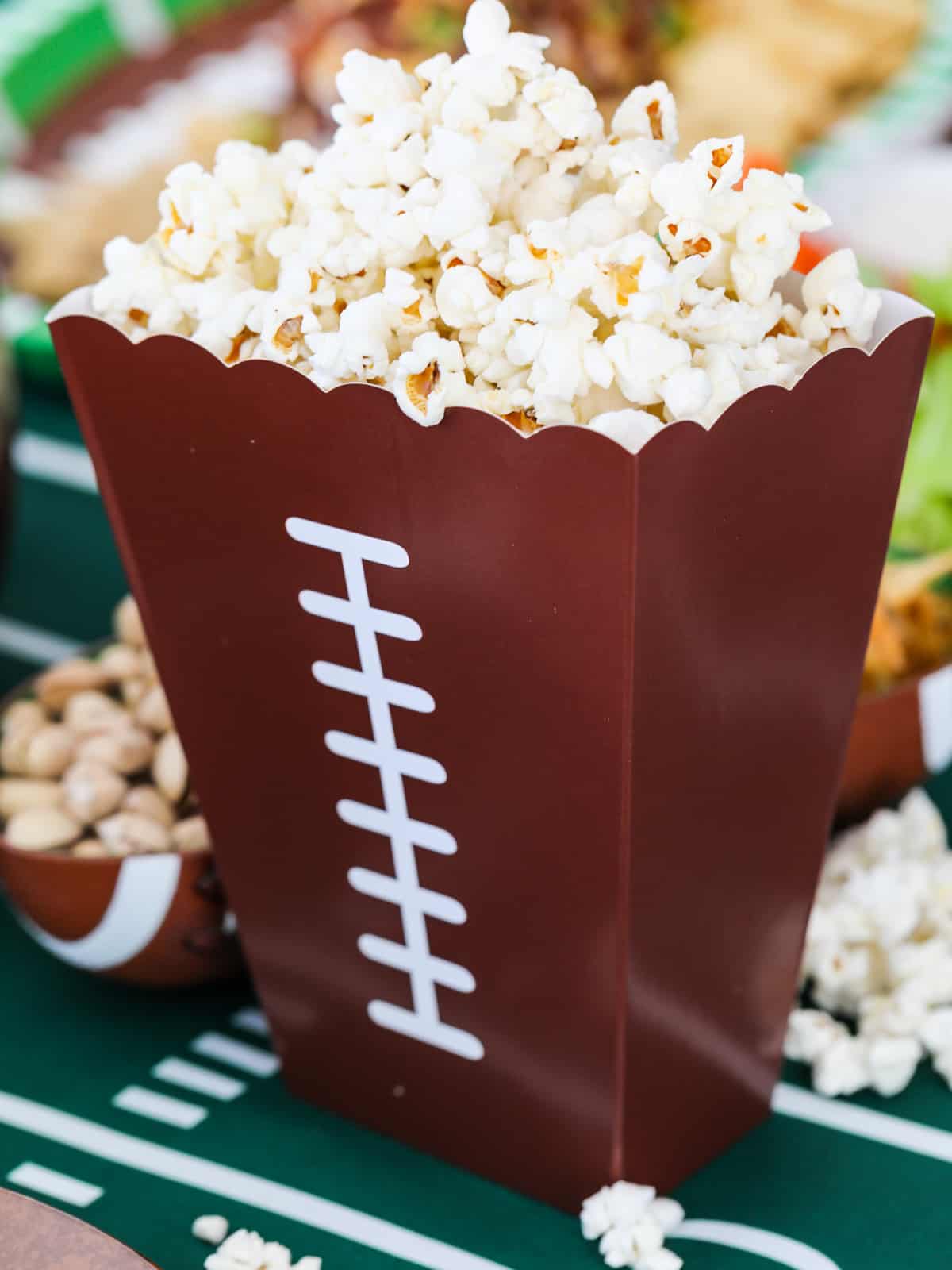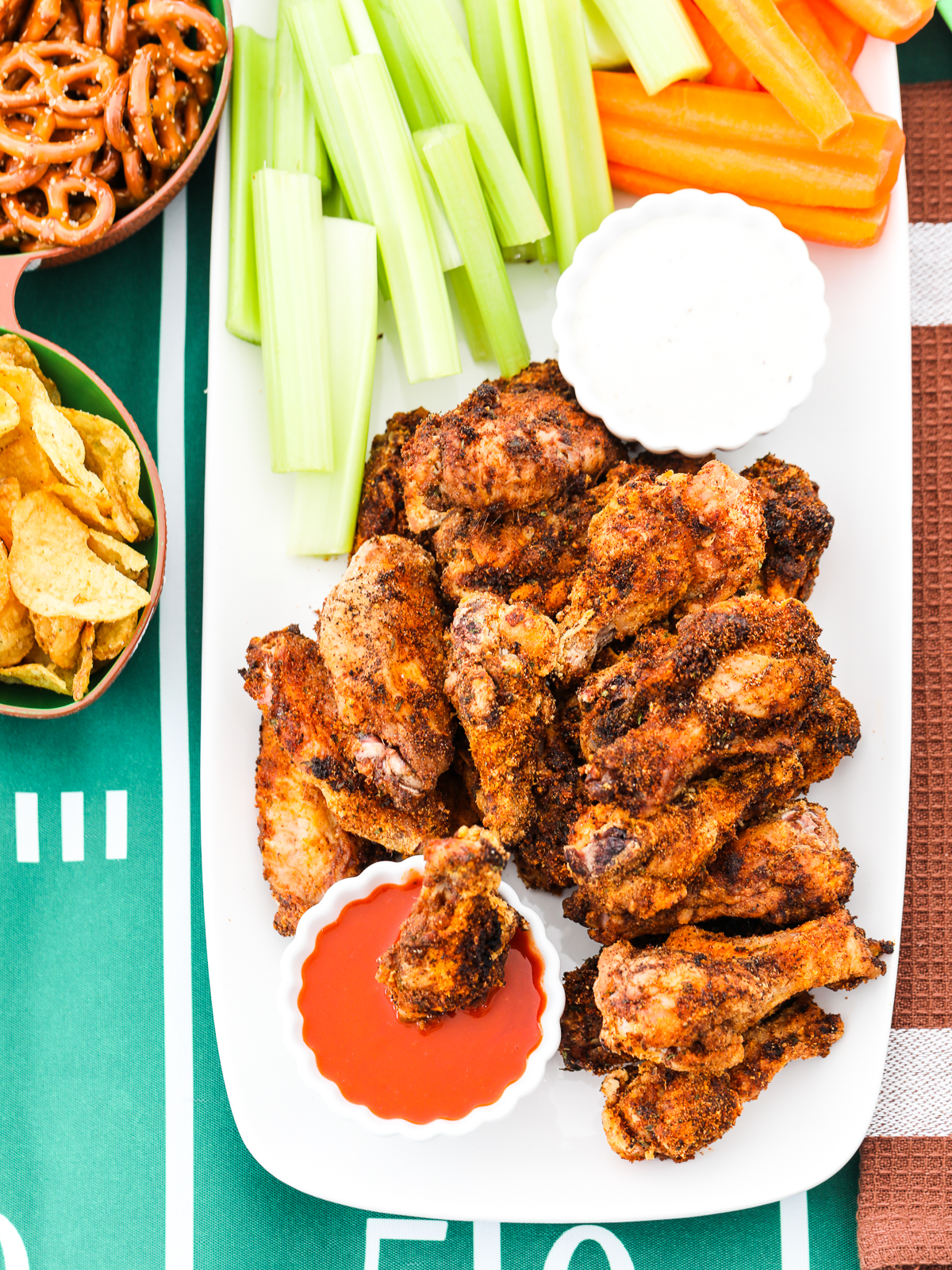 Serving Plates & Dishes
Use some football-themed or team-branded serving trays, paper boxes with wax paper liners, and serving bowls, or assemble a football stadium box on a kitchen counter or dining table, it will be the talk of your party!
Serving Areas, Tables, And Chairs
Set up glasses, chilled bottles of wine, champagne, and water bottles with glassware. Set up a bar area with liquor, mixers, and ice near the TV! A blender with a signature cocktail ready to mix or shakers to let guests play bartender. Set up a recycling bin for glass and plastics.
Seating & Tables: Borrow rent or buy extra chairs for guests, chairs are very inexpensive to rent for parties, and they deliver and pick them up for you!
Cold Drinks - Have large tubs with bags of ice, or set up a portable ice maker for guests!
Condiments & Dressings - Put together a basket of condiments like ketchup, hot sauce, mustard, relish, mayonnaise, blue cheese dressing, and buttermilk ranch.
Delicious Hot Food - Use a warming tray to keep food warm or hot during your party. Slow cookers are incredible to keep chili, stews, or cheesy dips hot during the party.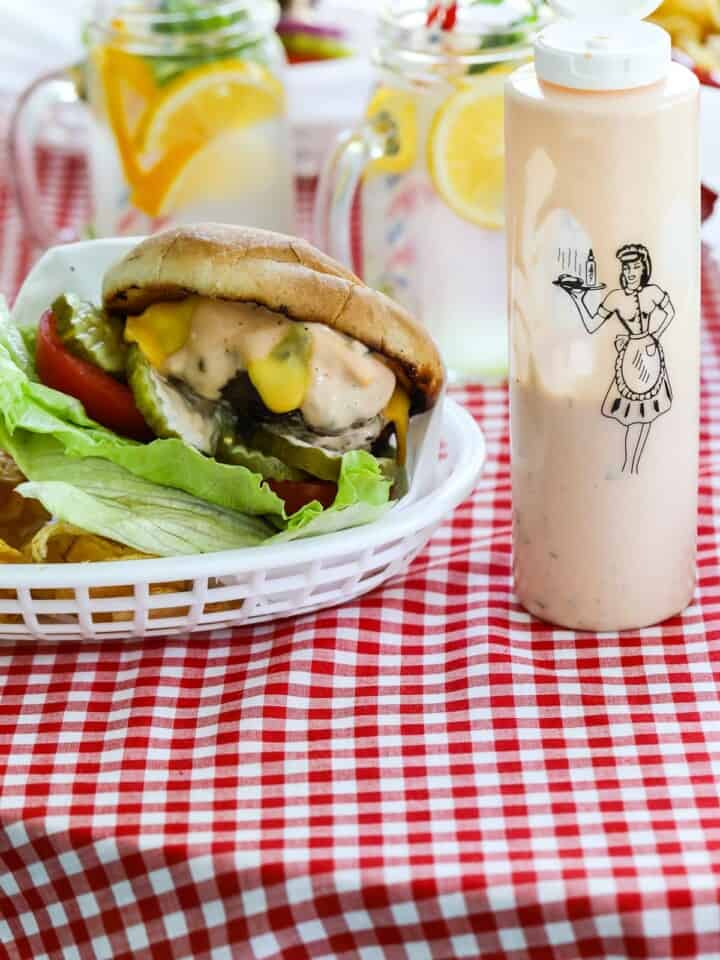 Grilling & Smoking
You can do both at your party, start ribs early in the day on a smoker, then grill burgers, grilled hot dogs, and shish kabobs during the party ideally with a TV in view outside!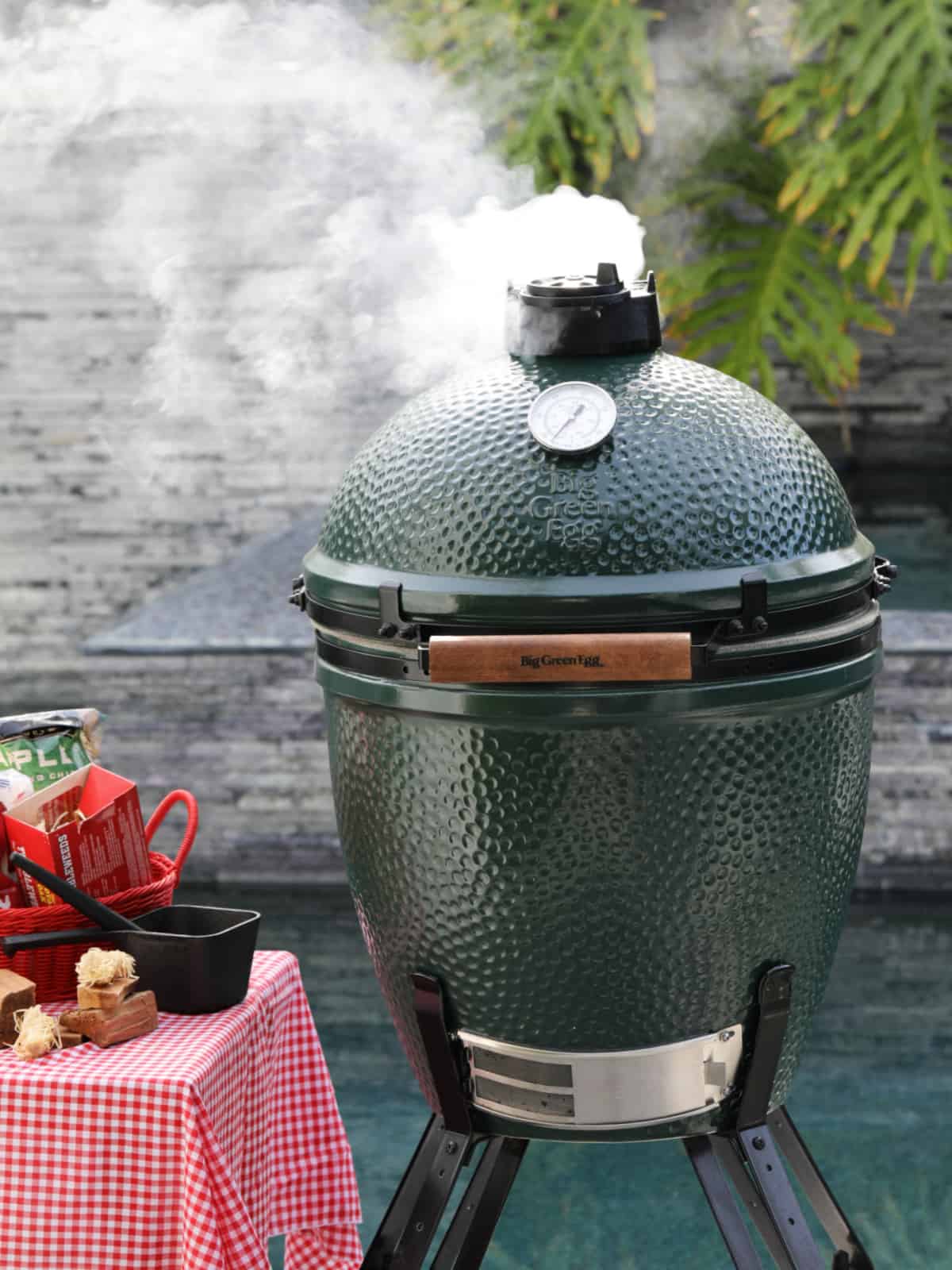 Game Watch Party Tips
Indoor TVs & Outdoor TV - Use a projector and set up a large screen to stream the game from the backyard, pool area, or patio with a pop-up tent.
Weather - In the Fall, have a stack of extra blankets and portable heaters for guests watching outdoors. Firepits add so much to any party with folding chairs. Popups are great for hot days, and fans if you have electricity or a portable generator.
Fun Activities & Games To Play - A fun way to make sure people have a great time even if they are not into watching football games is to set up some activities and games!
Kids can be in a part of the yard with a picnic blanket, or in a room with games, crafts, or snacks they will love. Set up a cornhole game, washer pitching, or beer pong for the adults. And be sure to have a football to toss around outside!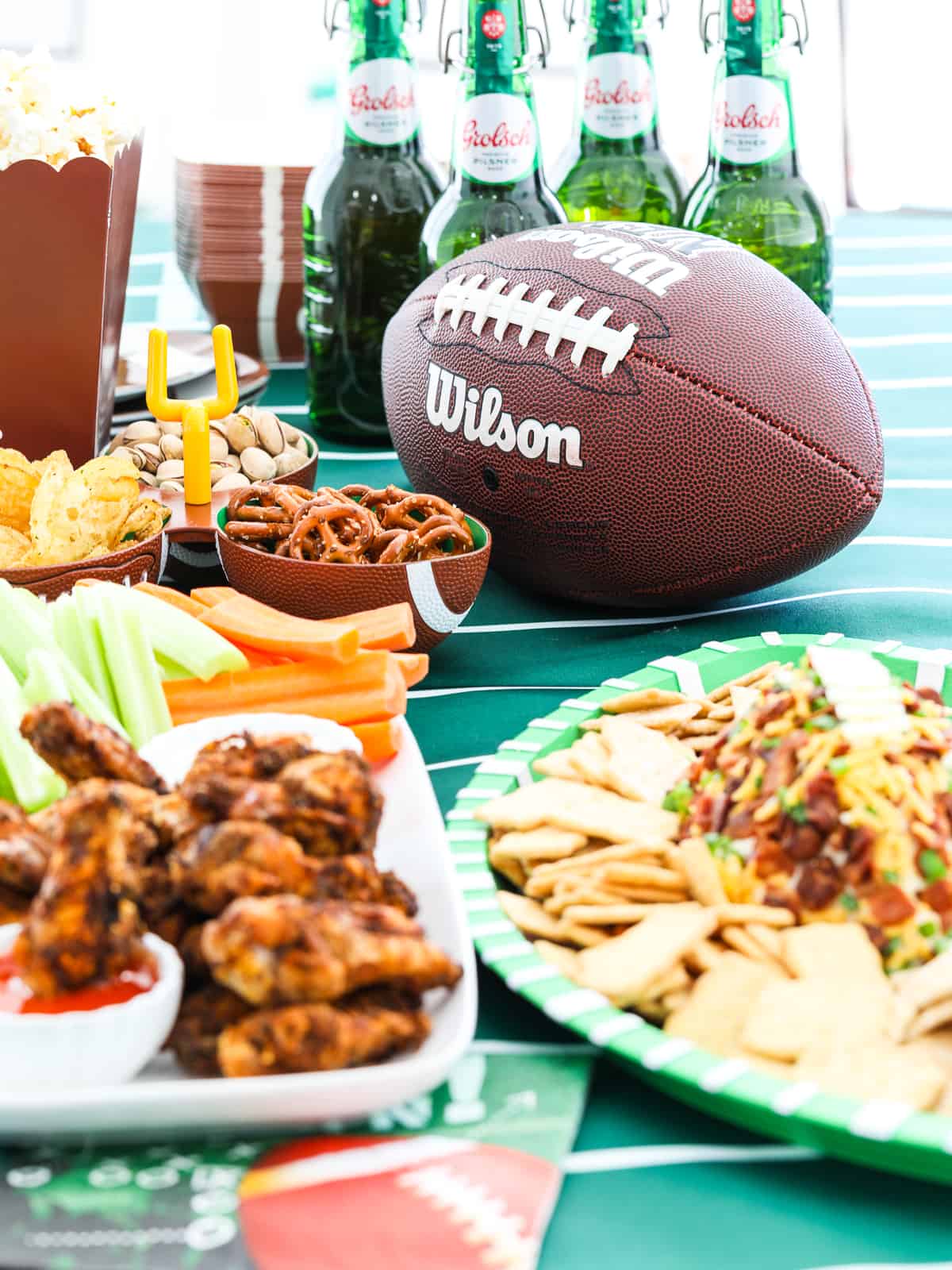 Football Party Decorating
Go the extra mile and get some extra points and decorate in your team's colors at your football party. Plant flowers in your colors, and use banners, ribbons, or balloon garland arches in your team's colors!
Take a visit to your party store or order online some football banners, spirit flags, tablecloths, plates, cups, and cutlery with the colors of your favorite home team. Add inexpensive strings of lights in your team colors!
Party Favors - Have party favors that represent each team - this is an easy way to decorate and so fun for guests to take home.
Dress In Team Colors - Put on your team colors or a jersey from the college town you are from, and let the good times roll.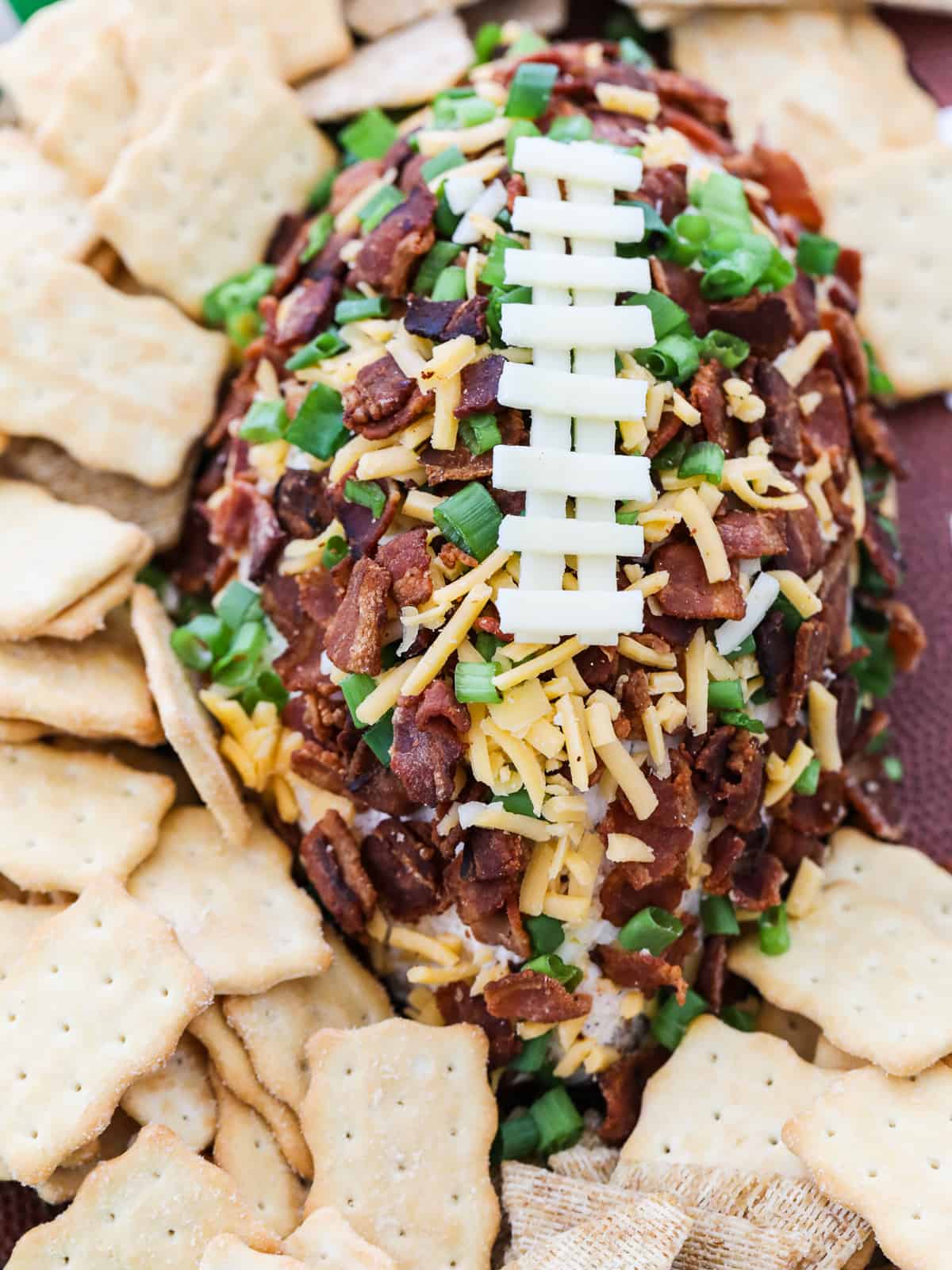 What are America's favorite football party food and best Superbowl foods?

Coming in number one is chicken wings! The other most popular game day recipe ideas are buffalo chicken dip, spinach artichoke dip, and pizza of course. Seven layer dips, a favorite guacamole recipe, potato skins, and a classic, pigs in a blanket are some of the best Super Bowl appetizers.

Some of the most popular football finger foods in the United States are pizza rolls, French onion dip, cheese sliders, roast beef sandwiches, onion rings, french fries, sheet pan nachos, pepperoni pizza dip, and bean dip.

Football fans also love mozzarella sticks (use an air fryer to make them crispy!), beer cheese dip, sausage rolls, chicken taquitos, and tortilla chips and salsas.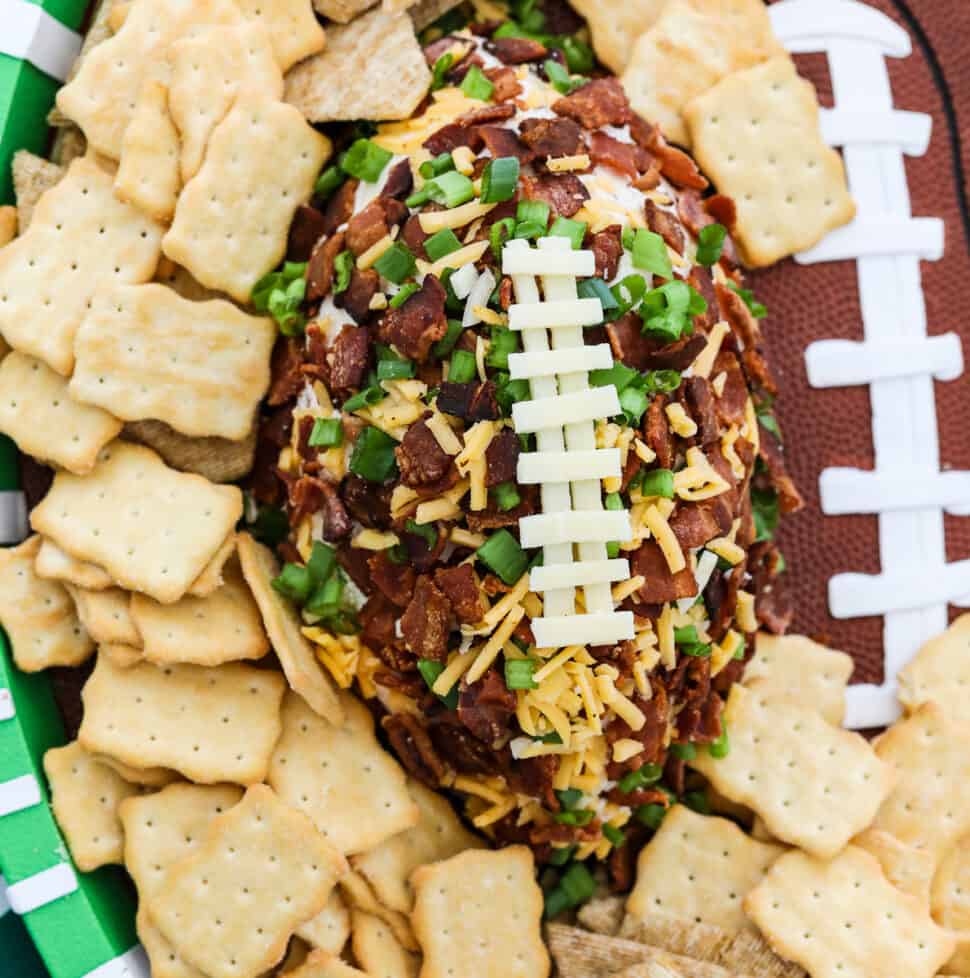 Print
Pin Recipe
75 Football Food Ideas + Bacon-Ranch Football Cheese Ball Recipe
During football season, we crave the best game day foods while watching our favorite teams play. Juicy cheeseburgers, loaded hot dogs, fun snacks, easy appetizers, delicious hot and cold dips, with cocktails to sip or cold beers to drink.
Whether you are a fan of the NFL or College Football, cheer on your favorite team with a winning game plan of good food and munchies.
Throw a legendary football party with spectacular Super Bowl food for the biggest game of the year, and tailgate in style with these amazing football food ideas...
Ingredients
Football Cheese Ball Ingredients
2 - 8 ounce

boxes

cream cheese

1

cup

sharp cheddar cheese

1

cup

pepper jack cheese

½

cup

crispy crumbled bacon

or bacon bits

¼

cup

green onions or chives

1

packet

ranch seasoning mix

½

teaspoon

garlic powder

¼

cup

sour cream
Football Cheese Ball Garnish Decorations
½

cup

crumbled crispy bacon

1

tablespoon

green onions

2

sticks

string cheese

or cut sliced cheese sliced for football laces

¼

cup

grated cheddar or pepper jack cheese

Serve with crackers, pretzels, or pita chips.
Instructions
Pull the 2 packages of cream cheese out on the kitchen counter at least 30 minutes so they are easier to mix.

Make the crumbled bacon (it's worth the time!) but good bacon bits work great too and save time. Cook bacon the way you like to and crumble, you will need 1 cup for this recipe.

1 pound of sliced bacon makes about 1 ½ cups of crispy crumbled bacon so you will have some extra.

To cook in a large skillet or cast iron pan, slice a package of bacon slices into ½ pieces, and saute over medium heat, stir the chopped bacon pieces with a wooden spoon until crispy. Takes about 12 minutes. Drain the crumbled bacon on a paper towel.

Grate the cheddar cheese and pepper jack cheese on a box grater or food processer. Pregrated cheeses are fine too!

In a large bowl, add the two cream cheese blocks, grated sharp cheddar cheese, pepper jack cheese, crumbled crispy bacon, green onions, ranch seasoning mix, garlic powder, and sour cream. Mix cream cheese mixture with a hand mixer or stir with a large spatula until well combined.

Scrape down the bowl with a rubber spatula, and place the cheese ball mixture onto a large piece of plastic wrap. Wrap the plastic around, and form a round ball and wrap the plastic tightly around the cheese ball.

To make the football shape, cup your hands around the sides of the cheese ball and push to create the pointed end of the football and then again on the other side. It is really easy!

Chill on a serving platter or large plate in the fridge for at least an hour or overnight.

When ready to serve, remove the cheese ball from the refrigerator and remove the plastic wrap. Press crumbled bacon bits, cheddar cheeses, and or green onions onto the cheese ball. Cut slices of white cheese into laces for the football. Two parallel pieces and eight small cross pieces. Serve on a platter with assorted crackers, pretzels, or pita chips.
Notes
bacon
Real bacon is the best, if you buy a 1-pound package of sliced bacon, it will cook down to 1 ½ cups of cooked crumbled bacon. You will need 1 cup for this recipe.
Easy Cheese Ball Flavor Variations
Use some ingredients you prefer or have on hand. Here are a few ways to mix things up.
Seasonings: Instead of the Ranch seasoning packet, add a teaspoon of seasoning salt blend, some Worcestershire sauce, or everything bagel seasoning.
Veggies & Herbs: In place of green onions, add fresh parsley, or some chopped basil and rosemary. Or add some chopped Sun Dried Tomatoes or a confetti of chopped colorful bell peppers.
Meats: Add in chopped salami, slice some ham or pepperoni into thin small ribbons and mix it into the cheese ball.
Nuts: Roll in crushed toasted or Candied Pecans, macadamia nuts, walnuts, or toasted pine nuts.
Cheeses: Good grated cheese will make your cheese ball really tasty, add in Monterey jack cheese, parmesan cheese, goat cheese, pecorino romano, white cheddar cheese, or Colby jack cheese.
Cheese Truffles or Cheese Ball Bites: Use a mini scoop or teaspoon and portion out small scoops formed into little ball shapes, then rolled in chopped herbs, nuts, crushed cracker crumbs, and chopped dried fruit. And it is fun to push a small pretzel stick pushed in for a "grab and go" easy appetizer.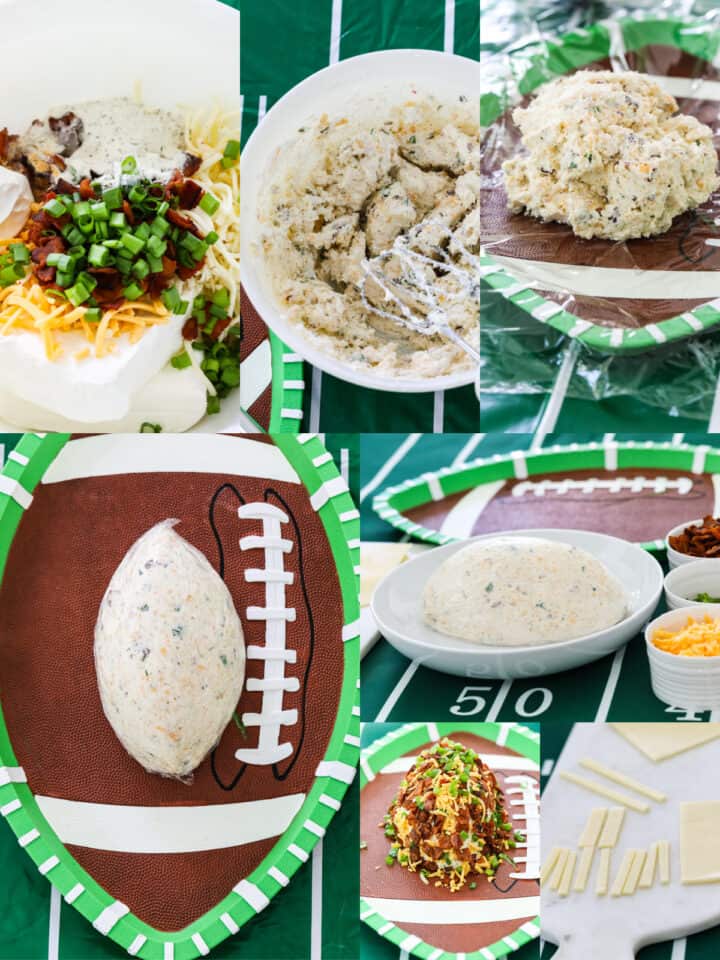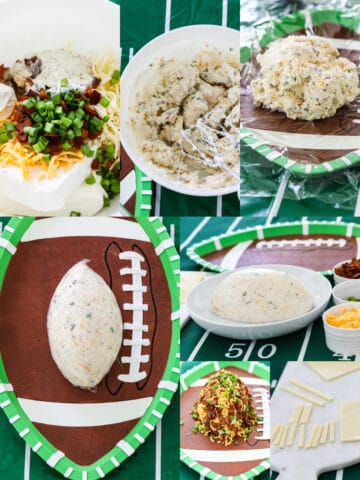 Nutrition
Calories:
83
kcal
|
Carbohydrates:
1
g
|
Protein:
4
g
|
Fat:
7
g
|
Saturated Fat:
3
g
|
Polyunsaturated Fat:
1
g
|
Monounsaturated Fat:
2
g
|
Trans Fat:
0.01
g
|
Cholesterol:
18
mg
|
Sodium:
229
mg
|
Potassium:
38
mg
|
Fiber:
0.04
g
|
Sugar:
0.2
g
|
Vitamin A:
131
IU
|
Vitamin C:
0.3
mg
|
Calcium:
81
mg
|
Iron:
0.1
mg
Need ingredients or equipment to make this recipe?
Shop Now Every cooking product recommended I own, use, and love how they perform in my kitchen. Happy Cooking! Lisa
Disclosure: As an Amazon Associate, Delicious Table earns advertising fees from qualified purchases linking to Amazon.com