Last Updated February 21st, 2023 at 11:54 pm by Lisa
40+ Romantic dinner ideas for Valentine's Day, date nights, anniversary celebrations, or special occasions like Galentine's. Skip reservations at busy restaurants, and make a great romantic dinner for two or a cozy night in with the entire family.
Choose your favorite romantic recipes for a perfect Valentine's Day dinner menu with starters, appetizers, cocktails, main dish recipes, sides, and sweet desserts...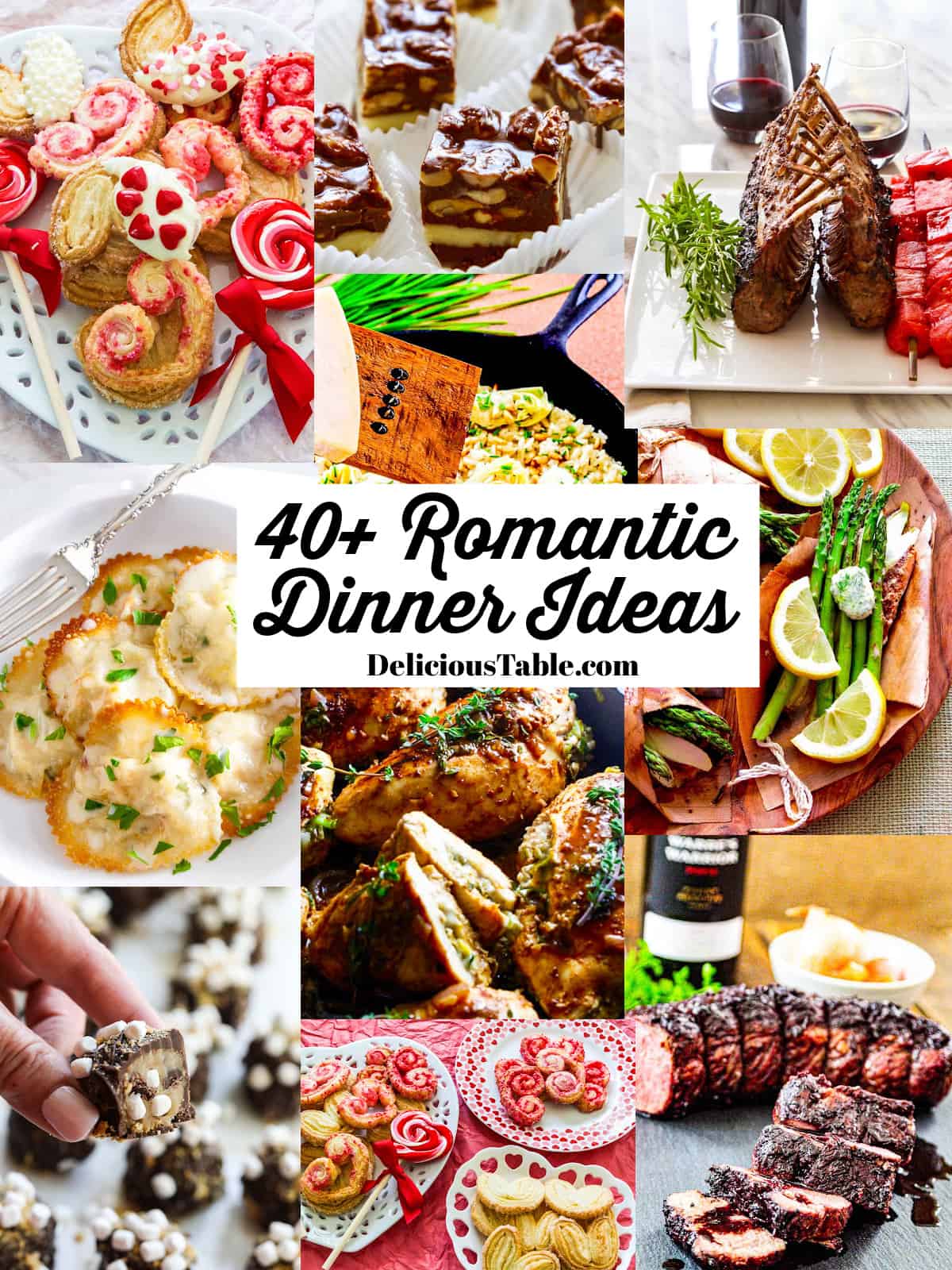 Romantic Menu With Elegant Valentine's Dinner Ideas
PRO TIPS: For romantic meals, the key is to prep fancy dinner recipes ahead. Make one or two things and buy the rest! Cook with recipe ingredients you are comfortable with preparing. Most importantly, relax and enjoy your special day!
What are the most romantic foods?
Sweets: Chocolates, Truffles, Honey, Whipped Cream.
Drinks: Champagne, Red Wine, Rose.
Shared Food: Chocolate or
Cheese Fondue, Charcuterie or Cheese Boards.
Dinners: Lobster, Wagyu Beef, Oysters, Caviar.
Fruits: Strawberries, Pomegranates, Grapes, Watermelon, Figs, Ginger, Pineapple.
Romantic Meals
Steak & Meat Lovers: Grill filet mignon beef or juicy steak just like a famous steakhouse, and pair it with a side like Mashed Potatoes and a chilled Wedge Salad. Or make a Beef Roast, so incredible with a red wine sauce, and then slice it thinly for the most incredible Roast Beef for Sandwiches the next day.
Seafood Lovers: Saute some garlic shrimp scampi cooked in a white wine sauce over pasta, or have small bowls of rich lobster bisque which you can make or buy. Another great option is savory, tender scallops, or for the main dish, crab legs, or classic lobster tails in drawn butter, or how about an herb crusted pan-seared salmon?
Pork Loin: A savory tender pork chops recipe with a pan sauce would be amazing or make a Cherry Balsamic Pork Loin loaded with flavor and herbs. You can also grill or bake a pork tenderloin for two people, which is a smaller portion
Chicken Recipes: Stuffed Chicken Breasts are so luxurious, and easy. It can be made ahead with different cheeses like gorgonzola, parmesan cheese, feta, mozzarella, or goat cheese. You can also fill them with veggies like cooked mushrooms, onions, peppers. Or make a crispy breaded chicken recipe, chicken saltimbocca (chicken wrapped in sage and prosciutto and then quickly sautéed). Or chicken parmesan, a comfort food classic dish.
Lamb Recipes: Fire up the grill, and make Grilled Lamb Chops with peaches and a mint pesto that is out of this world, or try my Cabernet Rosemary Rack Of Lamb with watermelon skewers! It is incredible and soooo romantic.
Classic Pasta Dishes: Creamy pastas are a go-to side with a Healthy Alfredo Sauce, or make the Italian classic cacio e pepe . This simple dish consists of spaghetti, black pepper, Pecorino Romano, and sometimes butter, it is a rich sauce and goes well with angel hair pasta.
Creative Out Of The Box: Ideas: For something different, try a main course of short ribs and mashed potatoes, or a heart shaped pizza loaded with melty cheese and family favourite toppings! To save time, make a sheet pan dinner, try a Shrimp Boil, Lemon Chicken Dinner complete with lemony croutons, or a big pan of Baked Lobster Ravioli with a lemon butter cream sauce that is out of this world.
Cocktails And Drinks
The best way to celebrate with your love on a dinner date is with good cocktails and a homemade Valentine's Day dinner. It's best to get your prep work all done the day before. That way you can relax and enjoy a delicious meal at home. Choose your favorite Valentine's Day dinner ideas here for the night, and then it's time to shop for ingredients and prepare...
Sides, Salads, And More
One of the best parts of planning your night, might be to pick side dishes from all these favorite Valentine's Day dinner ideas. There are the classic steak house or upscale restaurant sides like whipped Mashed Potatoes, or Crispy Smashed Potatoes. Or an incredibly simple recipe for Parmesan Risotto that requires no constant stirring and can easily become lobster risotto which succulent chunks of lobster, perfect for date night. You can also stick to a simple side of rice, or creamy spinach just like they have on upscale dining menus.
Another really popular option is Ruth's Chris Steakhouse's famous dish of Sweet Potatoes Casserole, or a classic Iceberg Wedge Salad with fresh flavors and a creamy avocado dressing. These are two of my favorite recipes to recreate while dining at home!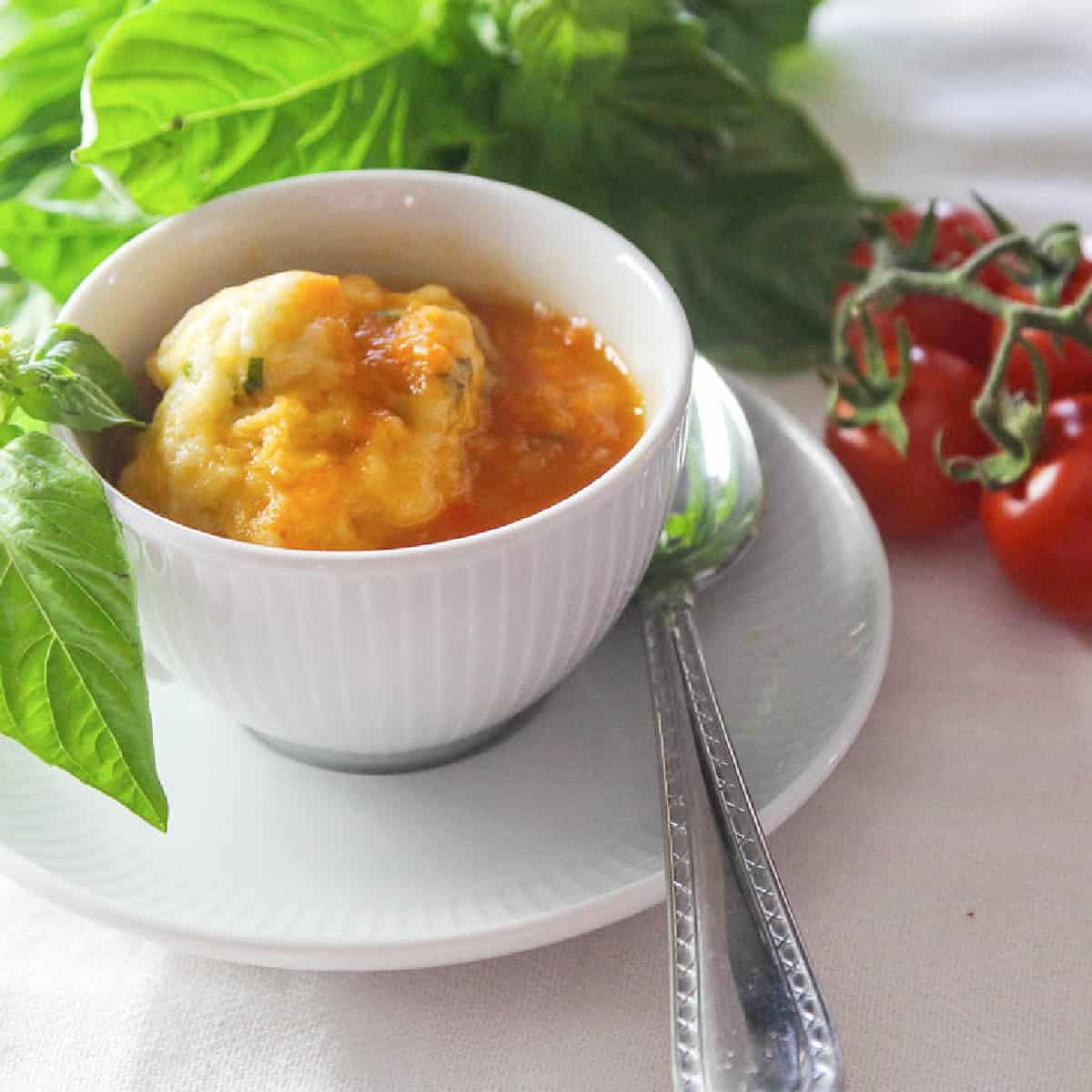 Tomato Soup With Basil Dumplings
Tomato Soup with Basil Dumplings can be rich and chunky or creamy smooth and is loaded with a veggie rainbow and real tomatoes for a hearty lunch or dinner. What makes this hearty soup recipe so good, are the fluffy basil dumplings! Total comfort food in a bowl, as they soak up the hot creamy homemade tomato soup.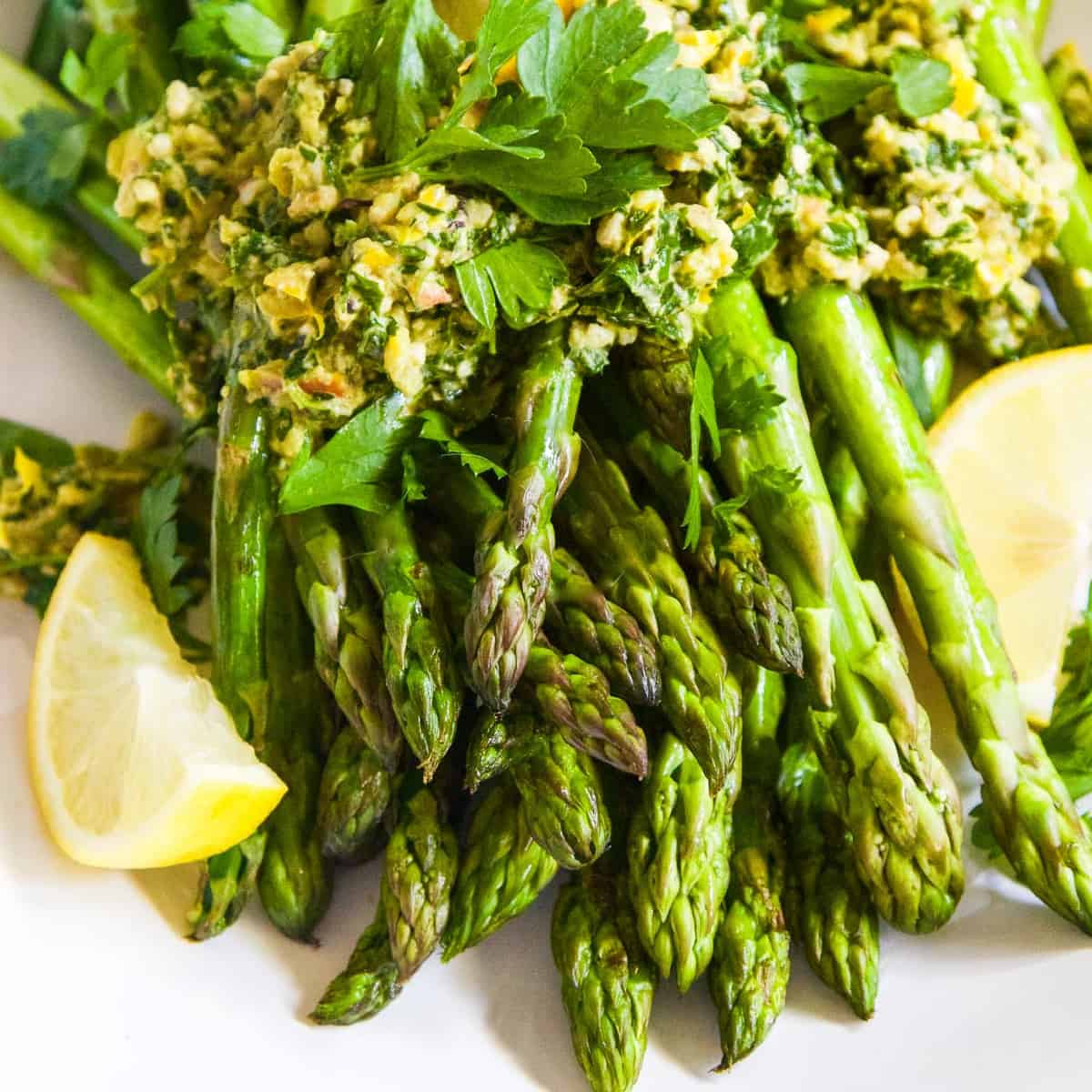 Stovetop Grilled Asparagus
How to cook asparagus on the stovetop grilled perfectly every time for tasty crisp tender spears with bright green beautiful color. An easy low-carb keto healthy side dish.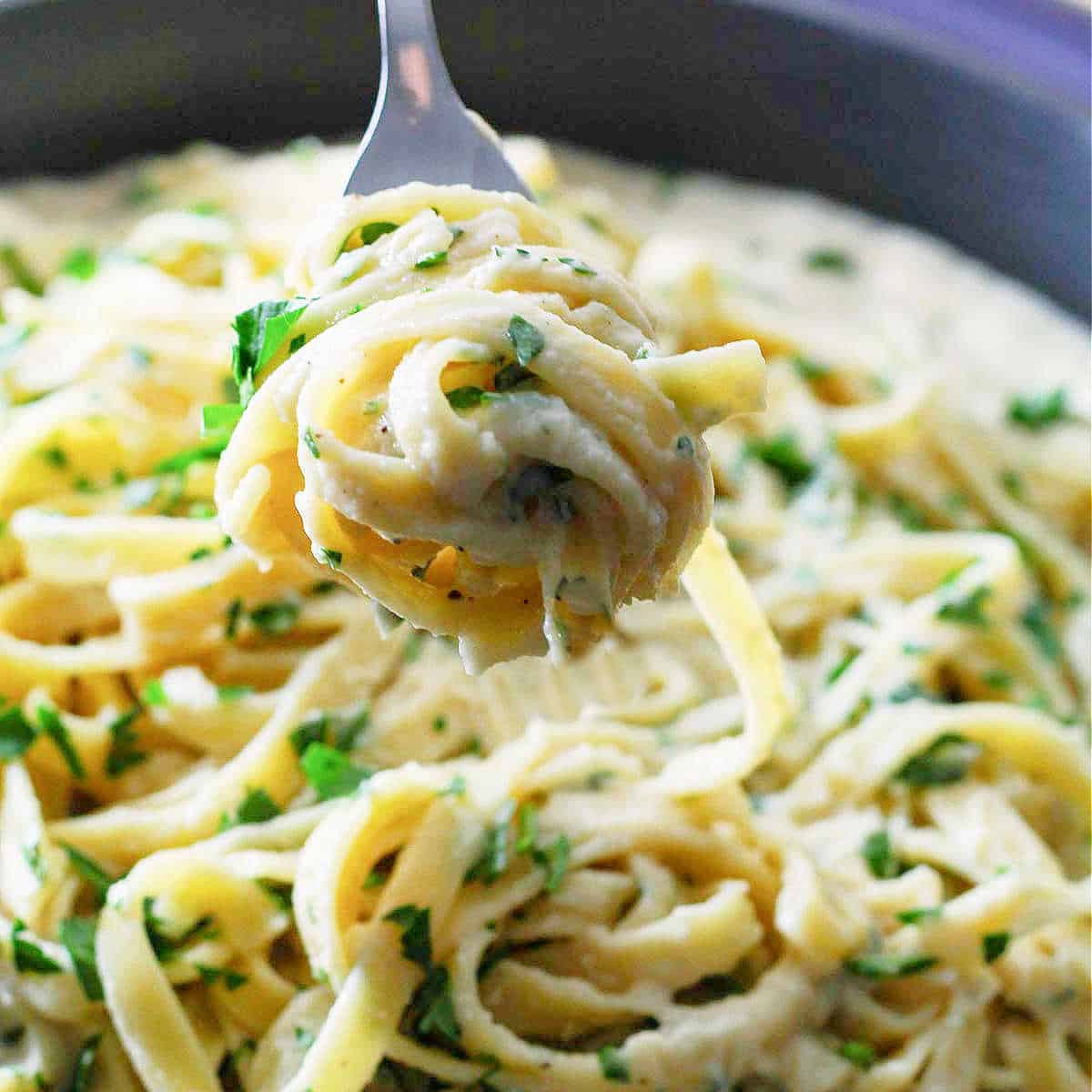 Healthy Alfredo Sauce
A healthy alfredo sauce recipe is possible with just a fraction of the calories. Let's ditch the high fat version loaded with fat and carbs. This Cauliflower Alfredo is absolutely rich and bursting with flavor, gluten-free, and a healthier recipe of a classic comfort food dish. You can add things like chicken, cherry tomatoes, fresh herbs, spices, or sun-dried tomatoes to jazz it up!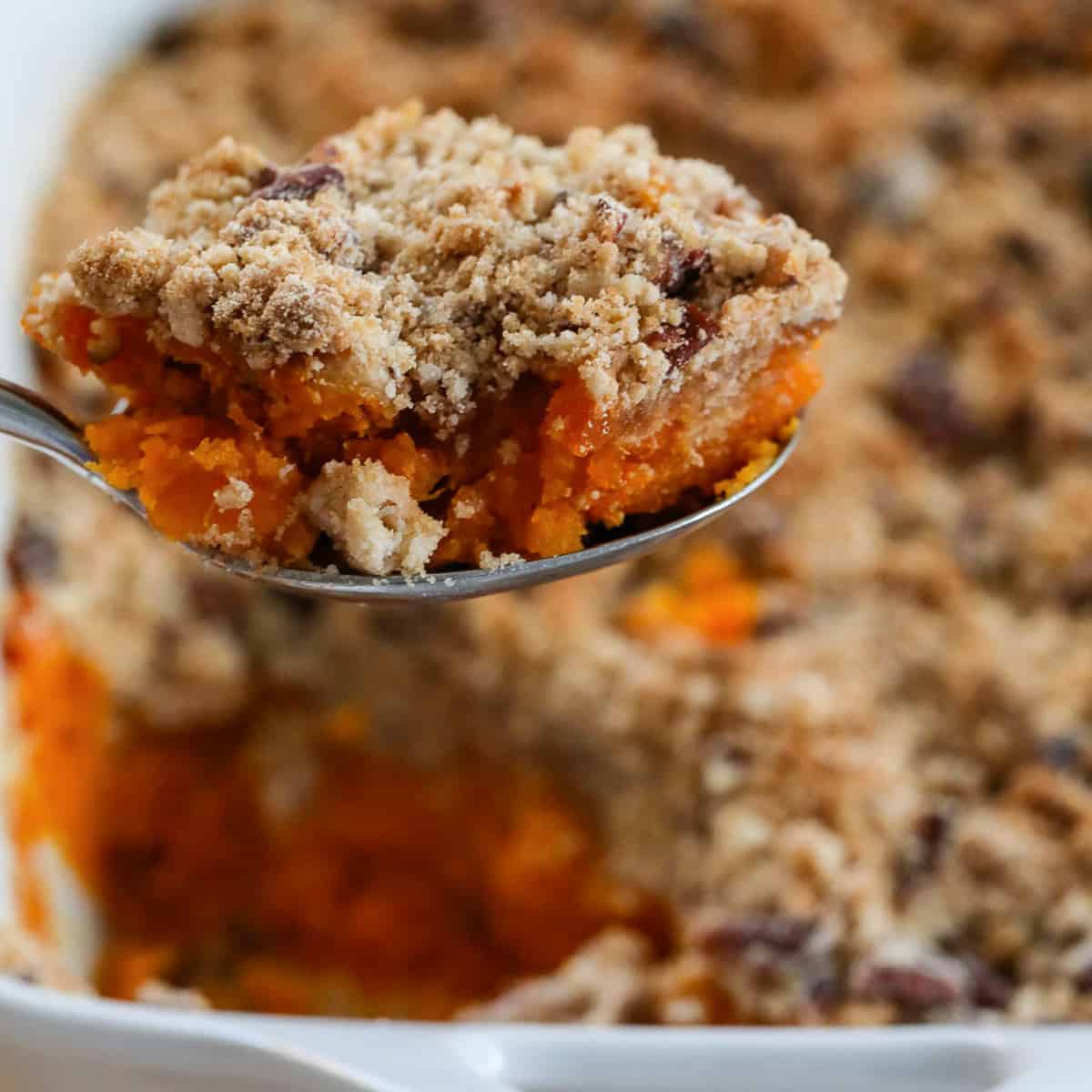 Sweet Potato Casserole (Ruth's Chris Recipe)
For all you avid fans of the Sweet Potato Casserole at the famous Ruth's Chris Steak House, this is their original recipe and signature side dish. The combination of the fluffiness of the sweet potato mixture topped with a pecan crumble takes this classic holiday side way over the top. It is so scrumptious, the whole family will want seconds and a copy of this delicious copycat recipe.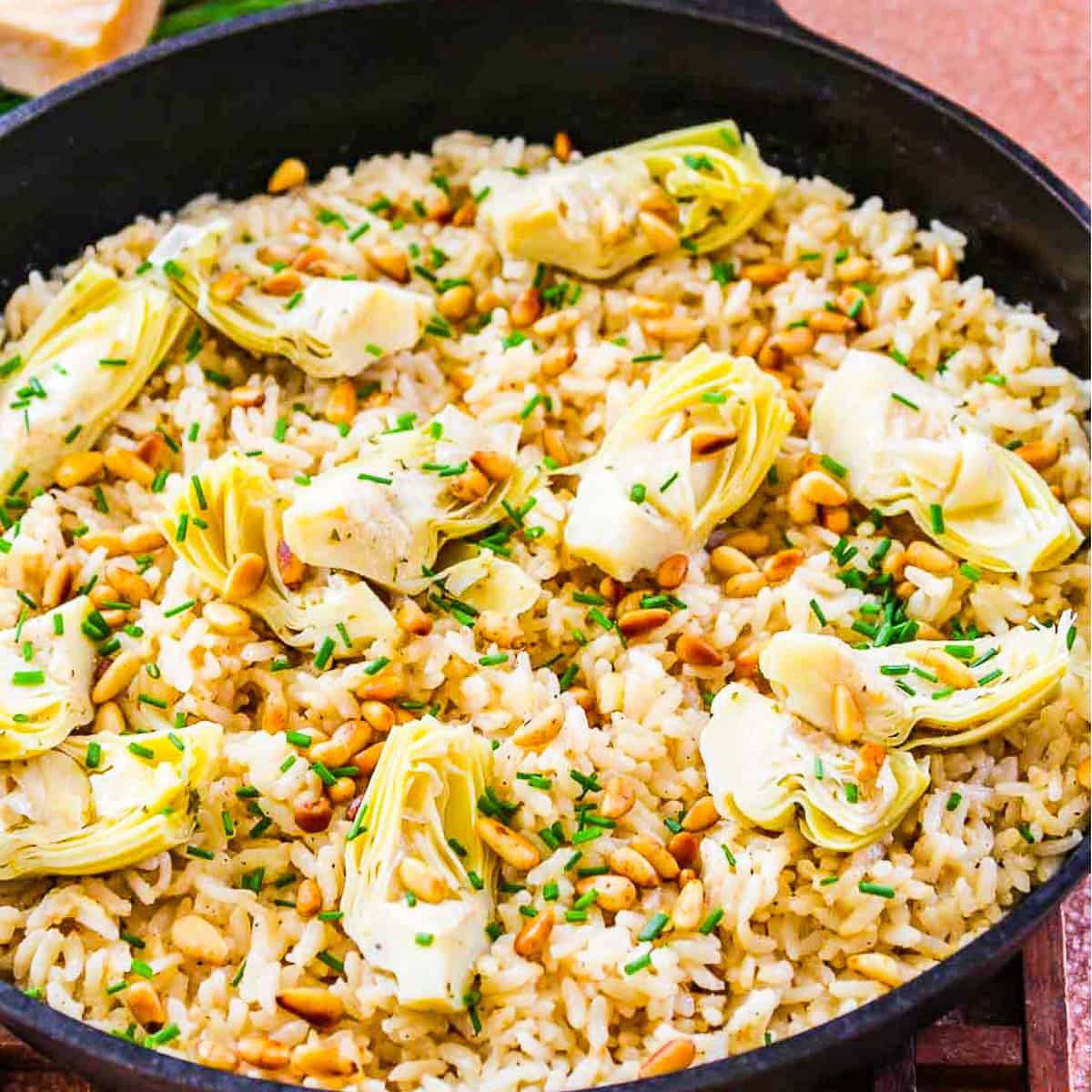 Parmesan Risotto
Parmesan Risotto has a rich deep flavor, is made with arborio rice, and is hands-free with no constant stirring, unlike most risotto recipes. It is one of the most delicious recipes, and you can add things to it to make it a complete dinner from roasted shrimp, lobster, chicken, seared scallops, a fried egg, or cooked sausage.
Make-Ahead Mashed Potatoes
Make-Ahead Mashed Potatoes are creamy smooth and melt in your mouth with 5 easy ways to reheat and keep warm for dinner or your holiday party.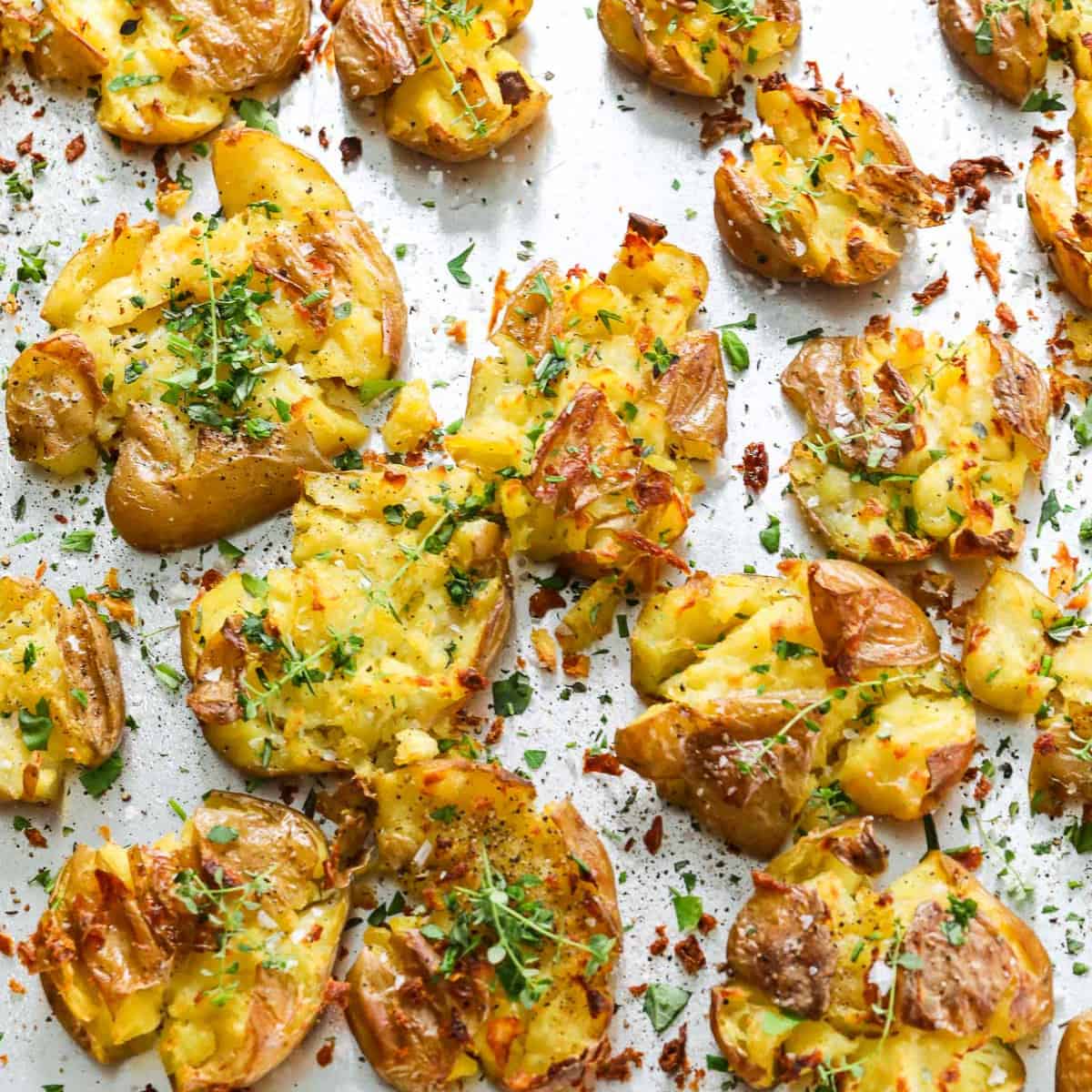 Crispy Smashed Potatoes
Crispy Smashed Potatoes served with melted herb butter are one of the most heavenly potato recipes. These are pure comfort food and a beautiful side dish for family dinners, romantic date nights, holidays, or dinner parties. Soft fluffy centers are surrounded by a golden-brown crust on each and every one. And those crunchy edges are simply addictive.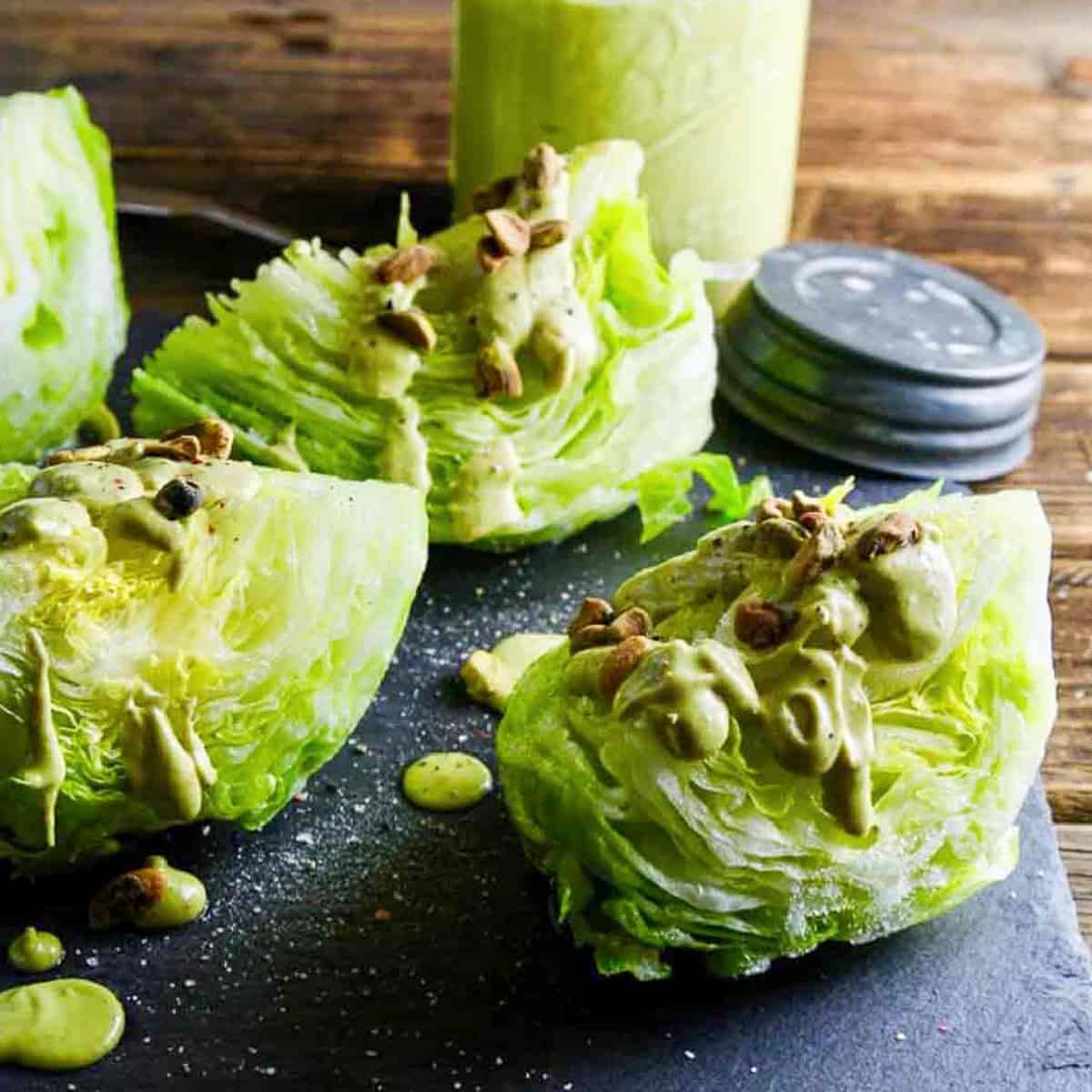 Iceberg Wedge Salad
Dig your fork into this icy cold iceberg Wedge Salad with a Pistachio-Avocado Dressing. The mild flavor compliments sizzling grilled steaks, chicken, or shish kabobs at cookouts or dinner parties. And for lunch, add some more protein like chopped bacon, chicken, or hard-boiled egg.
Starters And Appetizers
Pop the champagne, and begin your romantic night with a bite of Mini Bacon-Wrapped Filets dipped into a Creamy Balsamic Horseradish Sauce. All of these are easy appetizers that look fancy but have simple ingredients found at any grocery store, and look for all my make ahead tips in each recipe! Choose scrumptious and uncomplicated Valentine's Day dinner recipes, then get your kitchen prep underway.
Romantic Sweets And Chocolate Desserts
Chocolate is a traditional Valentine's Day gift on February 14th. A great option is to make a sweet dessert that can be gifted as well. Try one of the best desserts here, Smore Truffles or Nut Goodie Bar candy! They box up so well, take less time than you think, and are a great option the whole family will love. What better way to say I love you, than with homemade chocolates that will delight their taste buds with chocolatey goodness.
More Holiday Party Food Collections