Last Updated March 7th, 2022 at 07:58 pm by Lisa
You can make Sun-Dried Tomatoes at home in the oven or by using a food dehydrator. I am sharing all my cooking tips, plus 20+ dinner inspiration recipe ideas, and creative ways to enjoy your homemade dried tomatoes.
If you grow tomatoes, you know that they often are all ready around the same time, so this is one more way to preserve them and put them to work in your cooking. These would make a great gourmet food gift too.
Why make your own? Well, for many reasons, they last for months and go into so many recipes like sauces, baked bread, compound butter, casseroles, pasta, vegetables, and more. The pop of color they add is so gorgeous. And nothing from a package will taste as sweet and "tomatoey", these are garden candy...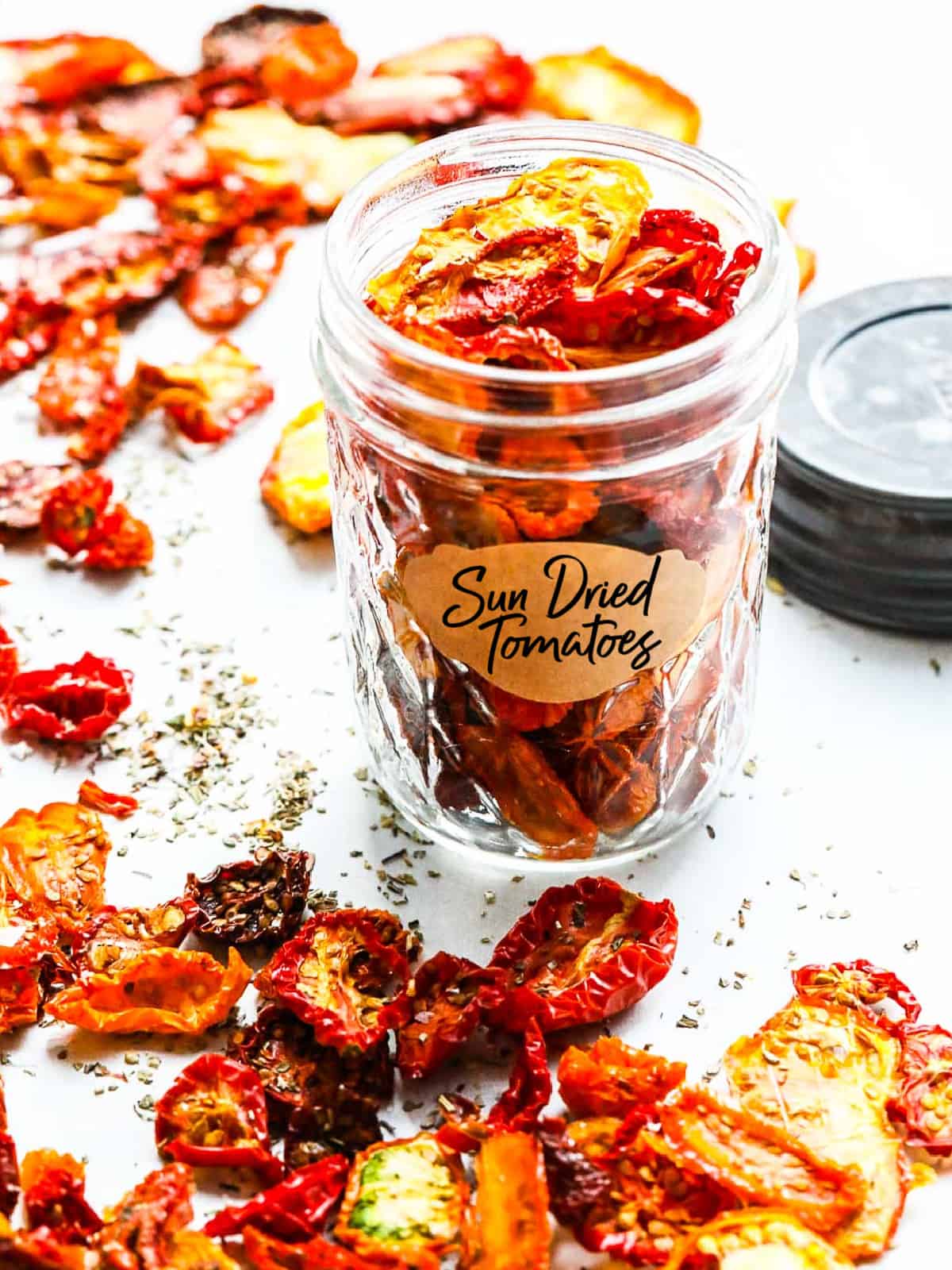 ⬆ Sun Dried Tomatoes Video ⬆
What Are Sun-Dried Tomatoes?
Sun Dried tomatoes are an easy way to preserve fresh tomatoes. For centuries food has been preserved to eat during winter months when fresh produce won't grow.
Once the moisture evaporates, it halts the deterioration process and locks in a state of preservation.
By drying ripe tomatoes, these foods could be enjoyed and provide valuable nutrition in the winter when it is difficult or impossible to grow fresh produce. The true origin of dried tomatoes is unclear. It is believed the Italians originally dried their tomatoes on their ceramic rooftops in the summer sun.
3 Ways To Dehydrate
Sun - people have preserve dried tomatoes in the sun this way for centuries
Oven - home and commercial ovens can dry tomatoes
Food Dehydrator - are inexpensive and available online
PRO TIP: Use and slice tomatoes that are similar sizes so they are done at the same time.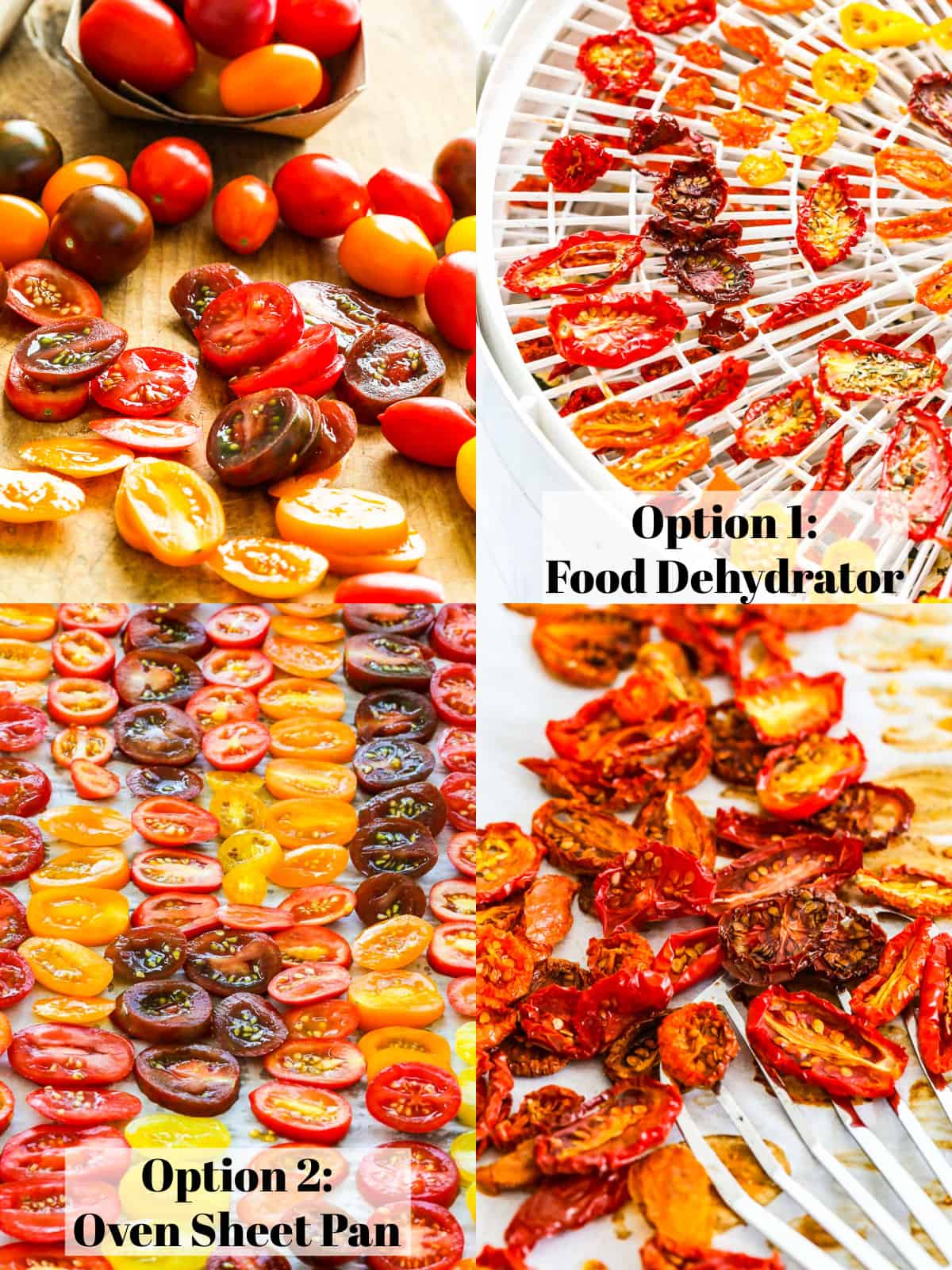 Watch ~ Our Video Tutorial
Can You Dry Tomatoes With The Sun?
Yes. In fact, people have dried tomatoes in the sun for centuries, but this process is not always practical for most of us. It can be done by placing thinly sliced tomatoes on raised screens in the hot dry sun day after day.
There are challenges with this method.
You need consistent hot dry days.
And to bring the tomatoes in at night.
Humidity will affect this drying method and can make it impossible.
You would want to cover them with cheesecloth to deter flying critters as well.
It can take from a few days to a couple of weeks depending where you live.
So how about we skip that method and try a couple of easier ways to dry tomatoes in just hours?
Oven Dried ~ My Fave Way...
Most of you will like this method, I find it easy and even faster than using a dehydrator.
If you slice the tomatoes thin enough, you will have sun-dried tomatoes in just about 3 hours. No critters to battle, and done in hours not days!
PRO TIP: When you dry tomatoes by any method, the liquid evaporates thus shrinking them much smaller. They will become a darker color, chewy, odd-shaped, and have an intense sweet flavor. So they either need to be rehydrated or packed in oil.
Food Dehydrator
Drying tomatoes in the food dehydrator has the advantage of not heating the house as you can place your dehydrator out of the main living area like a garage.
Dehydrators have a large fan that is quite loud, but the advantage is that it frees up your oven to use for other things.  But heat does come from a food dehydrator, it's like a giant hairdryer!)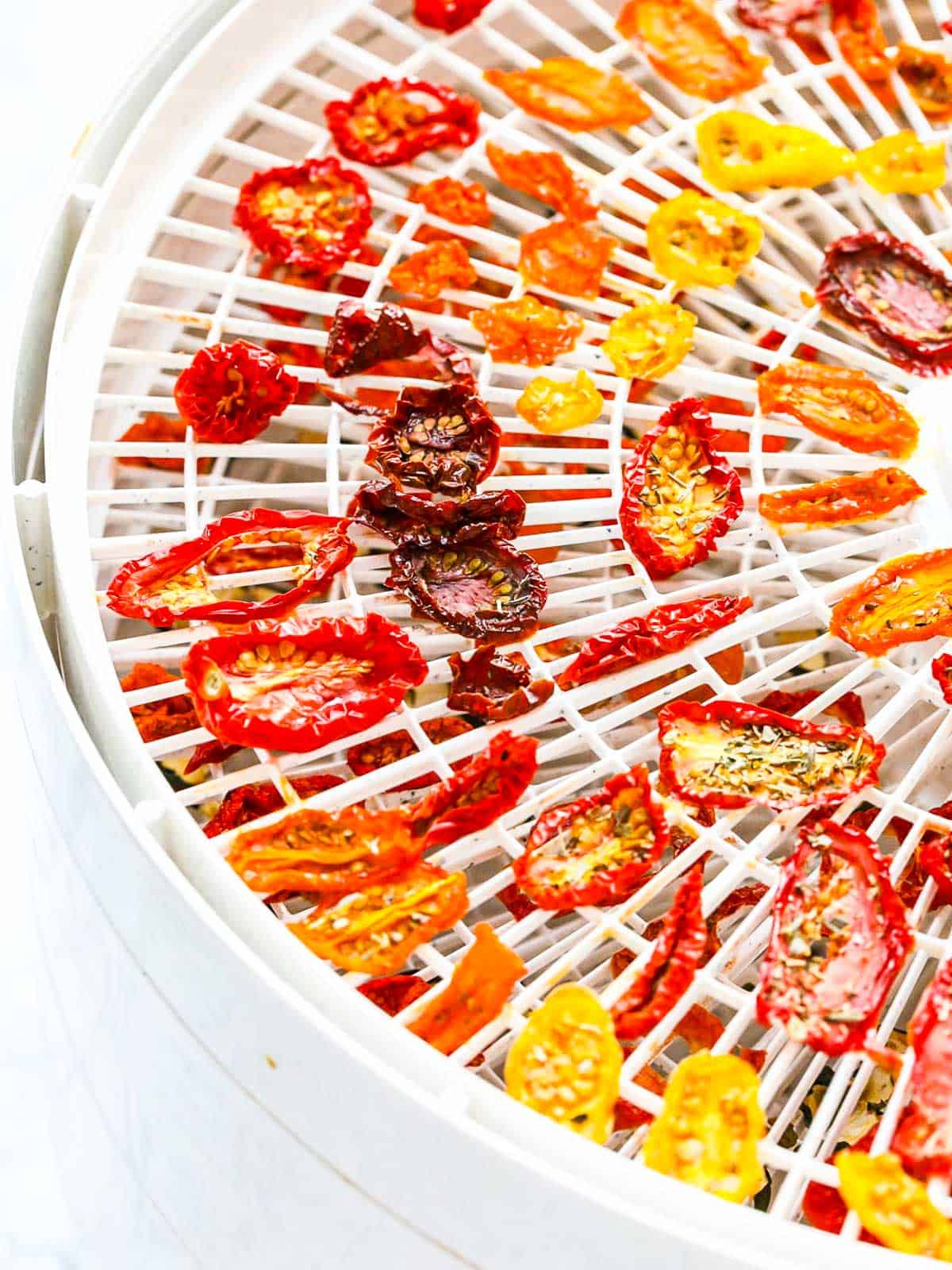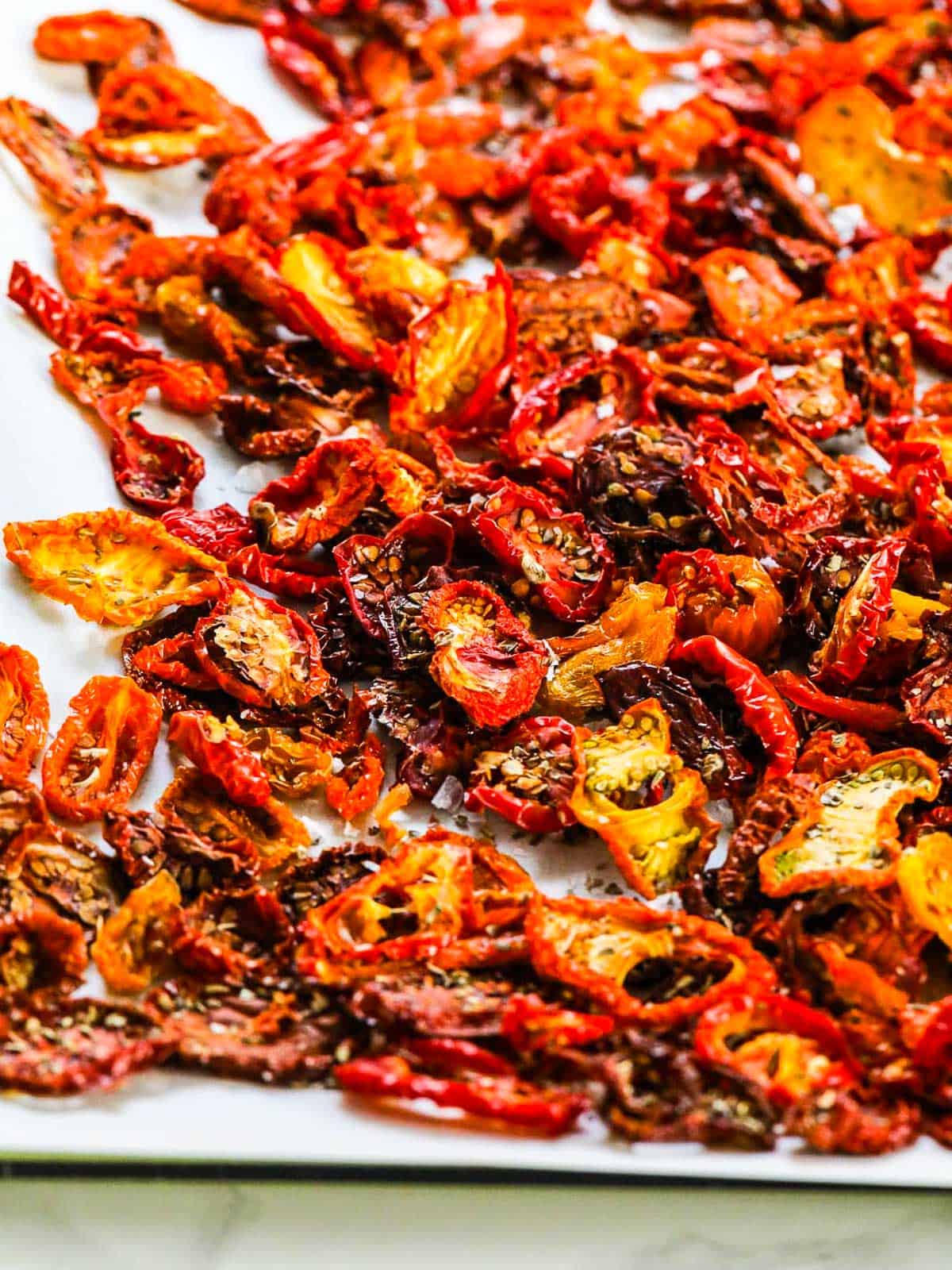 What Do Sun-Dried Tomatoes Taste Like?

They lose most of their water but retain their sugar, sweetness, and nutrients and what you're left with is the deliciously dried tomato flesh with an absolutely incredible and intense, concentrated tomato flavor. 

Are sun-dried tomatoes good?

In the 1980s to early 1990s, Sun-Dried Tomatoes became a trendy ingredient in the United States. They were tossed into pasta dishes and salads, baked into casseroles, and starred in family chicken dinner recipes like Creamy Tuscan Chicken.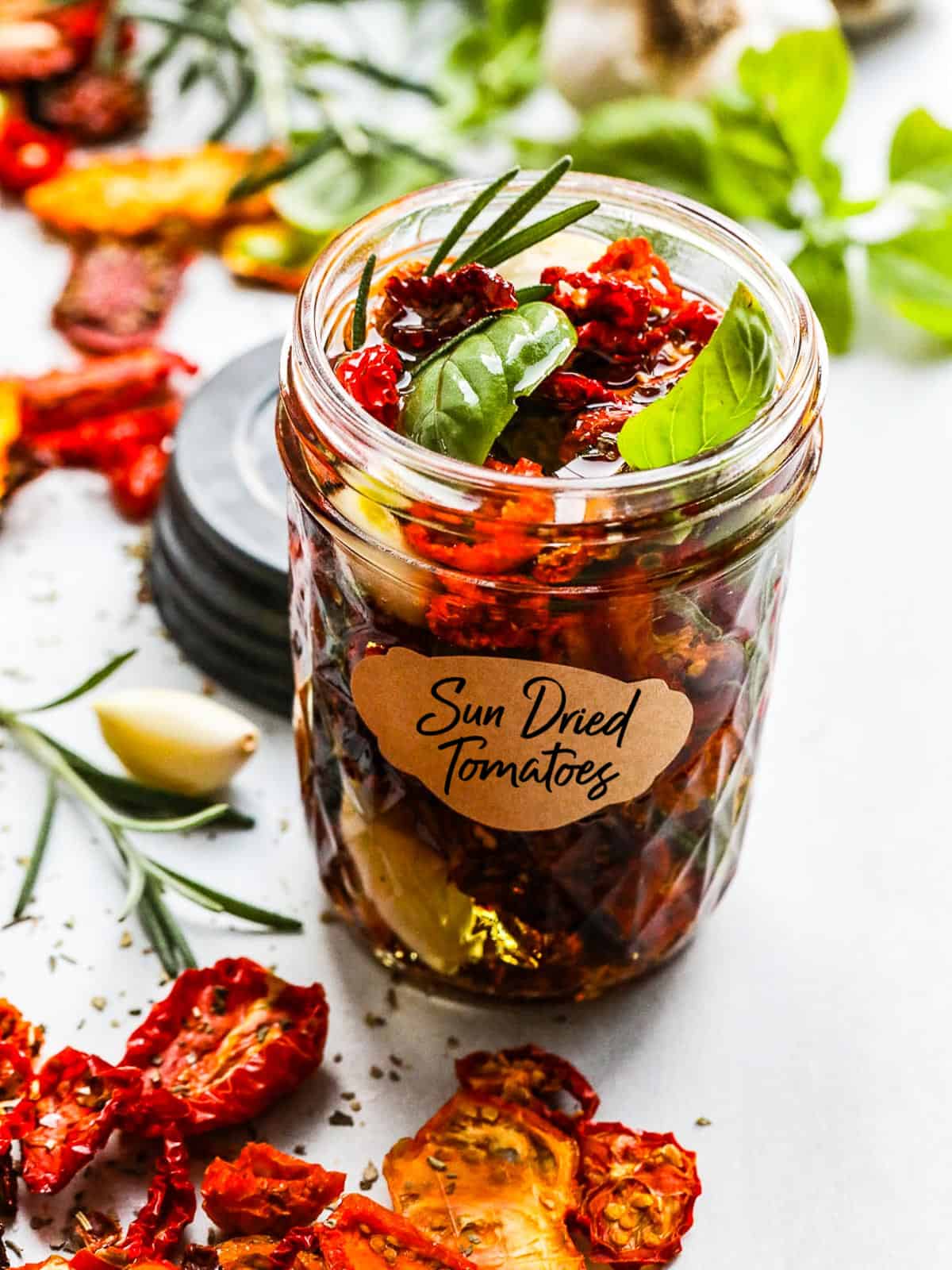 Now, How To Store Them?
Pantry
Keep in a dark dry pantry in a small airtight container or glass jar.
Freezer
Place sun-dried tomatoes in an ice cube tray, cover with olive oil and freeze in zip-top bags for fast cooking. Use them in sauces like bolognese, marinara, or marinades.
Refrigerator
In small glass jars, place sun-dried tomatoes and top with olive oil and garlic cloves, and chill in the fridge, bring to room temperature and use in recipes for salad dressings, sauces, marinades, meat dishes, and pasta salads within 2-3 weeks.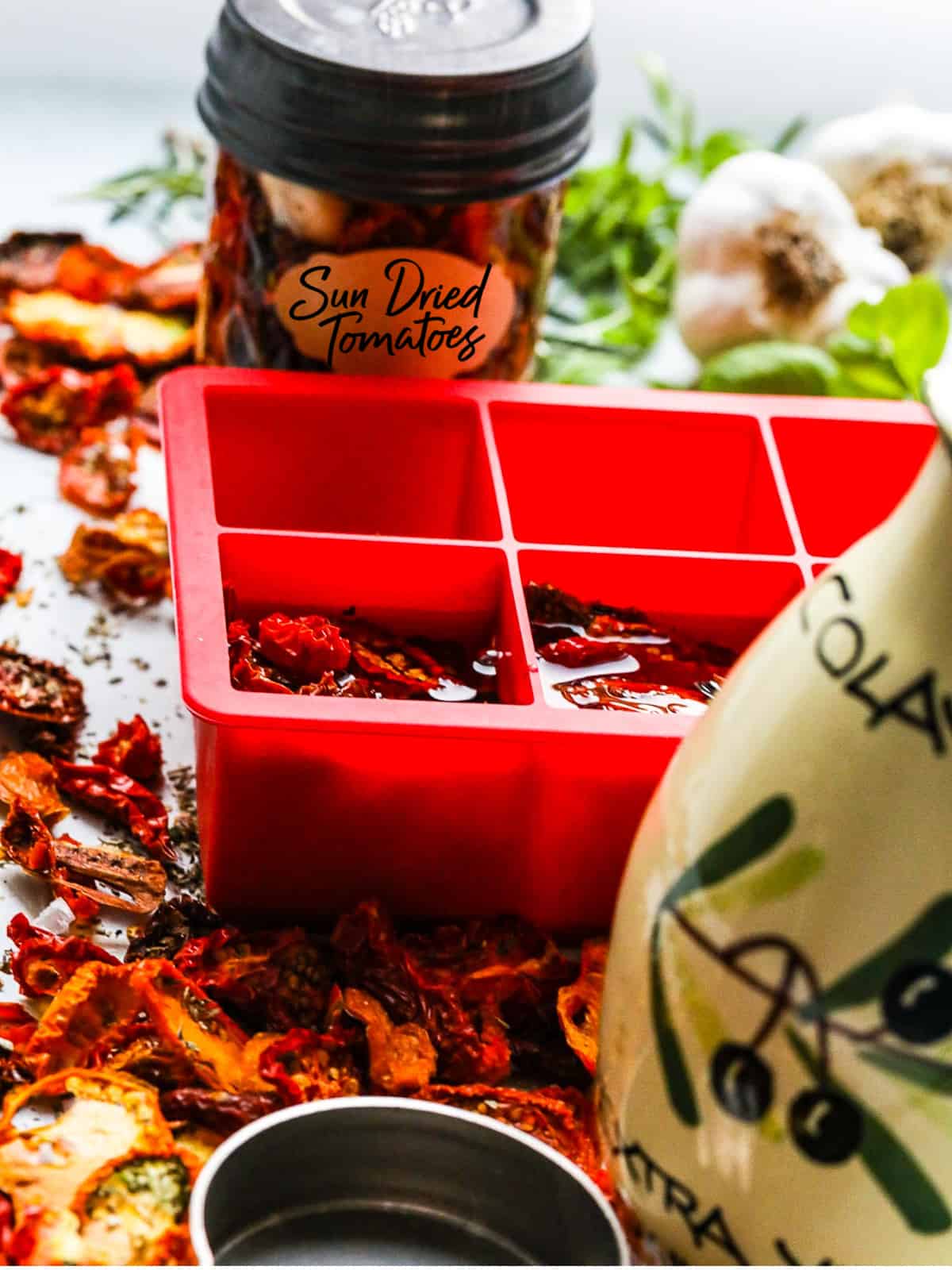 Cooking Tips
Since Sun Dried Tomatoes have a concentrated, intense sweet yet tart flavor, it is best to either chop them finely to put into pasta salads and dishes or rehydrate them and blend them into sauces in cooking.
People love to snack on them, they are sooo tasty. They get a chewier texture and hydrating them before using them is a really important step in your cooking.
PRO TIP: Dried tomato flavor is quite concentrated and strong, so don't substitute sun-dried tomatoes one-for-one in a recipe.  Use them in recipes when you really want a concentrated flavor.
How To Rehydrate Tomatoes?
Rehydrating can be done with water, broth, or even wine. But which is best? Water does hydrate them but dilutes the tomato's flavor and wine overpowers the tomato's natural flavor.
A vegetable broth or chicken stock adds savory flavor. Soak in warm broth or stock for 30 minutes until soft and pliable, drain. Save the stock liquid and add flavor to stocks and sauces, dry, and use in your cooking.
Store-Bought (Dry-Packed) Sun-Dried Tomatoes
Less expensive than olive oil packed, sometimes ⅓ the price.
Dry-packed variety can have tougher skins and a chewier texture.
They are unseasoned without herbs, and to flavor recipes your way.
Some people try to approximate oil-packed tomatoes by soaking the dry-packed sun dried tomatoes in olive oil. It helps, but they still have a tougher chewy texture and need to be diced.
Store-Bought Oil Packed Sun-Dried Tomatoes
The tomatoes left in the jar should be covered in oil and chilled in the fridge.
Oil packed Sun-Dried Tomatoes come in several ways, they may julienned, finely chopped, or whole. Herbs and/or spices is often added to the oil like Italian Seasoning, salt, etc.
Use the oil from the jar to make salad dressings and to saute meats and vegetables. It is packed with tomatoey flavor.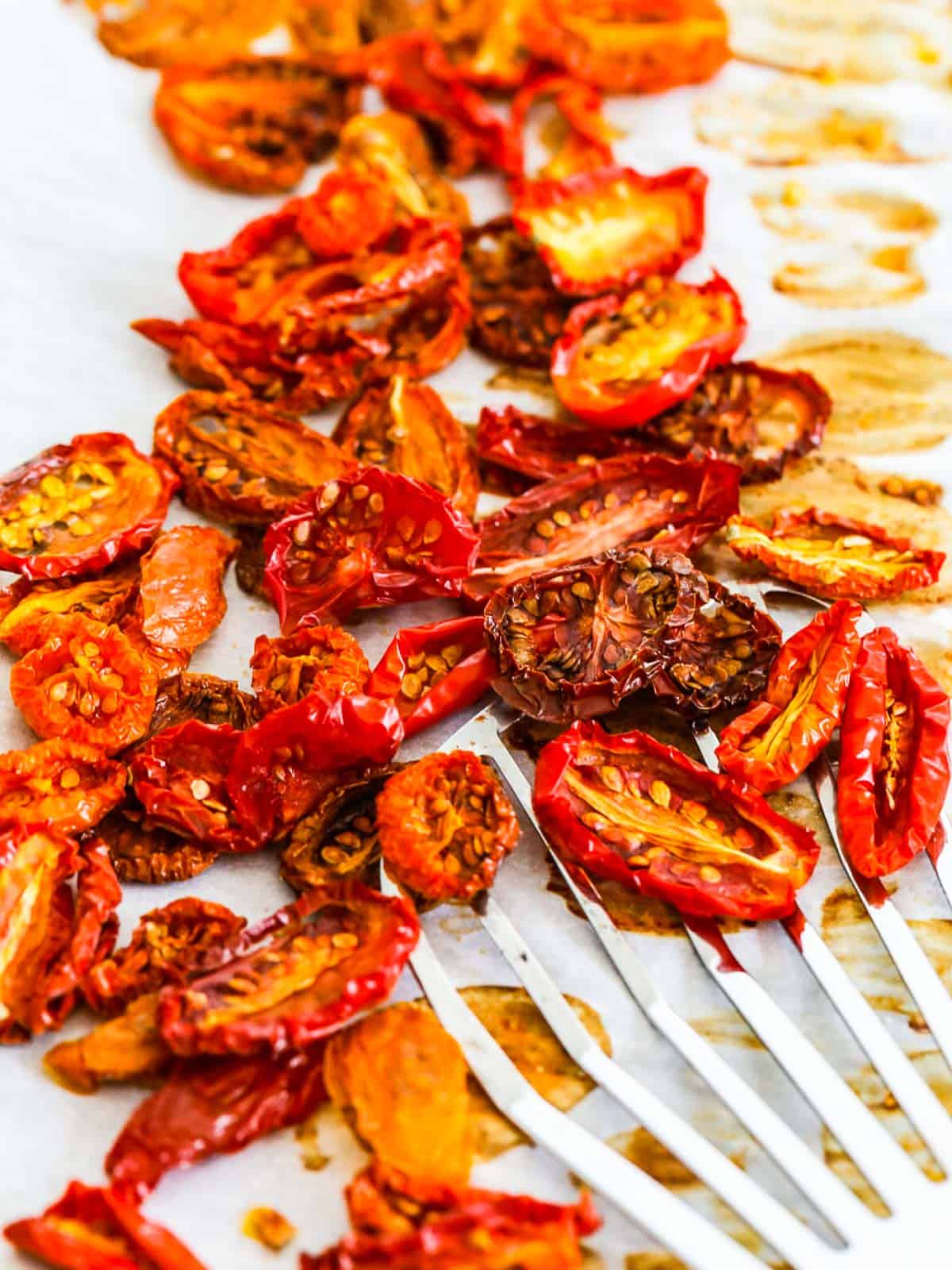 What Kind of Tomatoes Should I Use? 
Use bright-colored tomato varieties. Any size of tomato will work in these recipes. Small ones are easy to slice and they dehydrate quickly due to their size.
Cherry
Yellow Pear
Red Torch
Patio Choice Yellow
Juliet
Grape
Valentine
Roma
San Marzano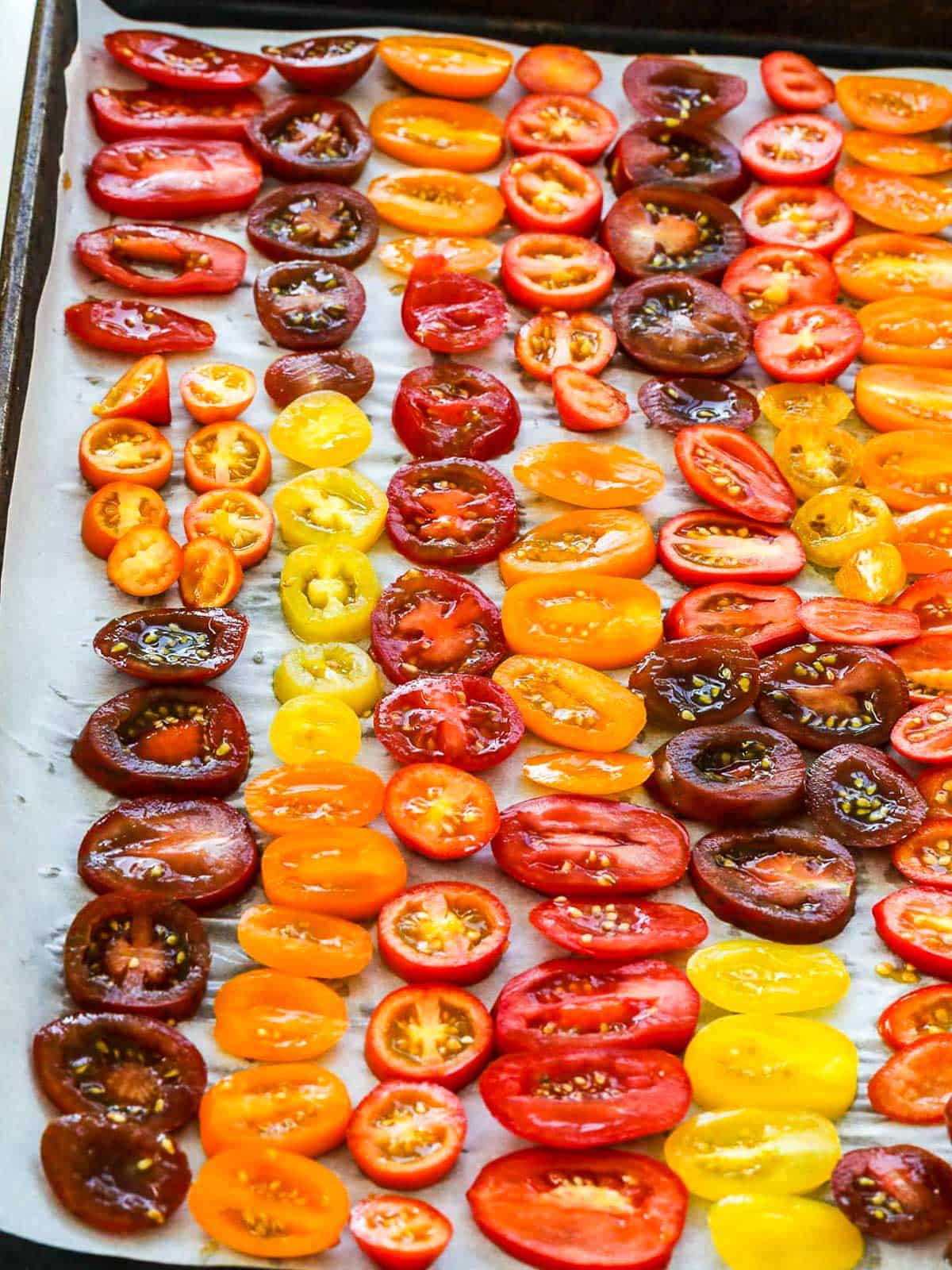 Uses In Recipes
Blend into Red Pepper Tomato Soup
Top on Chicken Parmesan
Mix into Chicken Piccata
Use as a topping on Pizza
Chop and mix in an easy Pasta Salad
Mix into Breakfast Omletes or Egg Muffins
Bake into Dinner Casseroles
Mix into Italian Tuna Salad
Blend into Sauces; Marinara or Bolgonese
Sun-Dried Tomato Pesto
Bake into a Hot Dish or Pasta Bake
Rehydrate and blend into Tomatos Soup and Beef Stew
Saute into Gnocchi with Bacon or Sliced Sausages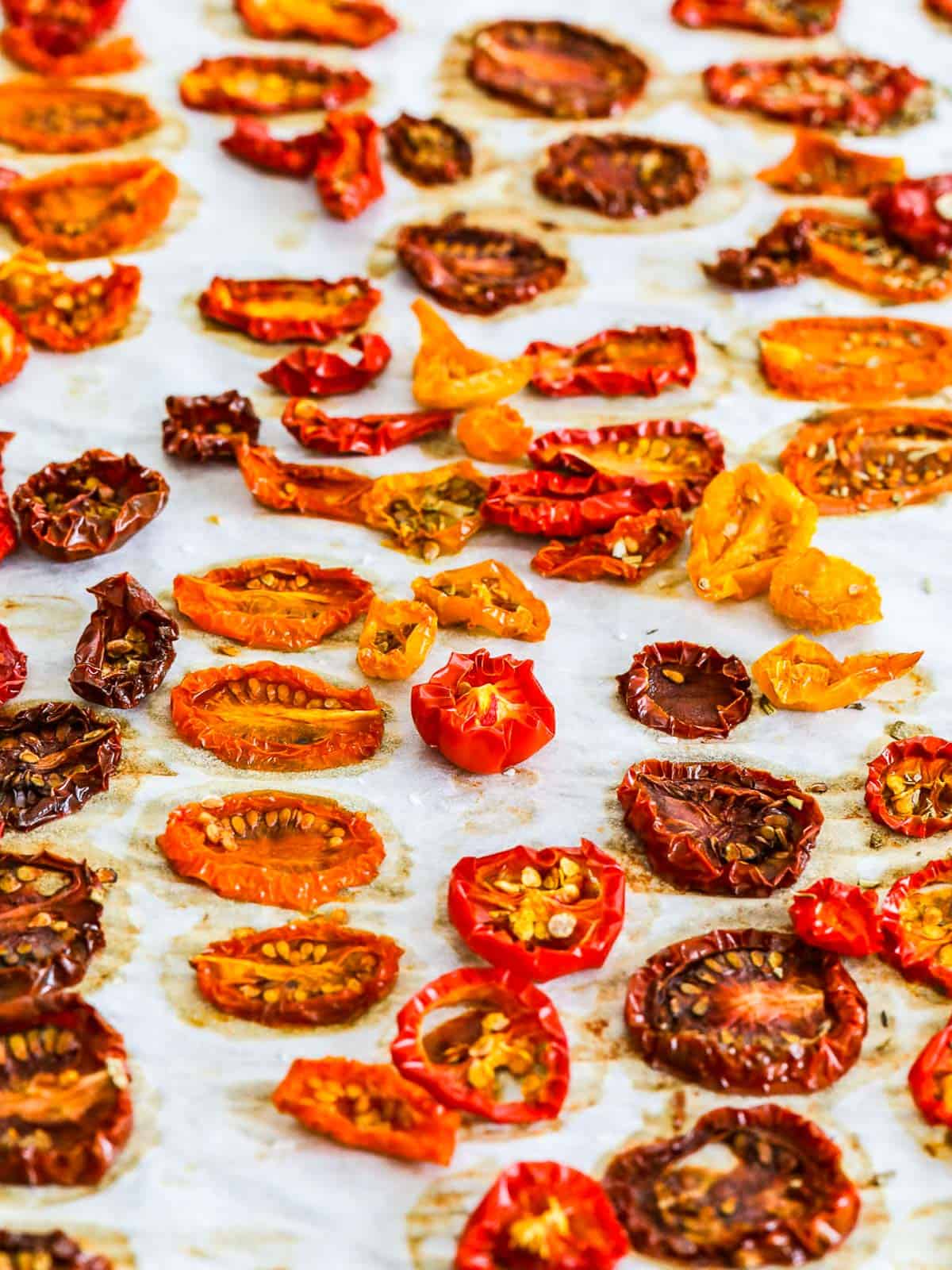 More Tomato Recipes
Fried Green Tomatoes can be a snack, lunch, or a side for family dinner. Dip in remoulade sauce or buttermilk ranch dressing, and use up green tomatoes from your Summer garden.
Homemade salsa has a fresh taste you will never get out of a jar or from any store.  The fire-grilled flavor from tomatoes, onions, and peppers with medium heat in this homemade Tomatillo Salsa will have people loving each and every bite scooped on a tortilla chip...
Cobb Salad became famous in Hollywood at the Original Brown Derby restaurant, it is served with a Special French Dressing aka Cobb Salad Dressing and is loaded with delicious toppings like tomato, chicken, crumbled bacon, avocado, and chopped eggs.
Tuna Salad can be made as a sandwich wrap or in a low-carb style in a colorful bell pepper bowl. And this recipe has no mayo. Bursting with flavor from crunchy celery, avocado, basil, capers, kalamata olives, and sun-dried tomatoes...
More Sun Dried Tomato Recipes
Print
Pin Recipe
Sun-Dried Tomatoes (Oven & Dehydrator Recipes)
You can make Sun-Dried Tomatoes at home in the oven or by using a dehydrator. Get easy storage tips plus 10+ dinner inspiration recipe ideas!
Ingredients
2

pounds

small mixed tomatoes

or Roma tomatoes

1

teaspoon

sea salt

1

tablespoon

Italian Seasoning

optional

olive oil

optional (if olive oil packing)
Instructions
Oven Dehydrator Method
Line metal baking sheets with parchment paper. Don't place directly on the metal or use foil which can react with the tomatoes.

Preheat the oven to 225 degrees.

Wash and slice the small tomatoes ¼" thick slices, the thinner the faster they will dry out. You can cut them round or the long ways into different shapes you like!

Arrange cut side up on a baking sheet. Optional: sprinkle very lightly with sea salt and or Italian seasoning. I highly recommend sprinkling sea salt and Italian seasoning on them, it makes them spectacular.

At 2 hours rotate your pans in the oven, this helps distribute the heat evenly on your sun-dried tomatoes.

Return to the oven and bake for at least 2 more hours, until tomatoes are "dry and leathery". My top sheet pan was done in 2:45 minutes but the bottom pan was 3 hours 15 minutes.
Food Dehydrator
Wash and slice the small tomatoes ¼" thick slices, the thinner the faster they will dry out. You can cut them round or the long ways into different shapes you like!

Arrange cut side up on a baking sheet. Optional: sprinkle very lightly with sea salt and or Italian seasoning. I highly recommend sprinkling sea salt and Italian seasoning on them, it makes them spectacular.

Spread tomato slices on food dehydrator screens. Set temperature on your dehydrator at 135°F and allow 5-7 hours to dry or until crispy. Check every few hours as they dehydrate, you are looking for them to become dry and leathery.
Notes
oven cooking time
The oven dehydration method was about 3 hours in a gas oven. The top tray was done in 2 hours 45 minutes, and the bottom tray 3 hours 15 minutes. 
food dehydrator time
Food Dehydrators take almost double the time, mine was done at 6 hours at 135 degrees on the fruit and vegetable setting. 
tomatoes
Use small bright-colored tomato varieties like; cherry, yellow pear, red torch, patio choice yellow, Juliet, grape, and valentine.  Roma tomatoes work well too.
freezing
Pack in airtight ziptop bags or containers, they last 6 months. 
olive oil packing
In a small jar, add sun dried tomatoes, top with olive oil. Use in recipes like salad dressings, sauces, and marinades. You can add garlic cloves, basil, and rosemary for added flavor. Keep refrigerated and use within a month. 
Nutrition
Calories:
7
kcal
|
Carbohydrates:
2
g
|
Protein:
1
g
|
Fat:
1
g
|
Saturated Fat:
1
g
|
Polyunsaturated Fat:
1
g
|
Monounsaturated Fat:
1
g
|
Sodium:
99
mg
|
Potassium:
92
mg
|
Fiber:
1
g
|
Sugar:
1
g
|
Vitamin A:
318
IU
|
Vitamin C:
5
mg
|
Calcium:
7
mg
|
Iron:
1
mg
Need ingredients or equipment to make this recipe?
Shop Now Every cooking product recommended I own, use, and love how they perform in my kitchen. Happy Cooking! Lisa
Disclosure: As an Amazon Associate, Delicious Table earns advertising fees from qualified purchases linking to Amazon.com