Last Updated September 27th, 2021 at 09:05 pm by Lisa
Sun-Dried Tomato Butter is amazing on hot pasta, roasted vegetables, sizzling grilled steak, or oven warmed baguettes and dinner rolls.
Homemade condiments like compound butter really elevate your cooking. I combined my Herb Butter and Sun Dried Tomato recipes, and have so many ways to slather this yummy tomato butter into your dishes...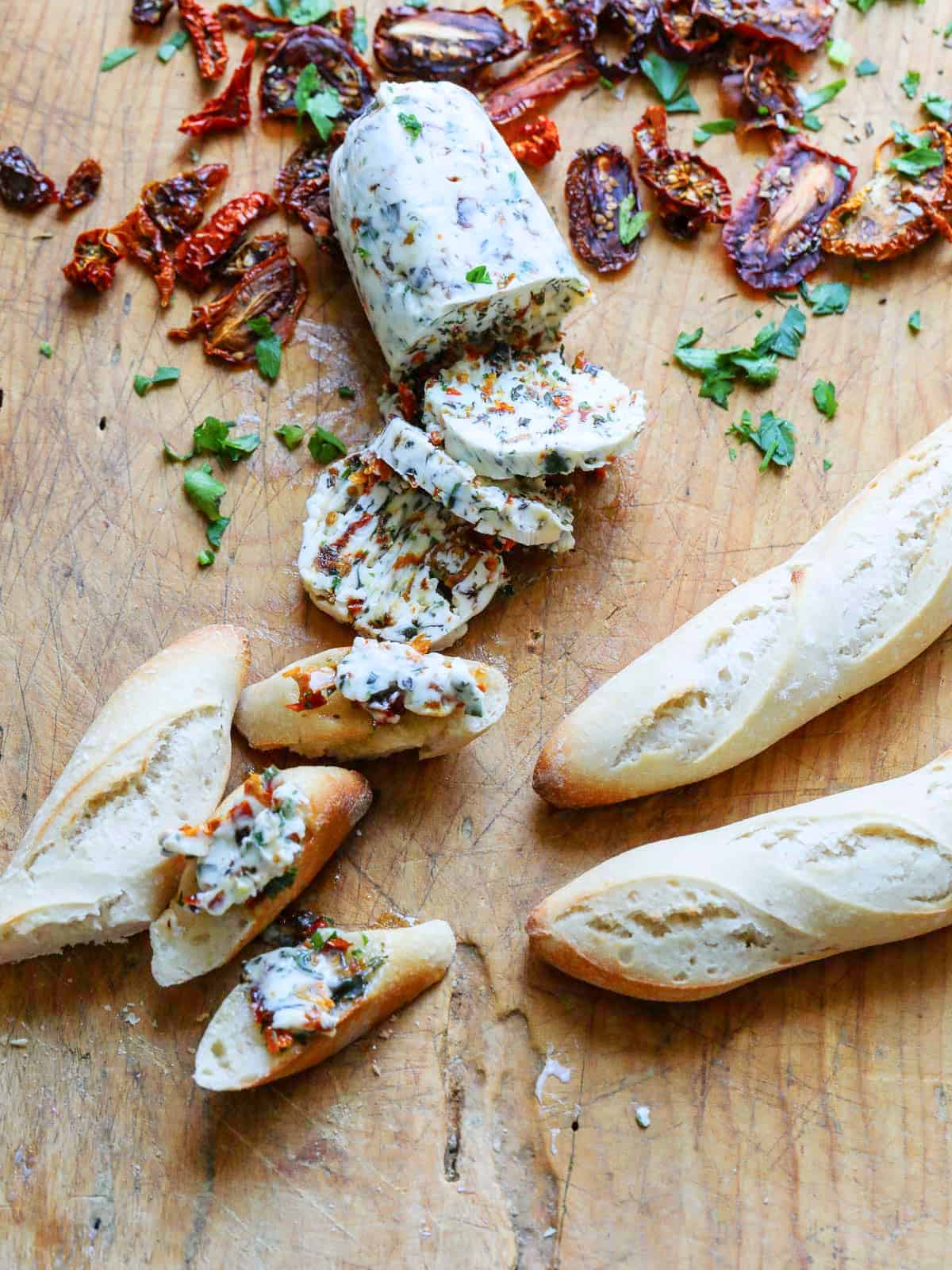 ⬆ Sun Dried Tomato Butter Video ⬆
Compound Herb Butter Top Tips
It's very easy to make fresh herb butter or compound butter at home.
Pro Tip: Use a clean sharp pair of kitchen scissors to cut the herbs in a jar or cup instead of with a knife and a cutting board. (see below for more).
Pick a high-quality brand of fresh butter, I recommend salted butter but unsalted works fine.
Let the butter soften to room temperature for a couple of hours. PRO TIP: The butter should be very soft and easy to mix, cut into small cubes to soften faster.
Fresh herbs work best, you can clean them underwater and allow them to air dry for several hours prior to chopping.
Both dried and fresh herbs may be used to season the butter, but I think fresh herbs make it extra flavorful and beautiful!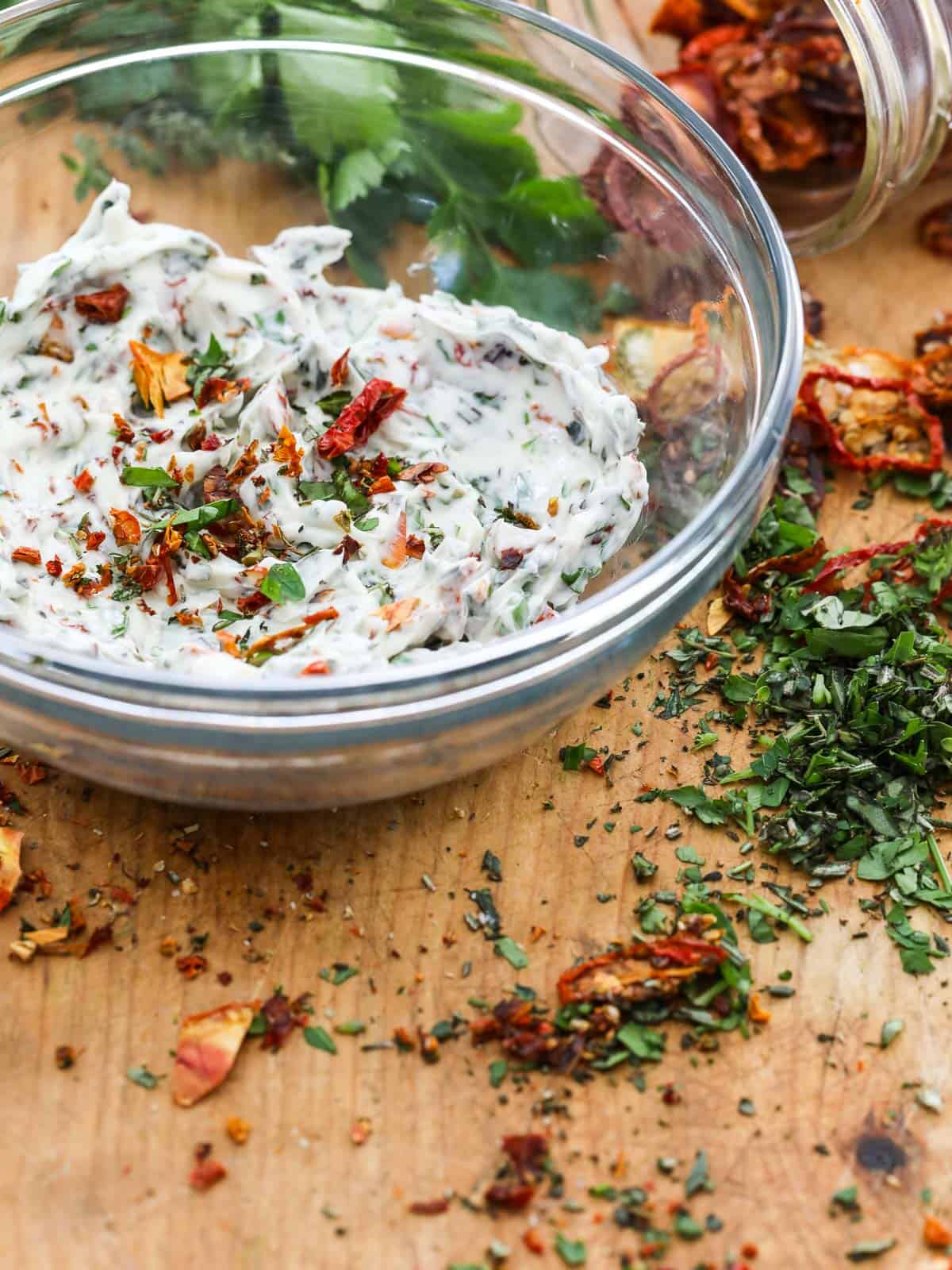 How To Make Sun Dried Tomatoes
You can buy or make Sun-Dried Tomatoes at home in the oven or by using a food dehydrator.
Most people will prefer to make these at home in the oven, it goes faster, but if you have a food dehydrator that is a great option as well.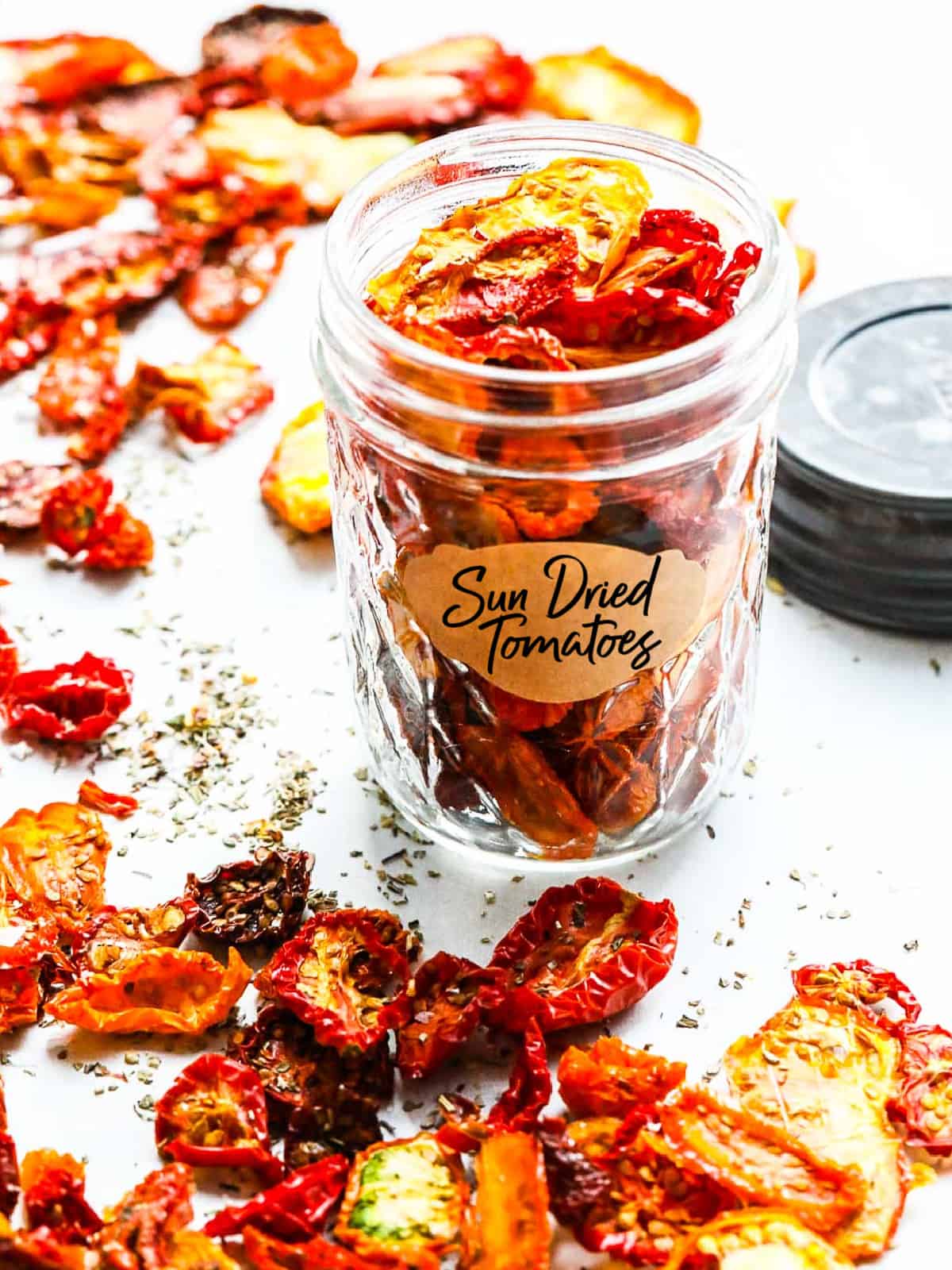 You Need...
2 pounds small mixed tomatoes or Roma tomatoes
1 teaspoon sea salt
1 tablespoon Italian Seasoning (optional)
Oven Dehydrator Method
Line metal baking sheets with parchment paper. Don't place directly on the metal or use foil which can react with the tomatoes.
Preheat the oven to 225 degrees.
Wash and slice the small tomatoes ¼" thick slices, the thinner the faster they will dry out. You can cut them round or the long ways into different shapes you like!
Arrange cut side up on a baking sheet. Optional: sprinkle very lightly with sea salt and or Italian seasoning. I highly recommend sprinkling sea salt and Italian seasoning on them, it makes them spectacular.
At 2 hours rotate your pans in the oven, this helps distribute the heat evenly on your sun-dried tomatoes.
Return to the oven and bake for at least 2 more hours, until tomatoes are "dry and leathery". My top sheet pan was done in 2:45 minutes but the bottom pan was 3 hours 15 minutes.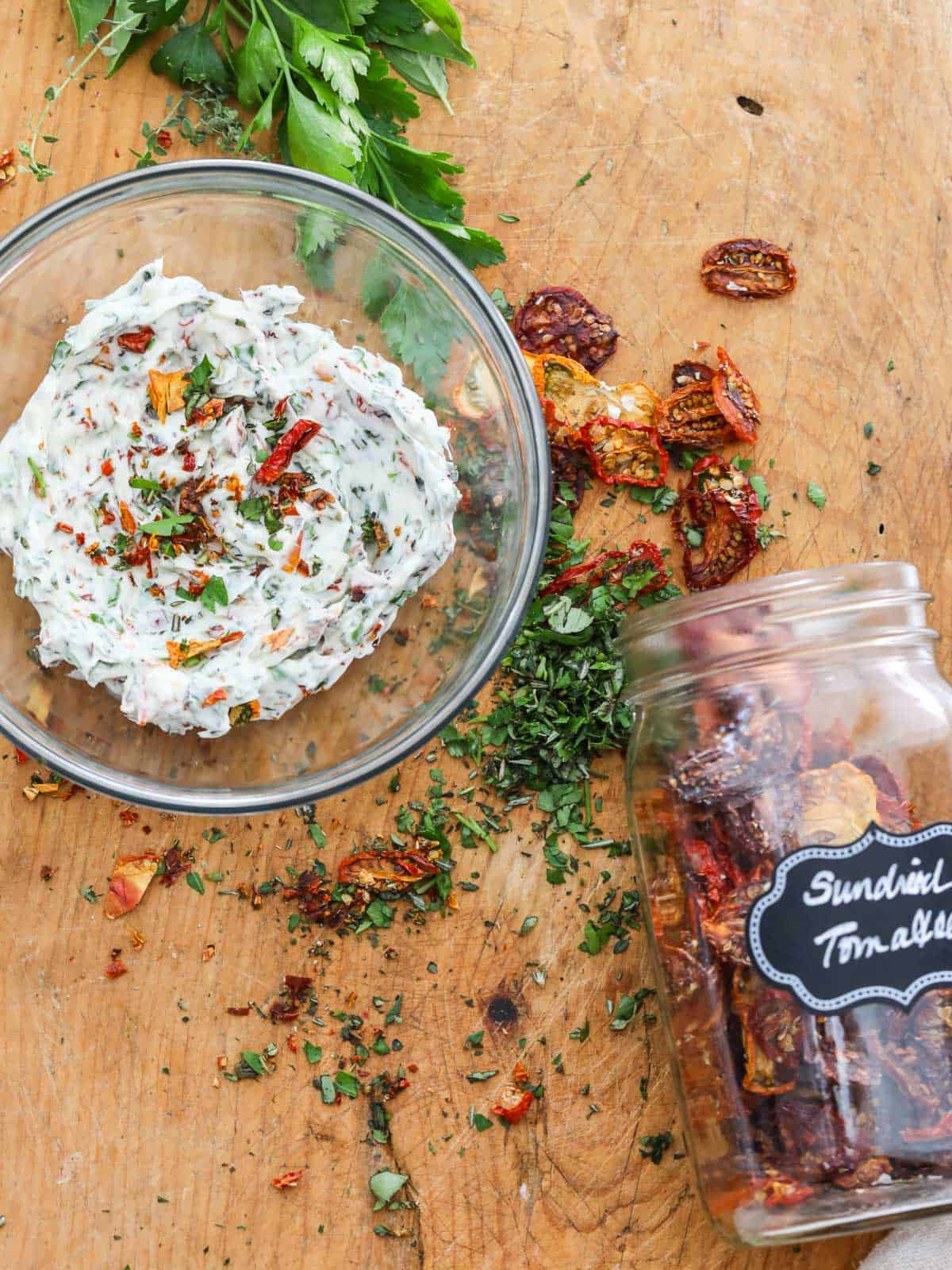 Ways To Use Sun Dried Tomato Butter
How To Store Compound Butter

Once the compound butter is made, it can be stored in a small covered container, wrapped in plastic wrap, or in parchment paper, and chilled until it is firm enough to be sliced.
More Flavored Butter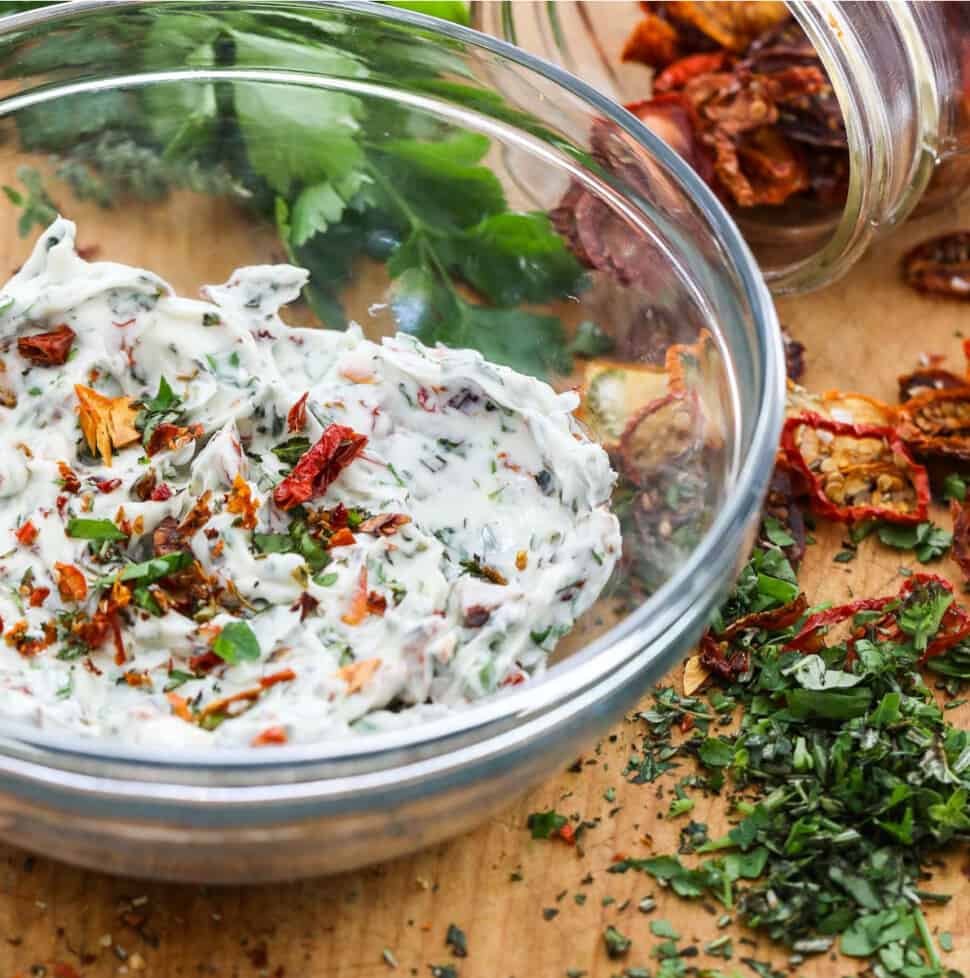 Print
Pin Recipe
Sun Dried Tomato Butter (Compound Butter)
Sun Dried Tomato Butter is amazing on hot pasta, roasted vegetables, sizzling grilled steak, or oven warmed baguettes and dinner rolls.
Ingredients
4

tablespoons

sun dried tomatoes

finely chopped

½

cup

butter

soften at room temperature

¼

cup

fresh herbs minced

rosemary, parsley, thyme, basil

½

teaspoon

sea salt

optional if using salted butter

1

teaspoon

fresh cracked pepper

other herbs to try!

sage, dill, chives, tarragon, oregano, or green onions
Instructions
Leave the butter out at room temperature for a few hours to soften. PRO TIP: cut the cube into little cubes and it will soften faster.

Snip fresh herbs and sun dried tomatoes in a small mug or glass jar with clean kitchen scissors until the herbs and tomatoes are finely minced.

Mix soft butter, ¼ cup finely chopped herbs and sun dried tomatoes, ½ teaspoon sea salt and 1 teaspoon fresh cracked pepper, in a small bowl with a spatula.

Place your sun dried tomato butter in a small sealed container with a lid, it will keep in the fridge for a week. Or place on parchment paper in a log shape, roll and twist ends closed-keep in fridge or freeze for longer storage.
Notes
storage options
Place on plastic wrap or parchment paper in a log shape, roll, and twist ends closed.

Place in a ziptop bag, and freeze for up to 2 months.
OR

Place your compound butter in a small sealed container with a lid, it will keep in the fridge for about 2 weeks.
sun dried tomato butter uses
Melt on hot pasta

Try it on toasted bread, steak, fish, or vegetables.

Great to slice off on a sizzling hot steak
Rub under the skin of your turkey or chicken before roasting. The butter flavors the poultry and keeps it moist while helping to crisp the skin of the chicken or roasted turkey.
leftover herbs
Once you snip your herbs in the jar if you have extra, simply screw on the lid and use the herbs up in other dishes or salads. They stay fresh for a few days!
butter
I have always used salted butter for my compound butters, but unsalted works just fine. You can leave out the salt if you wish.
Nutrition
Serving:
12
g
|
Calories:
73
kcal
|
Carbohydrates:
1
g
|
Protein:
1
g
|
Fat:
8
g
|
Saturated Fat:
5
g
|
Polyunsaturated Fat:
1
g
|
Monounsaturated Fat:
2
g
|
Trans Fat:
1
g
|
Cholesterol:
20
mg
|
Sodium:
169
mg
|
Potassium:
63
mg
|
Fiber:
1
g
|
Sugar:
1
g
|
Vitamin A:
278
IU
|
Vitamin C:
1
mg
|
Calcium:
6
mg
|
Iron:
1
mg
Need ingredients or equipment to make this recipe?
Shop Now Every cooking product recommended I own, use, and love how they perform in my kitchen. Happy Cooking! Lisa
Disclosure: As an Amazon Associate, Delicious Table earns advertising fees from qualified purchases linking to Amazon.com