Last Updated April 19th, 2018 at 10:34 am by Lisa
Hello and Welcome! I'm Lisa, let me tell you a true story…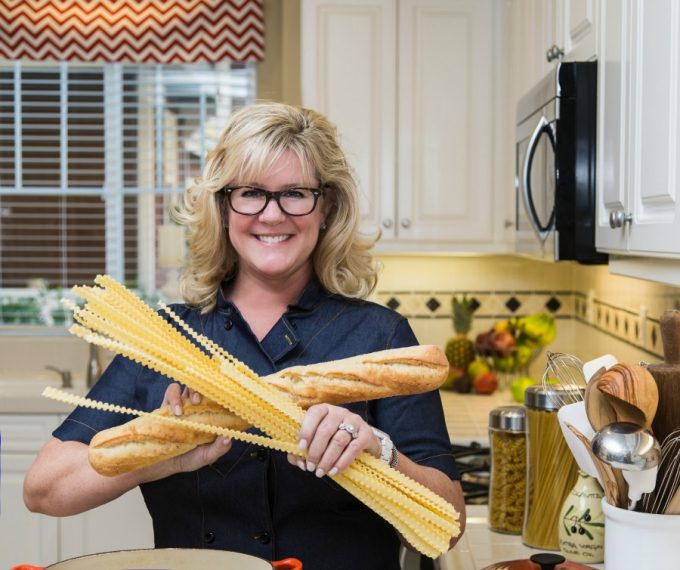 Delicious Table started with one promise, on a girls weekend, to post my recipe for Skinny Turkey Veggie Meatballs. I convinced a group of ladies that making meatballs would lead to marriage, and they thought that I could/should (and I did) build this website, learned to snap the photos/videos, and lovingly test and write each of the recipes. So that is how this whole thing got started.
In the beginning, I mostly made, well comfort food. I mean who wouldn't right? But…that wasn't a good long-term plan, so to keep my Drs and waistline happy, I changed the way I was eating and cooking at home. Oh and lost 20 pounds (so far) Yay!
Our recipes use fresh, seasonal, real-food ingredients that strike a healthy balance of delicious dishes filled with flavor, paired with occasional treats for a sustainable healthy lifestyle.
Thank you for seeing what we are up to, you are why we are here sharing our culinary passion.  
All the Best Dishes!
Lisa
XO
About Delicious Table
Delicious Table features fresh seasonal ingredient real food recipes along with cooking tips, and healthier cooking techniques to help people make wholesome fresh delicious dishes filled with flavor. 
Besides all the delicious dishes, we know a lot of our readers love cooking techniques and kitchen tips. 
We never assume you know how to dice a mango, we show you step by step in full beautiful photos!
You will also find a section of my Culinary Adventures,  that include my local and world travel food experiences. I love to share what I learn while out in the food world!
Recipe Collections 
Here are a few of our popular recipe collections; healthy recipes, light healthy salads, savvy kitchen tips, low carb, low sugar, game day & party food, and cozy comfort food are available with one click.
Did someone say party? Life is about gathering people together and enjoying moments with food.  Some of our most popular recipes (and in big demand) are during the holidays and special occasions. Occasional holiday treats are part of a sustainable healthy lifestyle, and we should enjoy those treats and traditions.
Holiday party recipes are featured seasonally through the year.  People "crave and rave" about our unique inspiration for Thanksgiving, Halloween, Christmas, Easter, Patriotic Holidays, and other special occasions. Delicious Table also has specific collections of recipe ideas and even a few decor and DIY tutorials.
Please Comment and Rate Our Recipes
We LOVE when you rate our recipes! At the bottom of each recipe is a place to leave comments and a 5-star box (we get all giddy with those 5-star ratings!) This is the one thing that really helps us know if you like a recipe, or how can improve one.
Media Kit
Contact me to take a look at my awesome media kit and all the companies and projects I love to work with!
Follow Delicious Table
Follow Delicious Table for mouthwatering recipe inspiration, and lot's of fun and giggles along the way.
Please enter your email address for updates: Subscribe Now
Follow Delicious Table on social
You can see what I'm up to on Instagram, Facebook, Twitter, YouTube, Pinterest, LinkedIn, and Google+.
About Lisa Hatfield Torres
"A bit about me, I have been cooking seriously for over 25 years with a strong professional culinary training background, and thousands of recipes in my collection. I come from a family of cooking instructors, cookbook authors, photographers, home chefs, and even a food stylist.
While working in the highly competitive tech industry for most of my career, my cooking passion took hold. After long days on the road traveling, and eating out, I began to relax by cooking and entertaining at home. 
And sharped my culinary skills to new levels with countless cooking courses. 
Over the years, I made our cherished family recipes, created new recipes, and developed my home chef kitchen skills. Soon I was known for my cooking gadgets, my ridiculous recipe collection (all organized in binders), and my home became the gathering place for holidays and parties. Little did I know, that all those years, that it would lead me to build my own online culinary heaven, Delicious Table." 
Lisa lives in Southern California with her husband Anthony and their spunky blue-eyed Shih Tzu, Sassy. She loves the outdoor California lifestyle. You will often find her entertaining friends and family around the pool, loves gardening, home design, and adventure travels around the world.
Our Healthy 2018 Challenge