Last Updated March 1st, 2021 at 08:31 am by Lisa
Serve a "pumpkin-shaped" Everything Bagel Cheese Ball appetizer for your next Fall party, it's always a hit! Easy to make-ahead in 15 minutes, chill, and take to a gathering.
Every time I make this, people just go crazy and want the recipe. Oh, and we will talk about an easy way to get a real pumpkin stem and how to get that cute pumpkin shape...
Links in this post are Amazon Affiliate Links to products I use and love.
Although this easy cheeseball is not my original idea, it was all over the Pinterest but I wanted an easy way to make the pumpkin-shape.
So I used butcher string to shape it rather than fussing around carving it with a knife, SO MUCH EASIER! It takes just minutes, and I promise your friends and family will just LOVE IT.
How Can I Make My Own Everything Bagel Seasoning?
1 tablespoon white sesame seeds
1 tablespoon black sesame seeds
1 tablespoon dried minced garlic
1 tablespoon dried minced onion
2 teaspoons sea salt (or flaked sea salt)
Mix and store in an airtight container for up to 6 months.
How To Make An Everything Bagel Cheese Ball:
Gorgeous Autumn Entertaining Inspiration:
Is this a gorgeous party spread for Autumn or what? My dear friend Lidy Baars from the French Garden House and I put together an easy outdoor party and menu, all set in her spectacular French garden. Her home literally feels just like I jetted off to France without a plane ticket!
We kept it simple and used beautiful things she has on hand, her home is just stunning in every way. You can see how Lidy displayed things high and low, using different textures and containers. For this Fall appetizer party, we served Hibiscus Tea Cocktails, Salted Caramel Apple Dip, and this Everything Bagel Cheese Ball with pita chips and breadsticks.
We gathered French Vintage cutting boards, buttery soft aged linens, one of a kind bowls, and different platters.
It all came together very easily, and food and drinks really look beautiful on this so very French table.
You could set this up indoors or in the garden depending on the weather of course.
Your party will come to life using what you have, cherished family items like books, baskets, and add fresh real items like flowers, fruit, pumpkins, bread, and of course delicious food!!!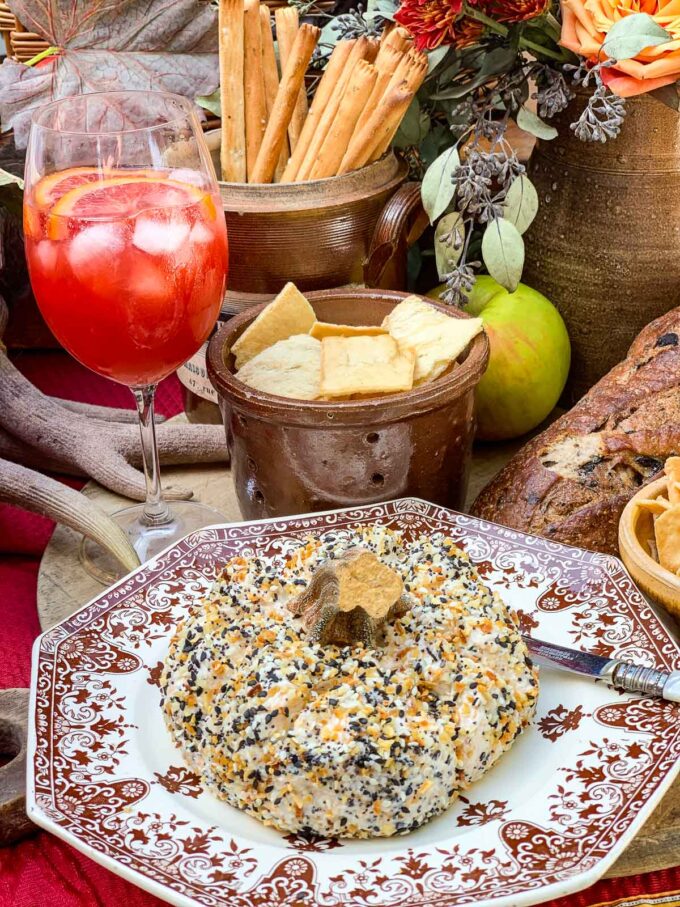 More Fall & Thanksgiving Appetizers:
More Of My Cheese Ball Recipes:
Take a look at my Festive Holiday Cheese Balls shaped like Christmas tree ornaments too, they are SO delicious! And this recipe has FOUR flavors to choose from...all delish...how do you pick just one?