Last Updated February 24th, 2018 at 05:29 pm by Lisa
How gorgeous are these succulent topped pumpkin centerpieces?
For several years, I have admired and been fascinated by how to make these pumpkin centerpieces at Rogers Gardens in Corona del Mar, California.
Today, I took a workshop and will share exactly how you can make them at home. They are so easy once you know the secret tips.  And…they last for up to 2 months!
My pumpkin centerpiece creation from our workshop…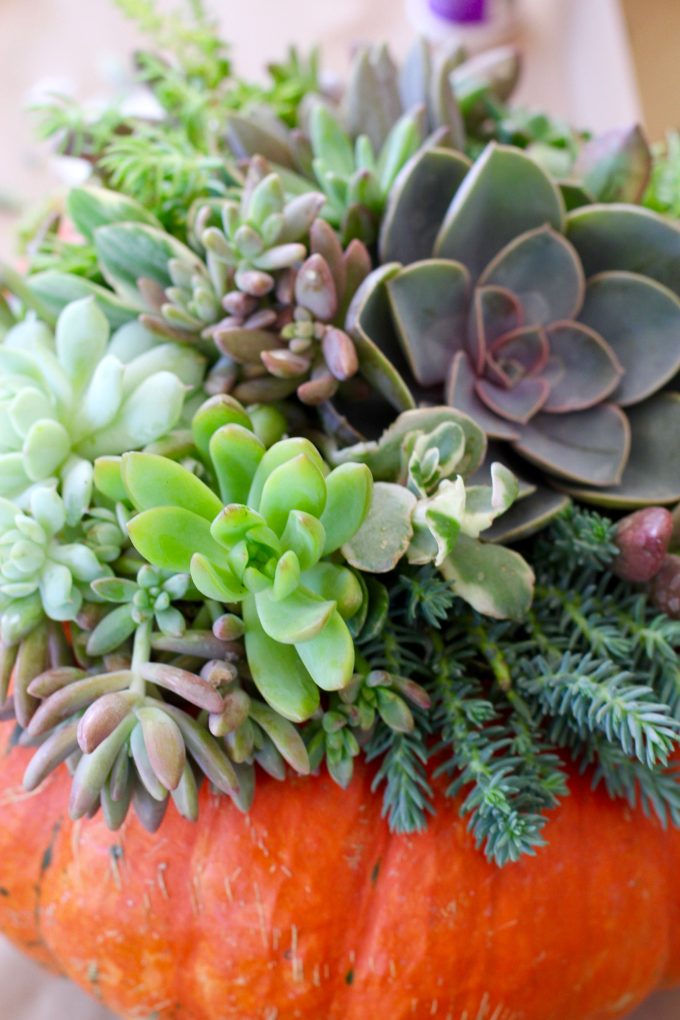 On my way out of Roger's Gardens today, I was stopped 3 times by people asking about my succulent topped pumpkin..so for you ladies I met and handed you my card, here we go!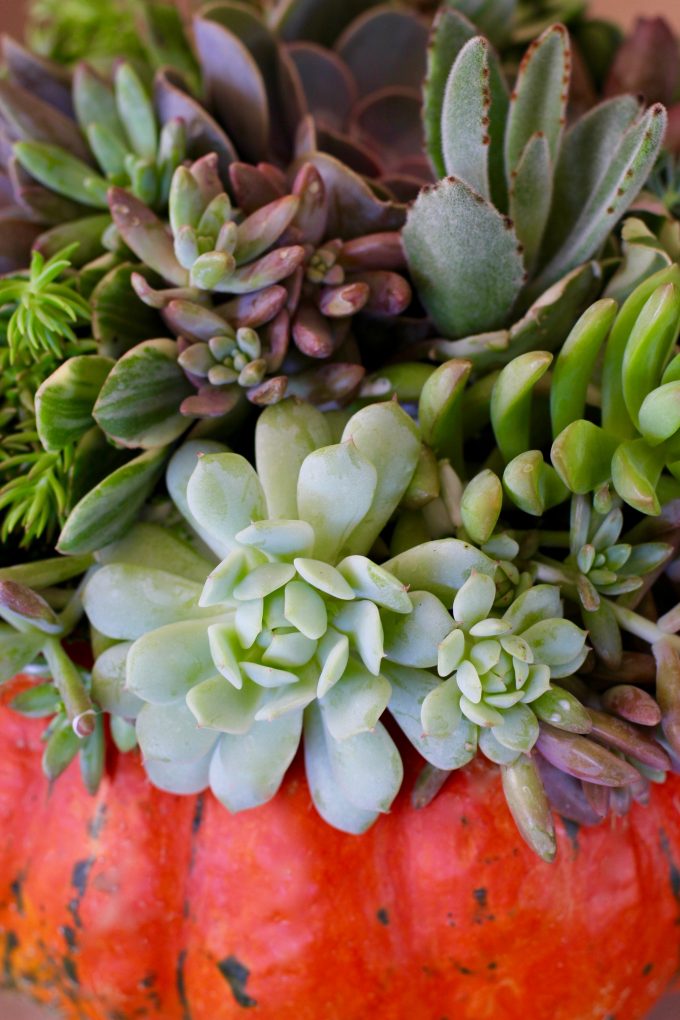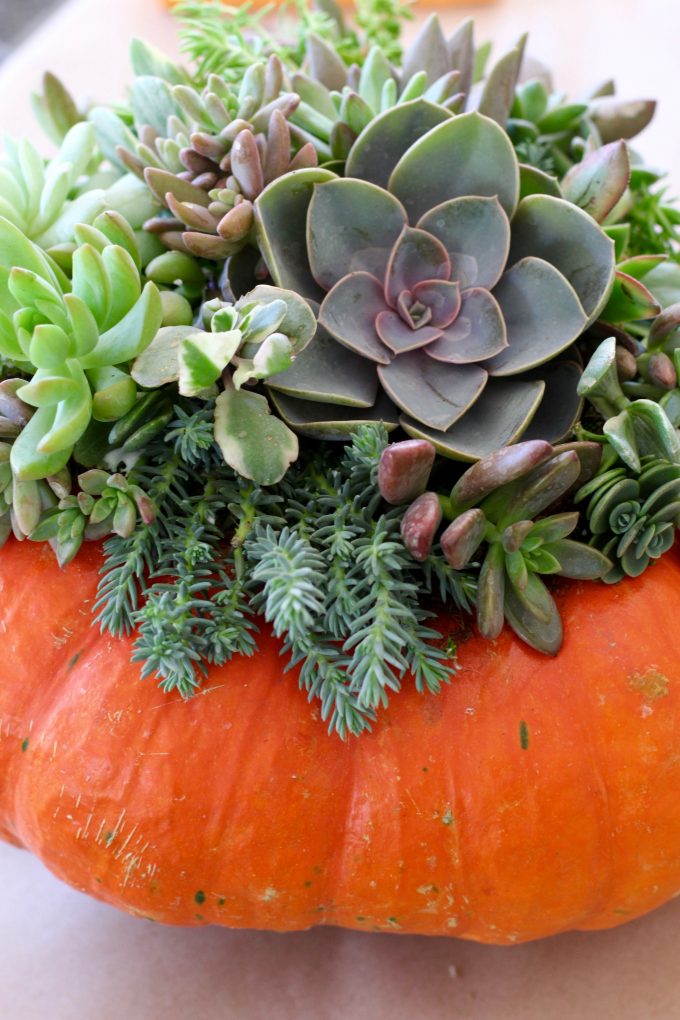 If you live in Southern California, I bet you have either visited…or heard of Roger's Gardens. With legendary garden and design inspiration, you will also discover spectacular holiday displays in their shop.  Did you hear they just opened a restaurant called Farmhouse Cafe? I am excited to try the cafe, as gardening and food are two of my favorite things!
Roger's Gardens and Chef Rich Mead partnered in establishing a unique and sustainable field-to-fork dining experience at Farmhouse Café located within Roger's Garden.
Succulent topped pumpkins are available in the shop at Roger's Gardens…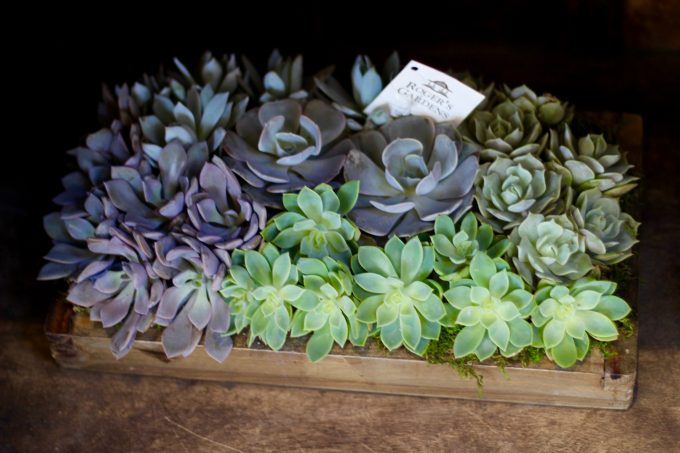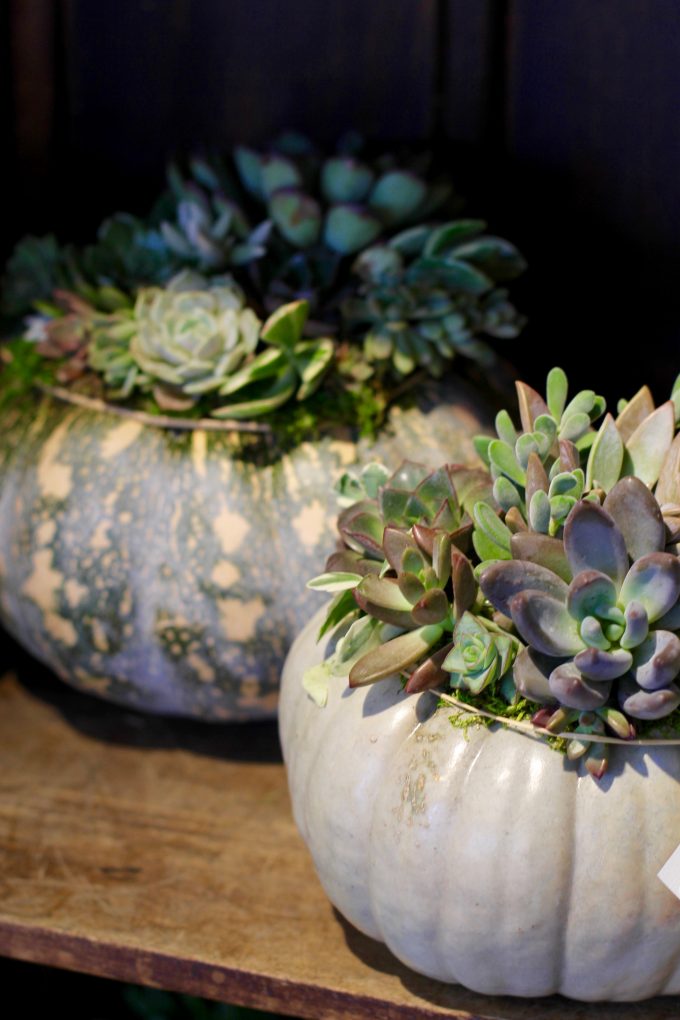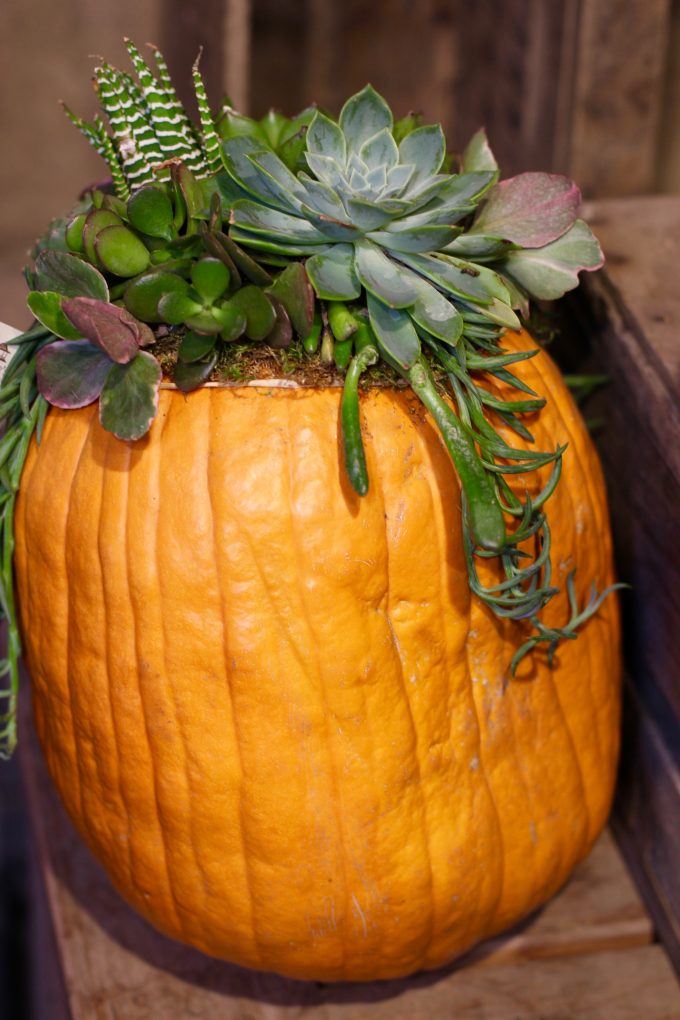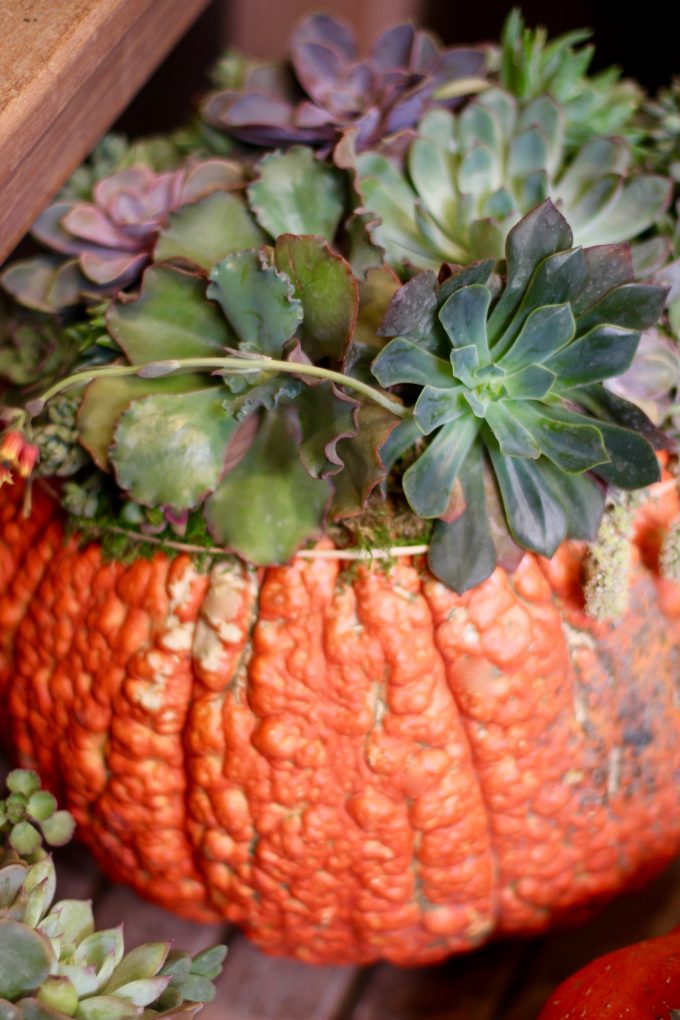 Today, the exceptional floral designers held a workshop on how to design these succulent topped pumpkin centerpieces, and it was so much fun!!
We had a great class, and of course everyone scored an A+on their beautiful designs!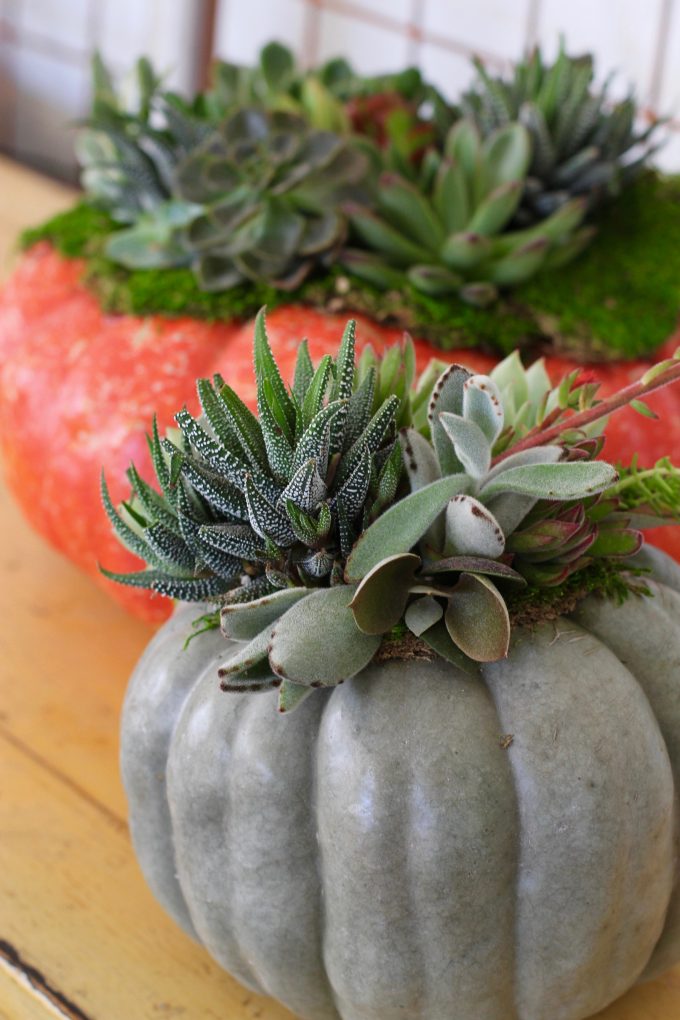 How to Make Fall Succulent Topped Pumpkin Centerpieces:
what you need:
pumpkin(s) large or small
assorted succulents cuttings (dirt/roots and dead bits removed)
green sheet moss
brown paper bag
scissors or garden clippers
disposable gloves
Aleen's Spray Adhesive
Aleen's Tacky Glue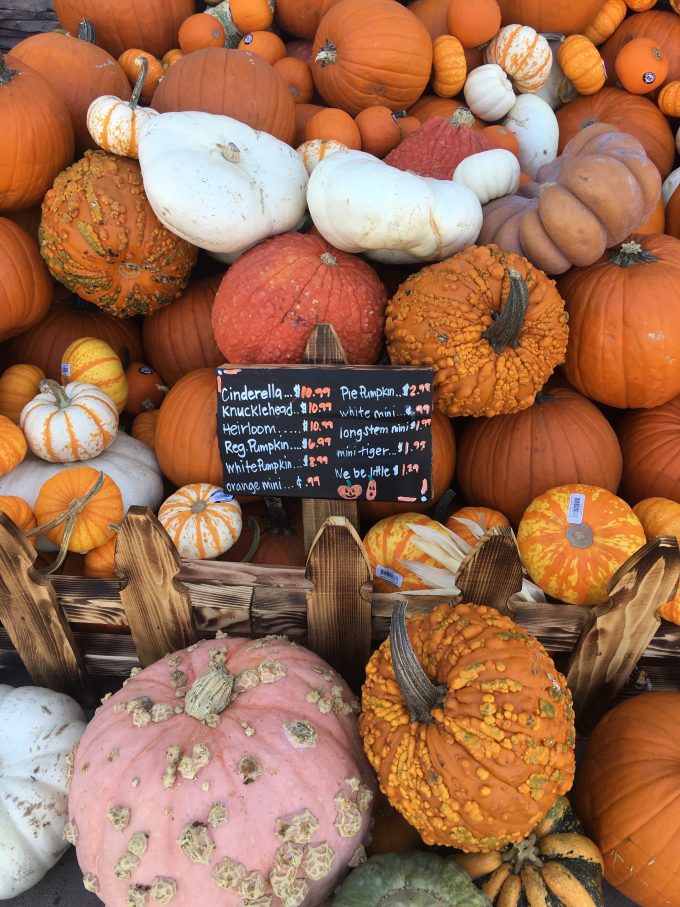 Floral Designer Tips:
Add larger succulents in the center, have some smaller ones tucked in at the edges, and something trailing looks really nice.
You really can't go wrong, all the succulents blend so beautifully together!
The glue dries in 6-8 hours, dries completely clear, and will not hurt the succulents.
Roger's Garden Floral Designers taught us every arrangement should have:
a thriller – dramatic larger focal point
a filler – smaller items to fill in the gaps
a spiller – something trailing or hanging down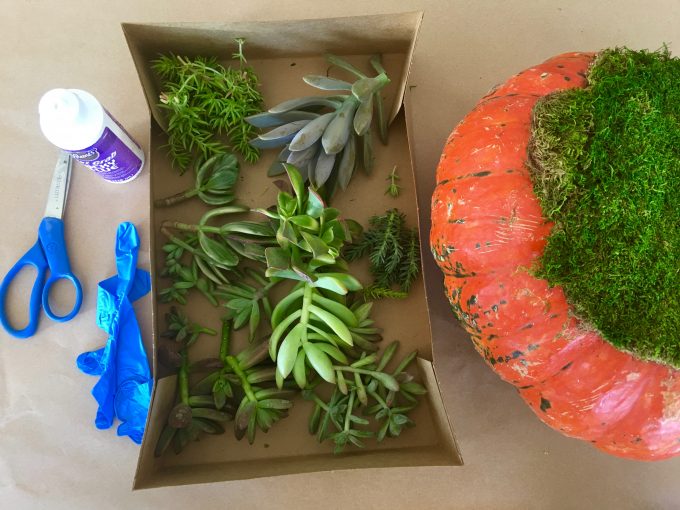 How to Make a Succulent Topped Pumpkin Step by Step:
Step 1: pick a pumpkin! you can take the stem off the pumpkin or leave it, but don't carve the pumpkin
Step 2: spray tacky glue or spray (adhesive) on top of pumpkin and press a circle of moss on pumpkin
Step 3: on a brown paper bag, pour fast grab tacky glue, dip largest succulent cuttings into glue and push into the center of the moss circle
Step 4: continue to add succulents and fill in until the moss is covered
Step 5: add some trailing pieces of succulents
Step 6: care for your succulent topped pumpkin, mist once a week, and clean-out any dry leaves
Care and Watering:
Keep out of direct sunlight and rain. Indirect sunlight is best, and you can keep the pumpkin indoors or outdoors (as long as under a covered patio). Mist with a spray bottle every week, if it's is wet, don't water, if super dry give it a spritz of water all over.
Your pumpkin succulent should last as long as the pumpkin which can be 2 months or longer!
Our Class Design Gallery…simply stunning!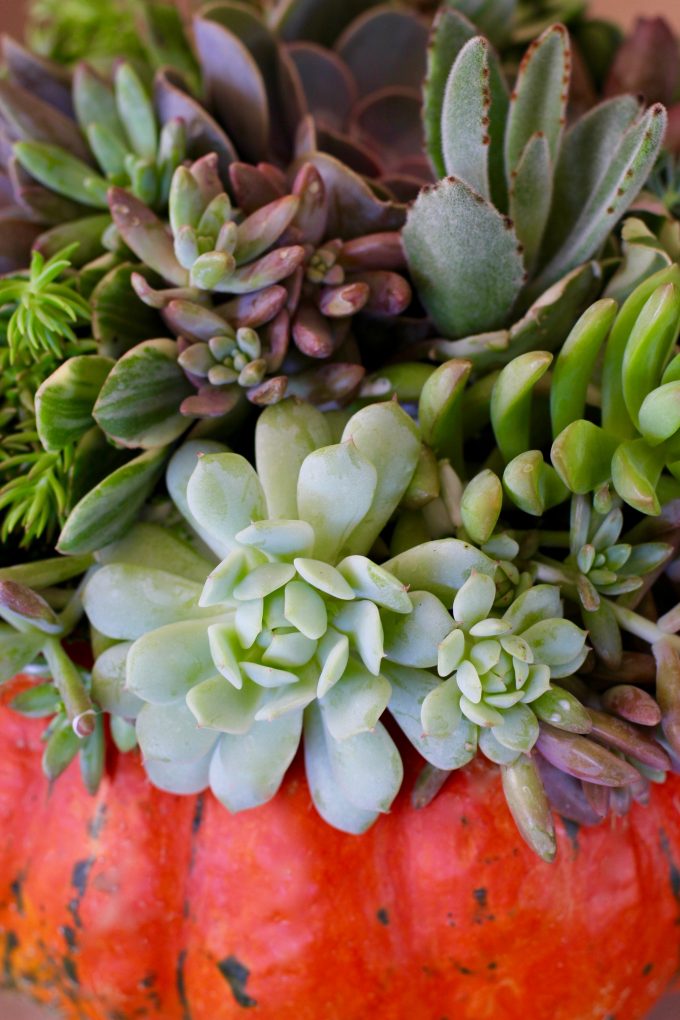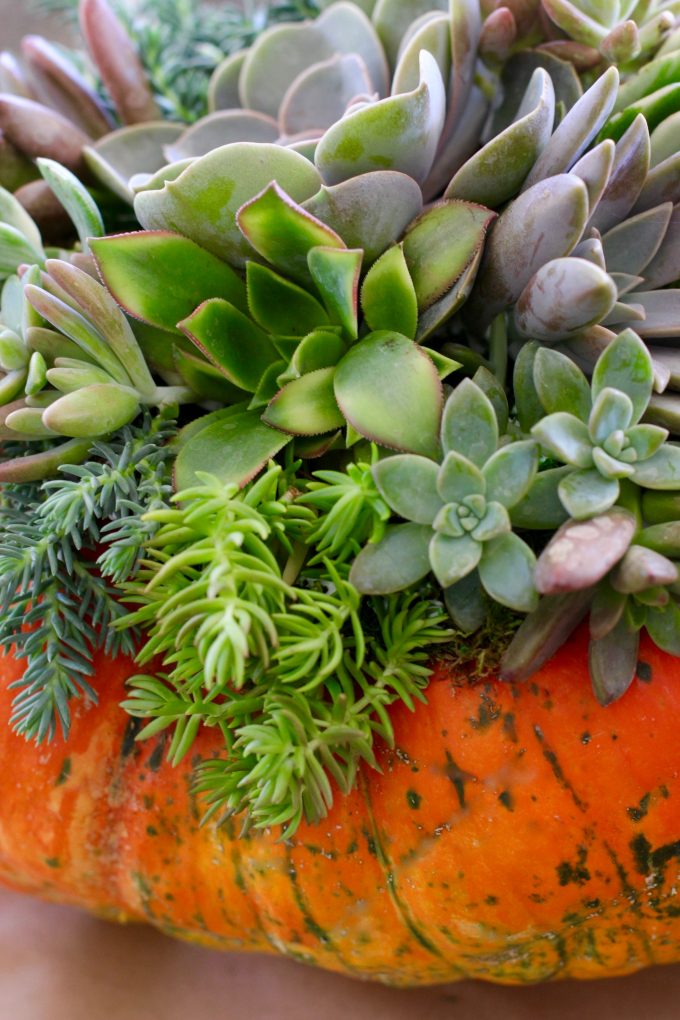 Wishing each of you a 🍂 🍁 Happy Fall 🍂 🍁, and to slow down, and savor this time of year with family and friends!
All the Best,
Lisa
XO
For more fall table ideas, try my:
Thanksgiving Table Pumpkin Flower Centerpieces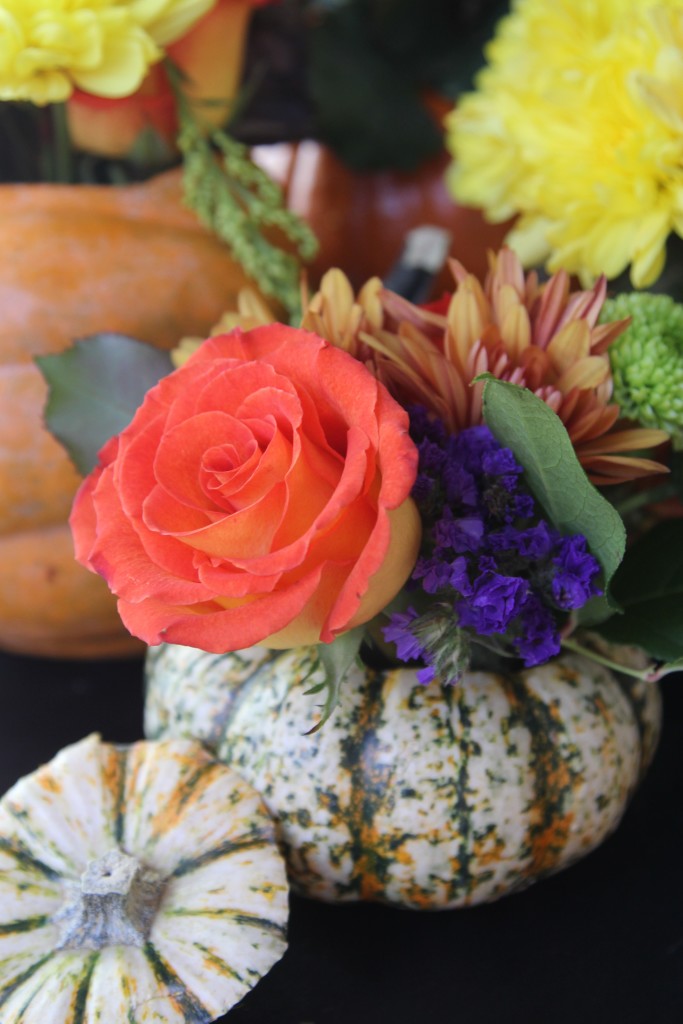 Here is a great way to use Thanksgiving Leftovers, make Empanada Hand Pies…,