Last Updated March 30th, 2021 at 11:16 pm by Lisa
This EASY Deviled Eggs recipe is a festive (MAKE-AHEAD Oh Yesssssss!!! ) Holiday appetizer made with simple ingredients. Serve with bubbly or drinks at your holiday party!
Serve your Festive Holiday Deviled Eggs on a white platter garnished with fresh rosemary and pomegranate seeds. Get my tips and the secret to open pomegranates here: Easiest Way To Seed A Pomegranate.
Doesn't it look gorgeous! Simple, and easy...
Oh and before I forget, I want to thank my friend Karen LoBue who asked at Easter if I had any deviled egg recipes on my site, and I said, "Ah no!" And I was sort of like why the heck don't I?!
So here you go, Karen, this one is for you! Your deviled eggs were so delish at Easter, you inspired me to make one for the holidays! Thank you...
Lets Make Them
Hard Boil Eggs: Boil, Instant Pot, or Steam method.
Peel and slice the boiled eggs in half.
PRO TIP: Instead of scooping out the yolk with a spoon (which can tear the egg) gently push from the back of the egg and pop the yolk out!
In a bowl, add the yolks, mayonnaise, Dijon mustard, lemon juice, salt, pepper, rosemary, cream Fraiche' (or soft cream cheese).
Mix until well combined with a hand mixer (this gets it creamy and fluffy), and load into a large zip log back fitted with a large star tip.
Pipe the filling back into the boiled eggshells, and garnish with a few fresh pomegranate seeds and tiny sprigs of rosemary. Serve on a tray garnished with rosemary and pomegranate seeds.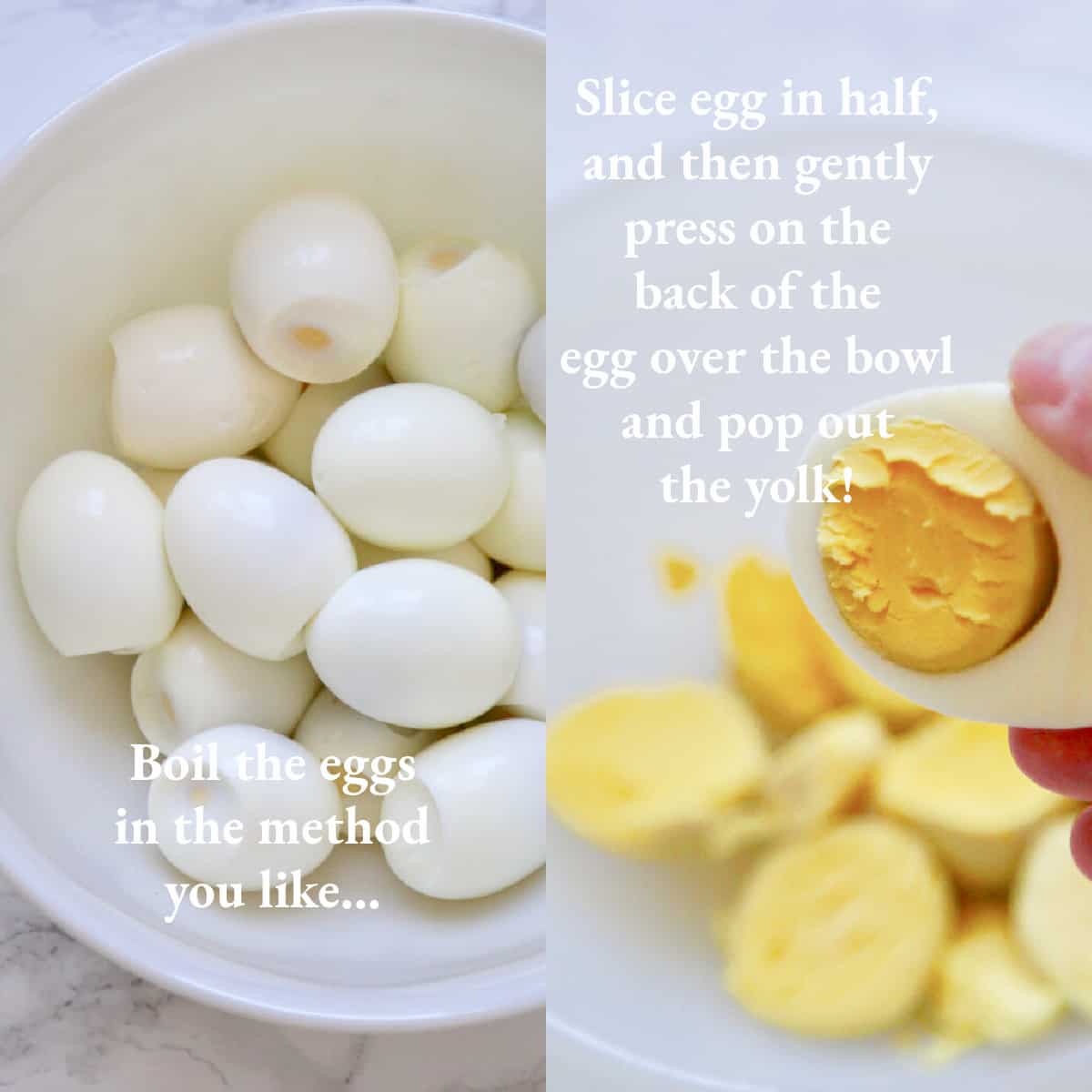 Make-Ahead Tips:
Boil the eggs, slice in half and keep covered on a tray.
Fill your ziptop bag with piping tip and deviled egg filling.
Cut your tiny rosemary garnish pieces and have your pomegranate seeds ready to go, then assemble in minutes right before your party on a beautiful white tray and garnish.
Classic Deviled Egg Ingredients:
Boiled Eggs
mayonnaise
mustard
paprika
salt and pepper
The egg yolks are whipped or mixed with mayonnaise (or sour creme, creme fraiche, or cream cheese), mustard (yellow or Dijon), paprika, salt, and pepper, they are replaced inside the egg white halves and served are cold.
Lot's of other flavorings can be added, and that is where deviled eggs are something truly spectacular.
History of Deviled Eggs
Deviled eggs date back to the Roman Empire, and got popular in the 1940's. Everyone loves them! Eggs are hard-boiled, then filled with the and the yolks whipped with other tasty ingredients.
My Other Deviled Egg Recipes
Deviled Egg Flavor Tips & Ideas:
How To Make Deviled Eggs: The Ultimate Guide by Striped Spatula
Million Dollar Deviled Eggs by Sugar Spun Run
50 Deviled Eggs Recipes by Food Network
12 Ways To Garnish Deviled Eggs by Pioneer Woman
More Holiday Appetizers:
Festive Holiday Cheeseballs You just can't go wrong with cheese balls, so how about four recipes?
Have guests take a crostini toast or two, spread whipped goat cheese or whipped feta cheese, and add toppings, and enjoy every scrumptious bite...