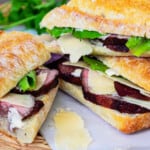 Print Recipe
Roast Beef Sandwiches
What Is Good On A Roast Beef Sandwich?
Homemade or storebought thin-sliced beef
Shaved parmesan cheese (shave with a vegetable peeler)
Tomato slices
Honey, Dijon, or yellow mustard
Caramelized onions
Sliced red onion
Mayonnaise
Sour cream
Lettuce
Whipped or Regular Cream cheese
Freshly grated horseradish (or you can use prepared in a jar)
Fresh basil chiffonade
Cheese slices - Cheddar, Pepper Jack, Havarti etc.
Chopped chives
Bread Options
Ciabatta
French baguette
Sourdough
Kaisar
Croissant
Rustic Artisan
Sandwich Bread Slices
Creamy Balsamic Horseradish Sauce
¼ cup prepared horseradish
1 tablespoon balsamic vinegar
1 tablespoon Dijon-style mustard
½ teaspoon kosher salt
¼ teaspoon ground pepper
Dash Worcestershire sauce
In a glass prep bowl, use a small rubber spatula and mix sour cream, prepared horseradish, balsamic vinegar, Dijon mustard, sea salt, pepper, and Worcestershire sauce until well combined.
Keep covered and chilled in the fridge, will keep for 2-3 weeks.
Serving:
4
g
|
Calories:
274
kcal
|
Carbohydrates:
34
g
|
Protein:
21
g
|
Fat:
6
g
|
Saturated Fat:
2
g
|
Cholesterol:
37
mg
|
Sodium:
1414
mg
|
Potassium:
293
mg
|
Fiber:
2
g
|
Sugar:
2
g
|
Vitamin A:
1079
IU
|
Vitamin C:
30
mg
|
Calcium:
304
mg
|
Iron:
3
mg