Last Updated February 24th, 2018 at 05:30 pm by Lisa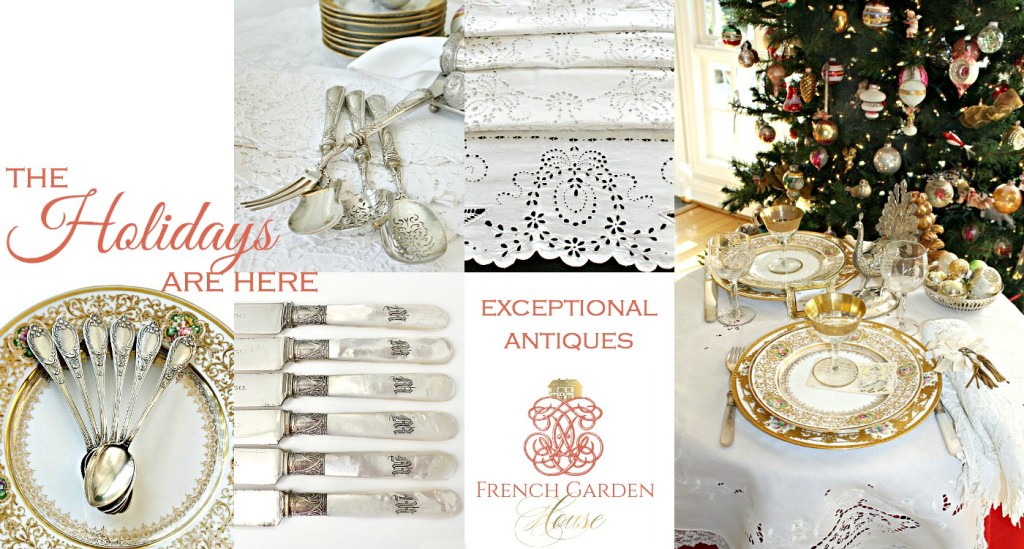 Let me introduce you to my friend Lidy Baars, an Antique Dealer, Writer, and Entrepreneur. She is the CEO of French Garden House – French Antiques. Here is where this fun all started. First, we both love food and to eat. And second, we share a passion of  setting a beautiful table. So we got to thinking hey, let's put together a series of recipes, mostly French inspired dishes, and share them on her blog? Genius, a perfect collaboration to inspire delicious dishes with gorgeous table setting ideas. Lidy wanted to introduce me to her readers, and you can click here to read our fun interview and oh, the Brie and Bacon Quiche is super easy and special for the holidays:
Lidy is amazing, and I admire her for so many reasons and you will too! Here is a bit about her life:
When just a child in her native Netherlands, French Garden House proprietress Lidy Baars began developing a passion for antiques – one so strong that she taped tiny scraps of paper with the phrase "belongs to Lidy" to her favorite pieces of her grandparents' furniture. At 8 years old, the budding entrepreneur moved to California, and as a teenager, she preferred spending money on heirloom collectibles, rather than the jeans her friends favored.
Some years later, while Lidy was raising and homeschooling her two children, she sold antiques through several local stores. Although she dreamed of opening her own brick-and-mortar establishment one day, a retail space just wasn't practical at the time. Lidy instead came up with the idea of an online shop, and in 2007, she launched French Garden House – named for the petite backyard structure her husband built as her birthday gift one year. She sells a wide array of antique items on her website. For serious collectors, working with reputable dealers, such as Lidy, is a must. She has built her business on honesty and hard work, and those qualities have led to sweet success – and personal bliss. "French Garden House is my passion," she says. "I can't wait to get up each morning to go to work!"
Visit Lidy's gorgeous online shop at FrenchGardenHouse.com and follow her on: FGH Instagram. FGH Facebook. FGH Pinterest. FGH Twitter. Shop for the best in French Antiques, furniture with the patina of age, vintage accessories to delight, and treasures that make your home fresh and beautiful. Lidy and her business have been featured in many magazines and published online, currently she is featured in Victoria Magazine. See "Enchanted by Toleware," on page 43 of the October 2015 issue of Victoria magazine. Here is the link to her featured article online in Victoria Magazine.
Cheers!
Lisa
XOXO